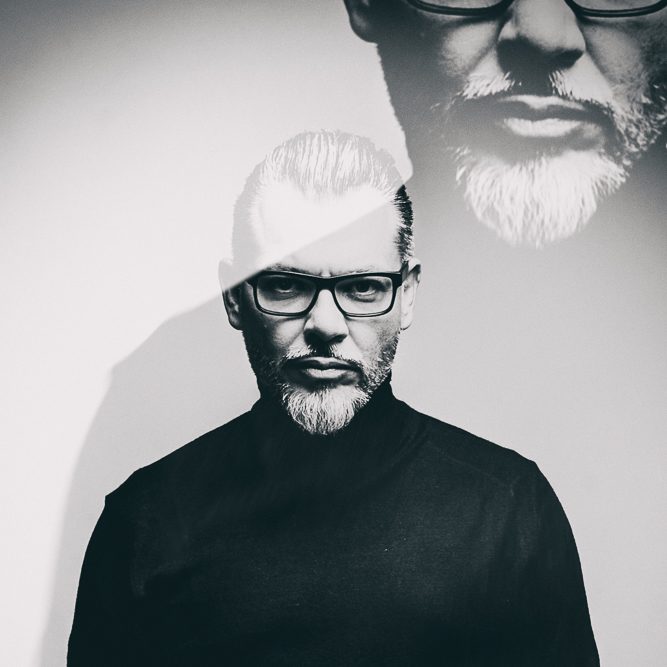 Indoor Portrait Photography by Kosta Matzios
–
It's Christmas! A perfect day to publish my new interview!
For those who know me, I am always looking out for photographers that inspire me throughout my photography journey. One of them is Kosta Matzios, a remarkable artist and friend.
I had the chance to meet Kosta in Athens, Greece last autumn, and talk about portrait photography, camera gear, and shooting indoors. I was impressed with his latest work, so I've invited him to share his photography journey on my blog.
I hope you will enjoy this interview, learn, and be inspired by the tenacity and creativity of Kosta. His unique way of expressing himself, his work ethic, and his persistence is an example to me.
Interview with Kosta Matzios
Share a few things about you, art, and photography.
My name is Kosta Matzios, I´m 45 years young and I live near Stuttgart in Germany. My parents moved from Greece to Germany approx. 60 years ago. So I was born in Germany and grew up in a small town.
I love living in a small town where everyone knows you. The butcher, the baker, and everyone know who you are and what you do. But equally, I love to travel in big cities alone and get lost in the middle of nowhere.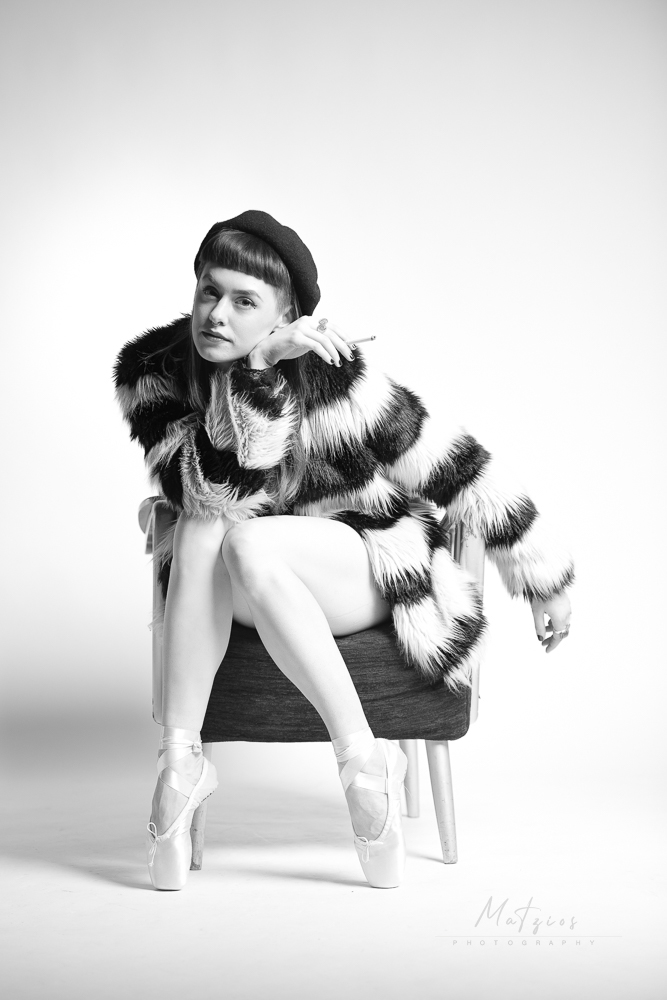 In general, you could say I am an artist, I have a lot of interests. I play drums and several other instruments, I am an international DJ, an engineer, and also as you see a photographer.
All of this is great, but when you have the obsession to perfect everything, it leads to the result that all my good friends describe me as a workaholic.
Through my music I know of course many other musicians, so it comes that I photograph many artists and thus combine the one with the other and fertilize.
How long have you been a photographer?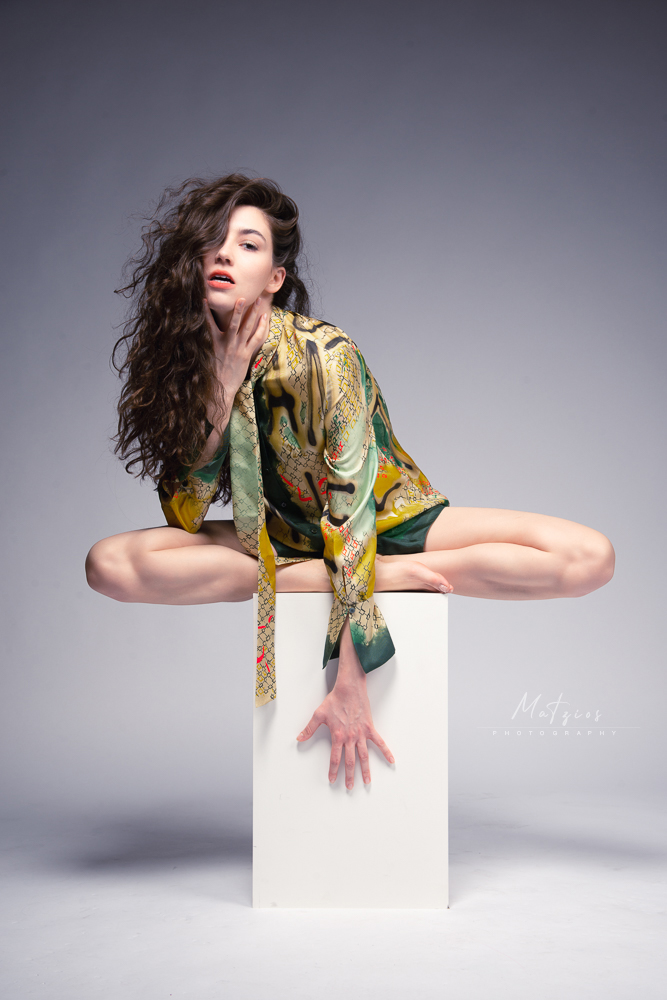 Photography and art have always interested me. When I was 10 years old I had built myself a pinhole camera.
My first digital camera was a Casio with a resolution of 300×400 pixels. However, you can say that I have been seriously engaged in photography for the last 15 years. Tendency increasing.
Did you study photography?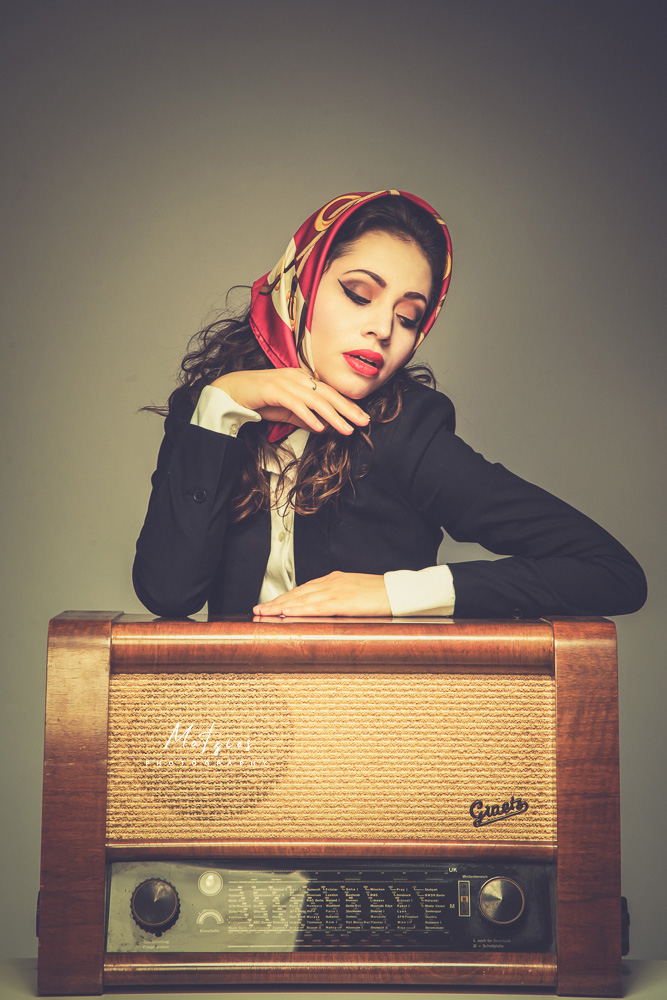 I studied something similar. However, only the technical aspect of photography. I studied optoelectronics (everything that is related to light and electronics).
During my studies, I've learned how to calculate lenses and how to electronically process optical data up to algorithms of image processing. Light has always fascinated me.
How would you describe your photography style?
I would say the following: "I do not photograph, but set an object with light in the scene and hold this by using a camera."
Furthermore, I try to catch a healthy mix with the following ingredients: Light, beauty, sex, charisma, geometry, and sometimes a little bit of shock.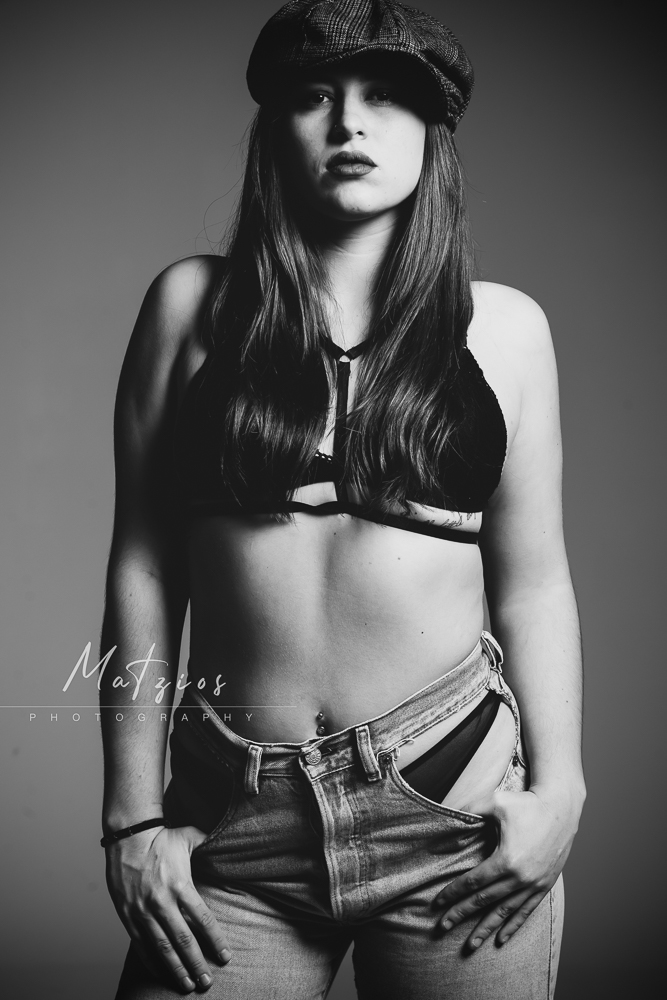 Sometimes one element outweighs the other. In general, I am not one of those photographers who shoot 1 million photos per set in the hope that one or the other good photo will be captured. I try to find a good pose and perfect it, and then, the next one.
What's attractive in a portrait?
I would say the expression. With the right expression, an image can catch you within a fraction of a second.
That's also why I think it's easier to reach a lot of people with photos than with a video or a song. You have to listen to a song or a video for several seconds if not a few minutes to judge if you like it or not.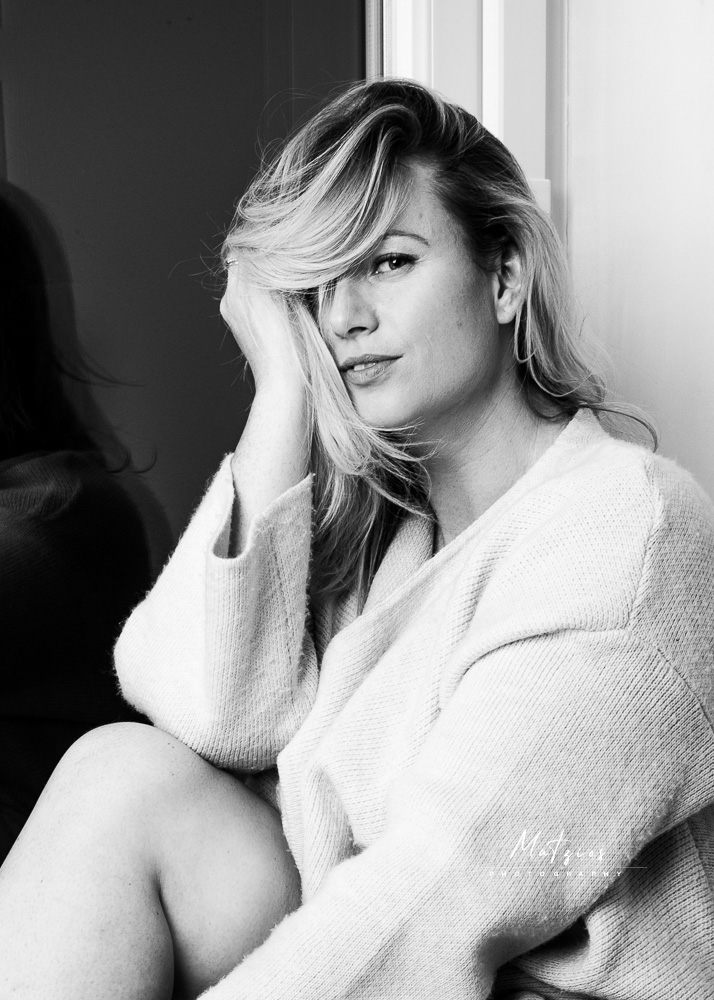 In this day and age, no one has that much time. If you look at the young people in the metro how fast they scroll through the social media apps and "like" … they do not take the time to listen to a 4 min song. It goes like this: "Viewed, Liked "Like"…Next…"
What are the top 3 most important elements in portrait photography?
Light: I love to compose with light, most of my photos have a strong contrast between shadow and light. Only through this do I find the photo gets a platic look.
Subject: The model does not have to be beautiful, but it must be attractive! That is a big difference.
Composition: Every face is unique, so it is important to match each composition to the face. Harmony and contrast must be in balance.
Do you prefer to shoot indoors or outdoors?
I prefer to work in a photo studio. This has several reasons. I am a control freak, which means I want to absolutely control the light. Also, I shoot mainly in the evening or at night… I'm a night owl 🙂
I always need a good sound when I shoot and it's way too much stuff to lug around when shooting outdoors. But luckily there are great photo studios for rent almost all over the world.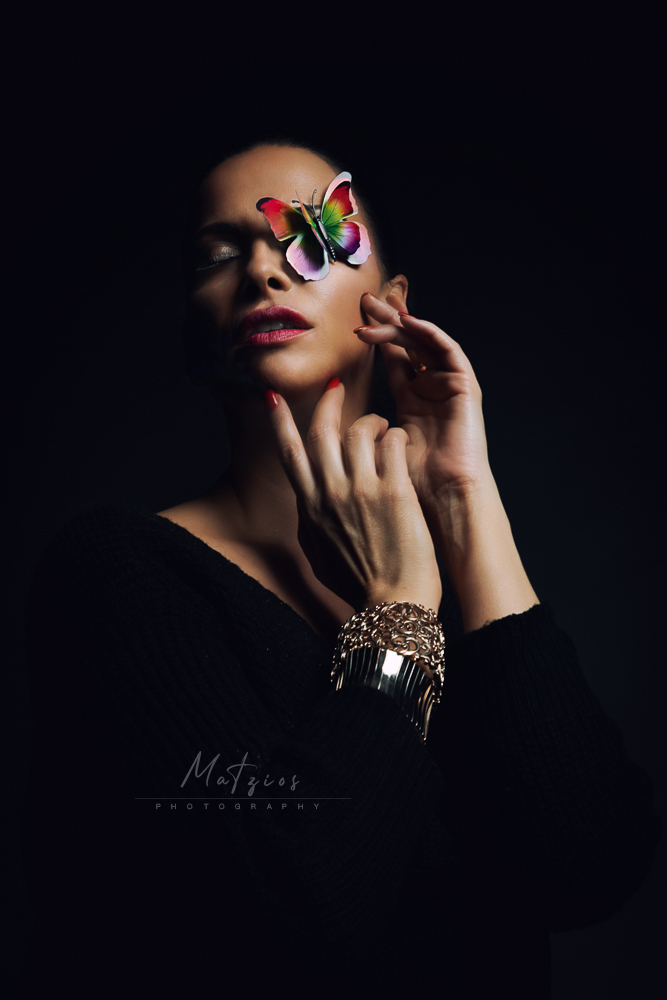 I recently bought a mobile studio flash, which makes the outdoor a bit more attractive again. Especially when I'm traveling.
What is the perfect setup for a studio photoshoot?
Personally, it is very important that the models, as well as me, feel comfortable. It should be spacious so that you can position the light shapers, no matter how big, the way you want without any restrictions. It should be modular and very flexible. So everything on rollers or even better a top rail system.
Learn more about how to set up a home photo studio here.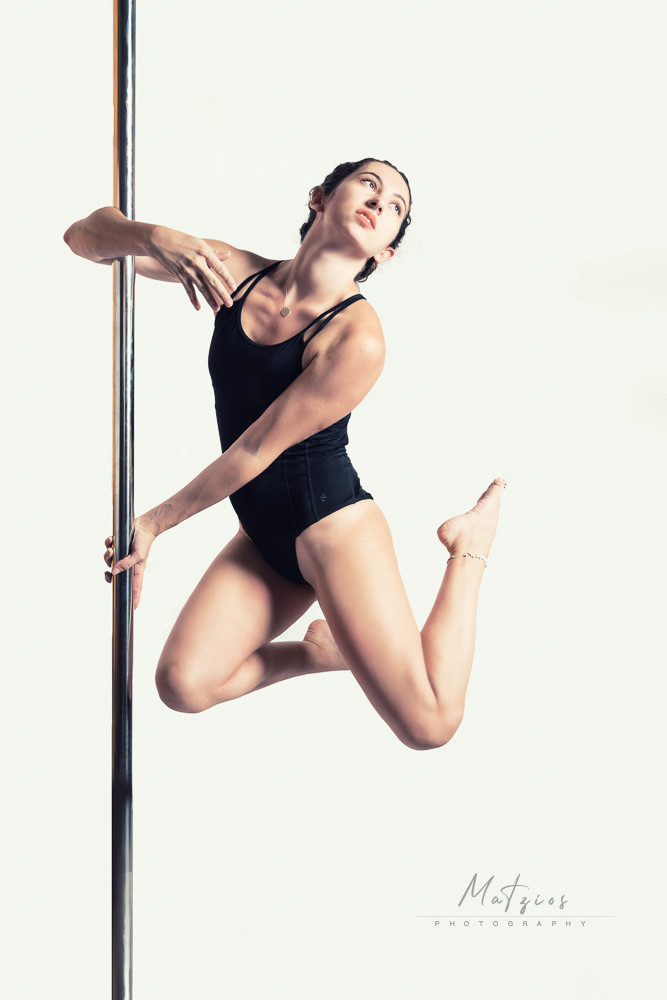 I'm not too picky about the light shapers, but the flashes have to be pretty good. Highspeed sync is a must, fast recharge and they must work reliably.
Sometimes I shoot ballerinas or pole dancers. It's really exhausting to hold a certain pose. Very annoying when the flash does not trigger.
What's your favorite lens to shoot portraits and why?
Definitely the Nikon AF-S Nikkor 70-200mm /2,8 E FL ED VR. It is the sharpest lens I own. You have enough distance to the model and it is very light sensitive.
However, the arm falls off when you shoot for a while without a tripod. My alternative is a 50mm Nikkor AF-S 1:1.4G.
What type of cameras do you shoot with?
I use a Nikon D800E with a Batterygripp. This is a beast of work!
What kind of tools do you use for post-processing?
The selection and initial adjustments take place in Lightroom. Further detail work I do in Photoshop.
I also like to work with Nikon's presets for Lightroom.
How do you improve your skills?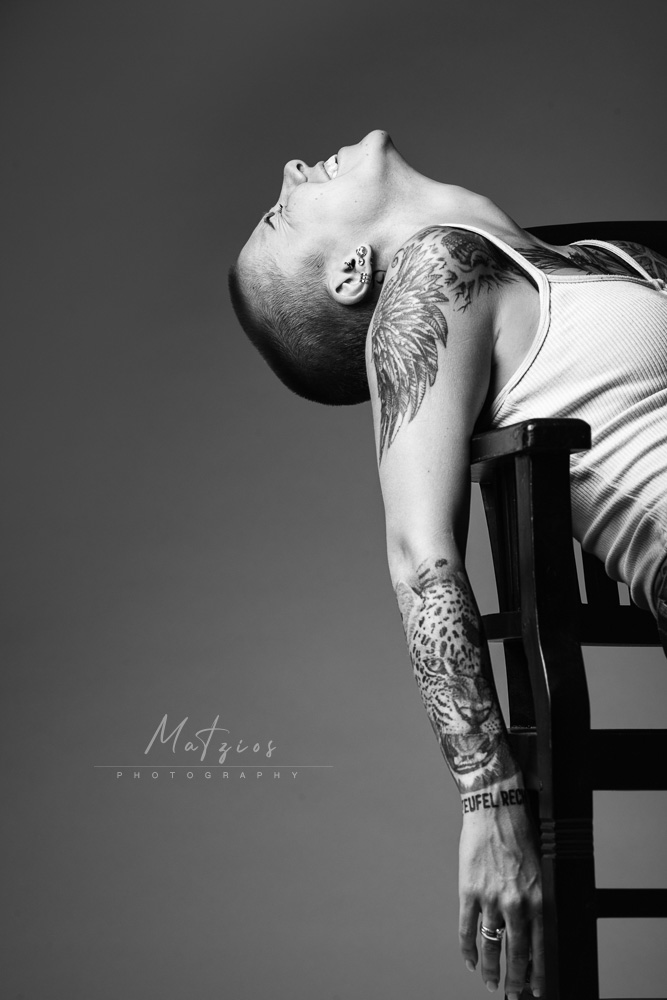 I would say through TFP (trade for print) Shootings. There you can experiment and try out new things without risking a paid job.
I'm on a lot of photography forums. Sometimes, when it suits me, I like to go to photographers' and models' group meetings. There you can ask questions directly, like what, what settings, what light, etc.
Of course, I find most inspiration online. Pinterest, Instagram, Youtube Tutorials, or Facebook.
Name a few photographers that inspire you?
Helmut Newton, Peter Lindbergh, Katja Piolka, Rachel Neville.
What is the most rewarding part of being a photographer for you?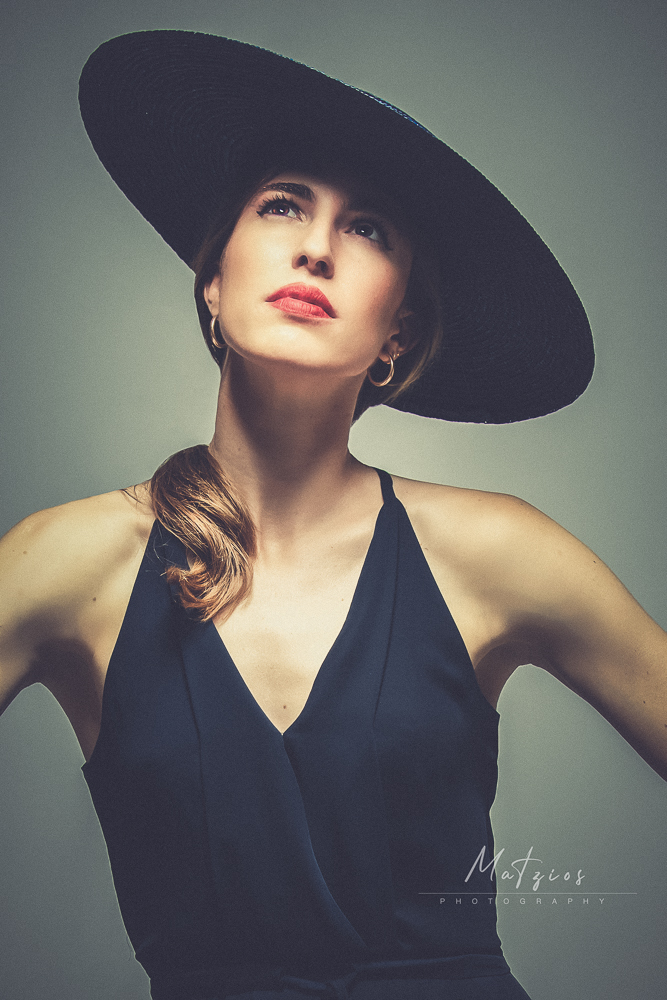 It's the same as in my music. The greatest satisfaction is when someone hears a song or sees a picture of me and says: that's by Kosta Matzios, without knowing it.
What life has taught you so far?
To do everything I love, you need someone to keep your back free. That's my wife. Without her, I would not be able to do all this.
I love life. Live every single day. What I confirm positively is that everything you give with pleasure comes back twice one day.
Share your ambition for the future.
Maybe some more artists use my photos for their promotion, CD covers, posters, etc.
It would be great if there could be an exhibition in a gallery with my pictures.
The goal, of course, is to win a prize or to decorate the cover of a famous magazine!
More about me at www.Matzios.com, or find me on Instagram.