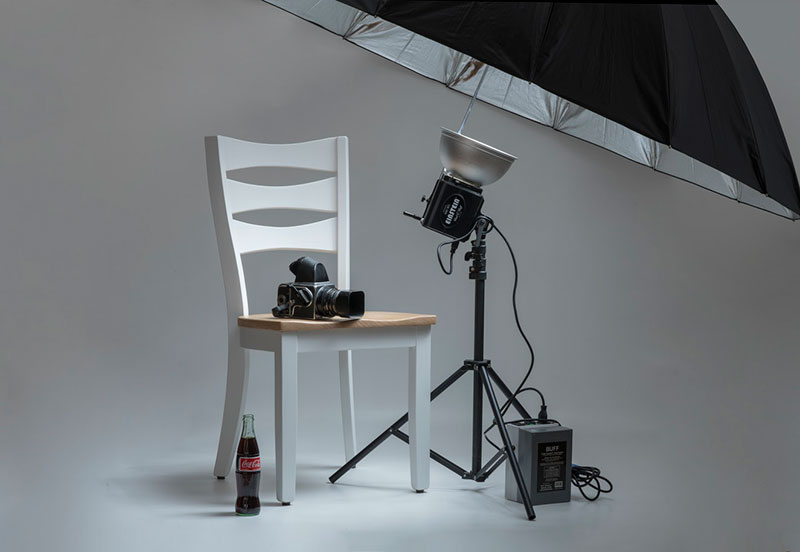 Photography Studio Equipment List for Beginners and Pros – Full Guide
* Last Updated: October 21, 2023
Ad-free content ahead! Freely explore, share, and give us your feedback 🙂
Photography is a form of art, and you can create art in your own photography studio! To do so, just remember the following quote:
"Start where you are, use what you have, do what you can." – Arthur Ashe
Photography Studio – First Steps
Just start! It's that simple to start a photography studio! Use a corner in your house, add a single light source, place a white sheet as a backdrop, find a subject/model, and start taking photos!
Of course, you need more than that to create photos like Annie Leibovitz, but you must first start and then envision how to develop your photography studio business. Always believe in your dreams, and never ever give up!
What does this Set-Up Guide offer?
This free guide provides comprehensive insights into the essential equipment for setting up your photography studio. Whether you're planning a home studio or a professional setup, you'll find everything you need here on this page.
We've researched various professional photography studios, including portrait, fashion, clothing, and product photography studios.
Also, we compiled a wealth of information to guide you in establishing your studio, covering topics such as studio setup, studio lighting selection, recommended photography backdrops, and the most suitable cameras and lenses for different scenarios, among other essential aspects.
Q: What equipment do I need for a photography studio?
The table of contents below offers a quick overview of all the valuable information presented in this free guide.
Photography Studio Equipment List – Full Guide
Table of contents:
Photography Studio Space
Indoor Studio Lights
Adjustable Lighting Kits
Photography Backdrops
Tripods and Accessories
Photography Props
Camera Gear
Design and Decor
Computers and Printers
Photo Editing Software
Create a Photography Website/Portfolio
Social Media Marketing
Now, let's get deeper and explore all the photo studio equipment you need in your space.
1. Create the Ideal Photography Studio Space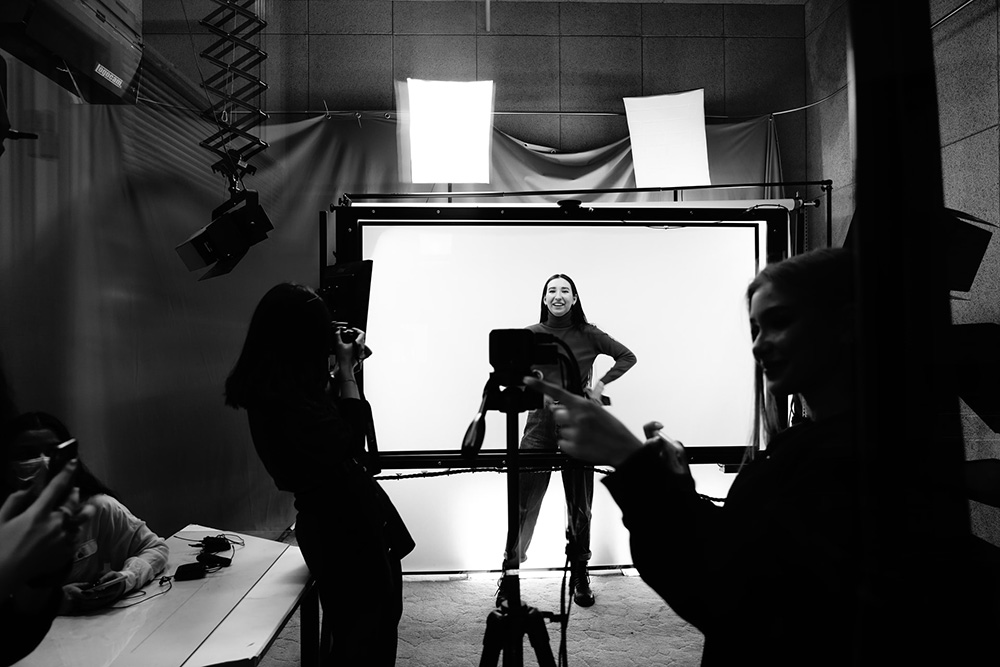 If you're just beginning your new photography business, you might need to set up a home photography studio on a budget at your house, create a professional studio, or rent a studio space.
Home or Basement (Rent-Free)
New space (Pro level)
Rent a space (Great for travel and portrait photographers)
Advantages of a Home Photography Studio
A home studio space offers several advantages for individuals involved in creative pursuits, such as photography, music production, art, or content creation. Here are the top three advantages:
Convenience:  A key benefit of a home studio is the convenience and accessibility, allowing you to work whenever inspiration strikes, eliminating the need for external spaces or rentals, and maximizing productivity.
Creative Control:  A home studio grants you complete creative control, enabling customization of layout, lighting, and acoustics to suit your preferences. This autonomy fosters personalization and efficiency, free from the constraints of shared or rented spaces.
Grow your Business Faster:  Cutting costs enables investments in better equipment and effective marketing. Stay-at-home moms can capitalize on home-based businesses, instantly creating product shots at home and sharing them on websites and social media.
Advantages of a Professional Photography Studio
Professional photo studios offer a range of advantages for photographers and creative professionals. Here are the top three advantages of using a professional photo studio:
Specialized Equipment and Facilities: Professional photo studios offer top-tier equipment, including lighting setups, backdrops, props, and accessories, enhancing photo quality. These studios ensure optimal lighting conditions for achieving desired effects.
Controlled Environment:  Photo studios offer a controlled environment, granting control over lighting, temperature, and backgrounds, ensuring consistency and high-quality images. You can adapt the studio environment to match your creative vision for portraits, product shots, fashion, or other genres.
Space and Privacy: Professional photo studios provide generous space and privacy. The open layout allows for diverse setups, while studio privacy ensures uninterrupted focus on your photography project.
Advantages of Renting a Photo Studio
Renting a photo studio can offer several advantages for photographers and creative professionals. Here are the top three advantages of renting a photo studio:
Access to Professional Facilities and Equipment:  Renting a photo studio grants access to professional facilities and high-quality equipment, such as lighting gear, backdrops, props, and tools that elevate your work. This access enables experimentation with diverse setups and desired effects without costly equipment investments.
Variety of Settings and Backdrops: Photo studios provide versatile settings and backdrops for diverse and creative photography. Whether for product shots, portraits, or fashion, you can customize the studio space to suit your project's needs.
Controlled and Consistent Environment: Studio rental offers controlled conditions for photography work, allowing lighting and temperature control for consistency. This precision is invaluable in commercial and professional photography, ensuring consistent results.
2. Photography Indoor Studio Lights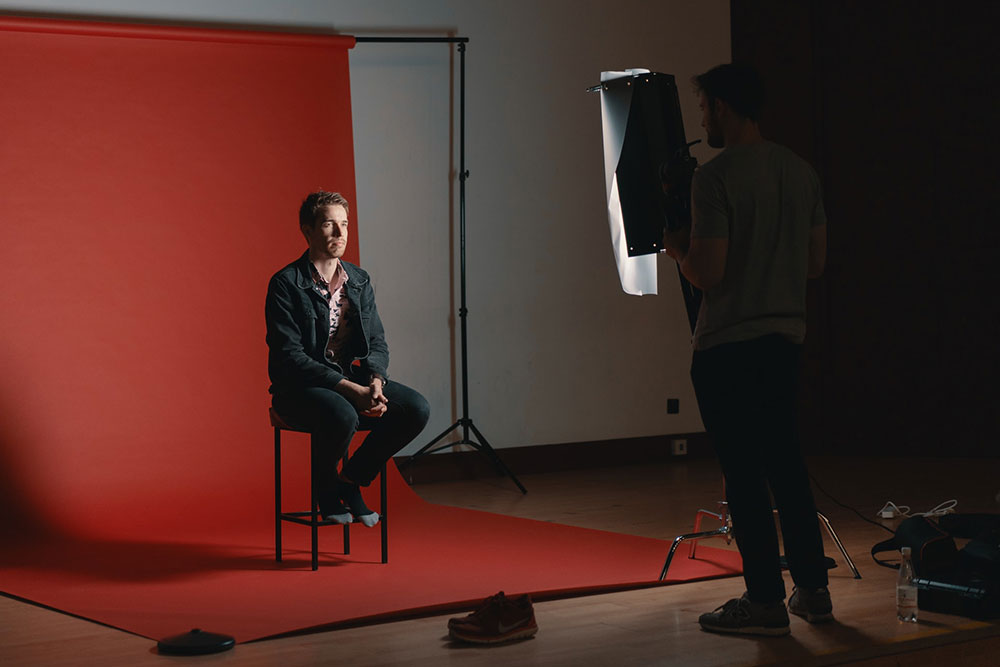 We also recommend reading -> What Lighting is Best for Product Photography
Studio lights serve the primary purpose of providing controlled and consistent lighting for various types of photography and videography.
The primary goal is to illuminate the subject or scene effectively, enabling photographers and videographers to capture high-quality images or footage.
Different categories of studio lights are essential for achieving specific lighting effects and meeting the requirements of various creative projects. The most important categories of studio lights include:
Continuous Lights (Tungsten, Fluorescent Lights, LED Lights)
Strobe or Flash Lights (Monolights, Studio Flashes, Speedlights)
Light Modifiers (Softboxes, Umbrellas, Reflectors, Grids, Snoots, and Gels)
Continuous Lights for beginners and professionals
Choosing the proper photography indoor studio lights is essential for your business. Usually, Continuous lights are the way to go as you begin your journey in studio photography.
Most Continuous lights are adjustable LED lights with warm/cool tone variations. They are called "continuous" because they produce light when you switch them on.
Continuous lights are helpful for both stills and video. They also help to adjust your scene, control the shadows, and observe how the light bounces back to your subject using the proper reflectors.
Of course, there are so many different options of Continuous Lights to choose from.
More Tungsten, Fluorescent Lights, and LED Lights
Strobe/Flash Lights
Short bursts of intense light characterize Strobe or flash lighting, and it's commonly used in photography.
These lights produce a powerful, instantaneous burst of light, ideal for freezing fast-moving subjects or creating dramatic lighting effects.
The Godox AD400 Pro is a powerful 400W monolight flash with TTL, 1/8000s HSS, and a rechargeable Li-ion battery.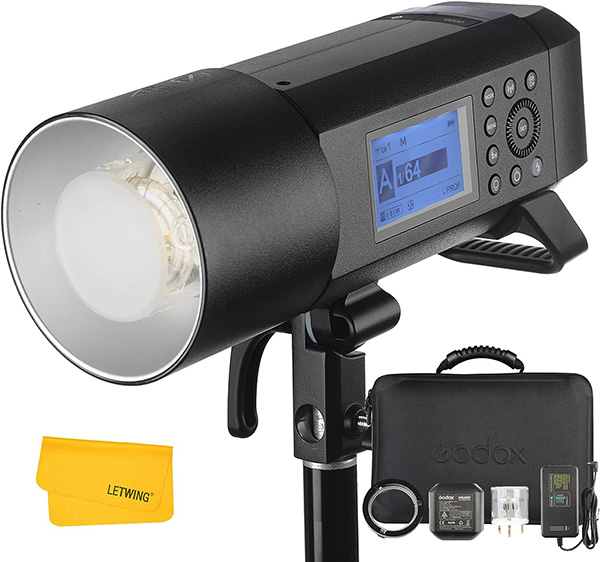 One of the standout features of this strobe light is its rechargeable Li-ion battery. This ensures that you can work without the need for a constant power source, making it incredibly portable and perfect for on-location shoots.
The battery provides a rapid recycle time of 0.01-1s, so you can capture moments without waiting for the flash to recharge.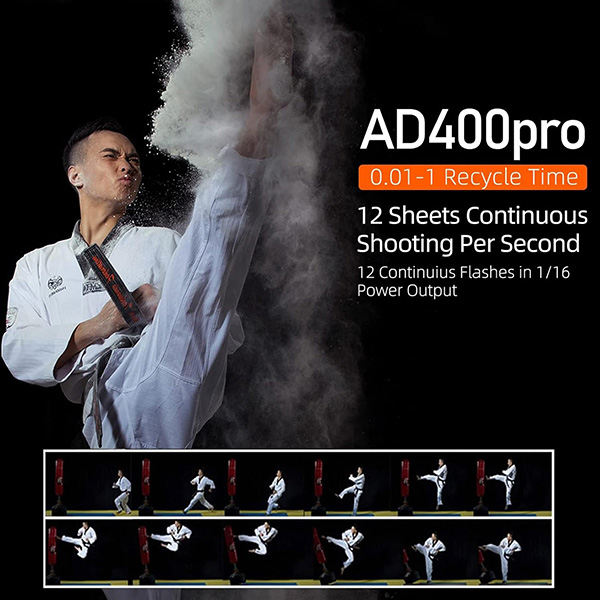 It features a 30W LED modeling lamp with a rapid recycle time of 0.01-1s. With a single charge, it provides an impressive 390 full-power pops, making it ideal for both studio and outdoor photography.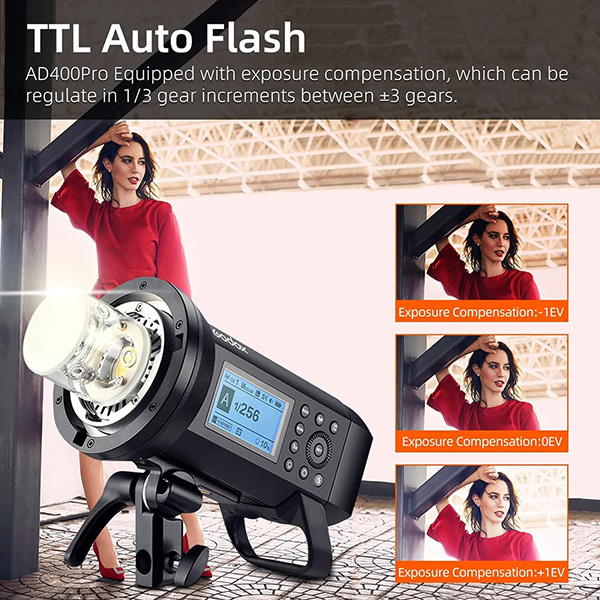 Buy Godox AD400 Pro on Amazon.com
In summary, the Godox AD400 Pro is a reliable and versatile outdoor flash strobe light that offers powerful lighting, high-speed synchronization, portability with its rechargeable battery, and an extended battery life of 390 full-power pops.
It's an indispensable tool for photographers seeking precision and consistency in their lighting setups, whether they're working in a studio or out in the field.
Light Modifiers (Softboxes, Reflectors, and Umbrellas)
A softbox is crucial in photo studio photography as it diffuses and softens harsh light, providing control over light quality, reducing glare on reflective surfaces, and creating flattering, even illumination for subjects.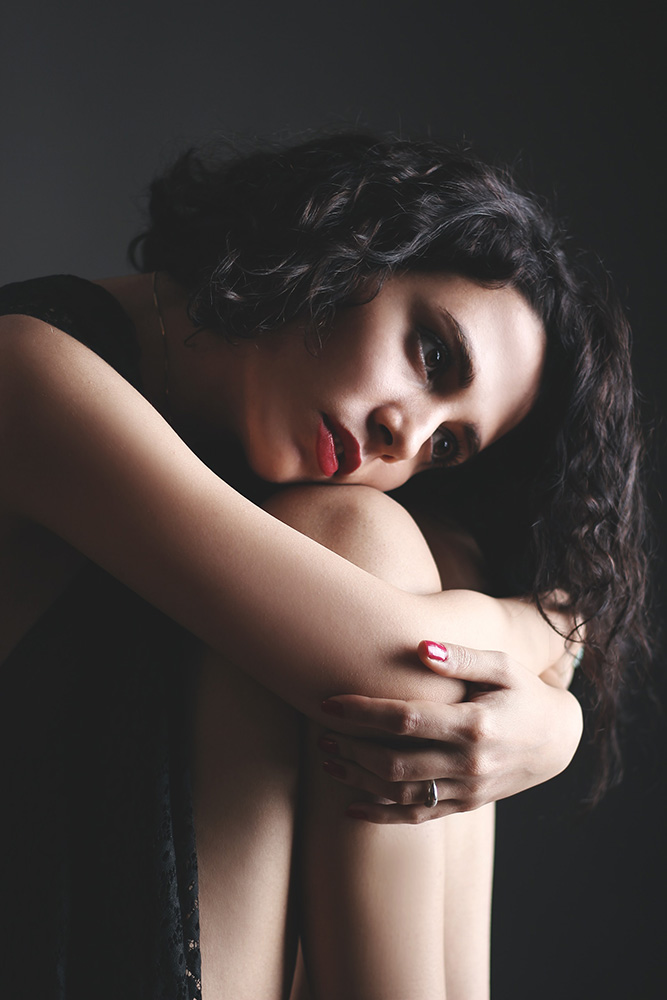 Its versatility, ability to enhance creativity, and professional look make it indispensable for achieving high-quality results in various photography genres, particularly in portraiture and commercial photography.
Softboxes for Photo Studio
The NEEWER 33-inch/85cm Parabolic Softbox is a versatile and user-friendly lighting accessory designed to enhance your photography and videography.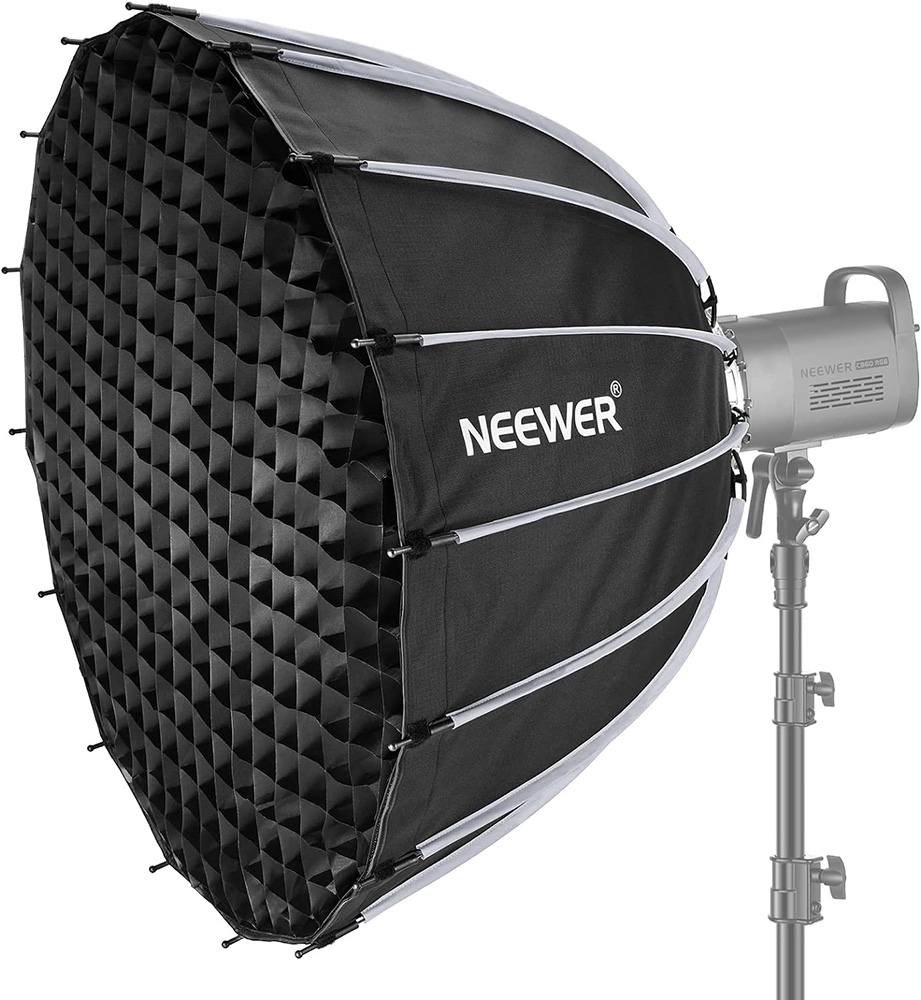 Its quick setup and folding mechanisms make it a time-saving addition to your gear, while the included diffusers and honeycomb grid allows you to customize the quality of light for your specific needs.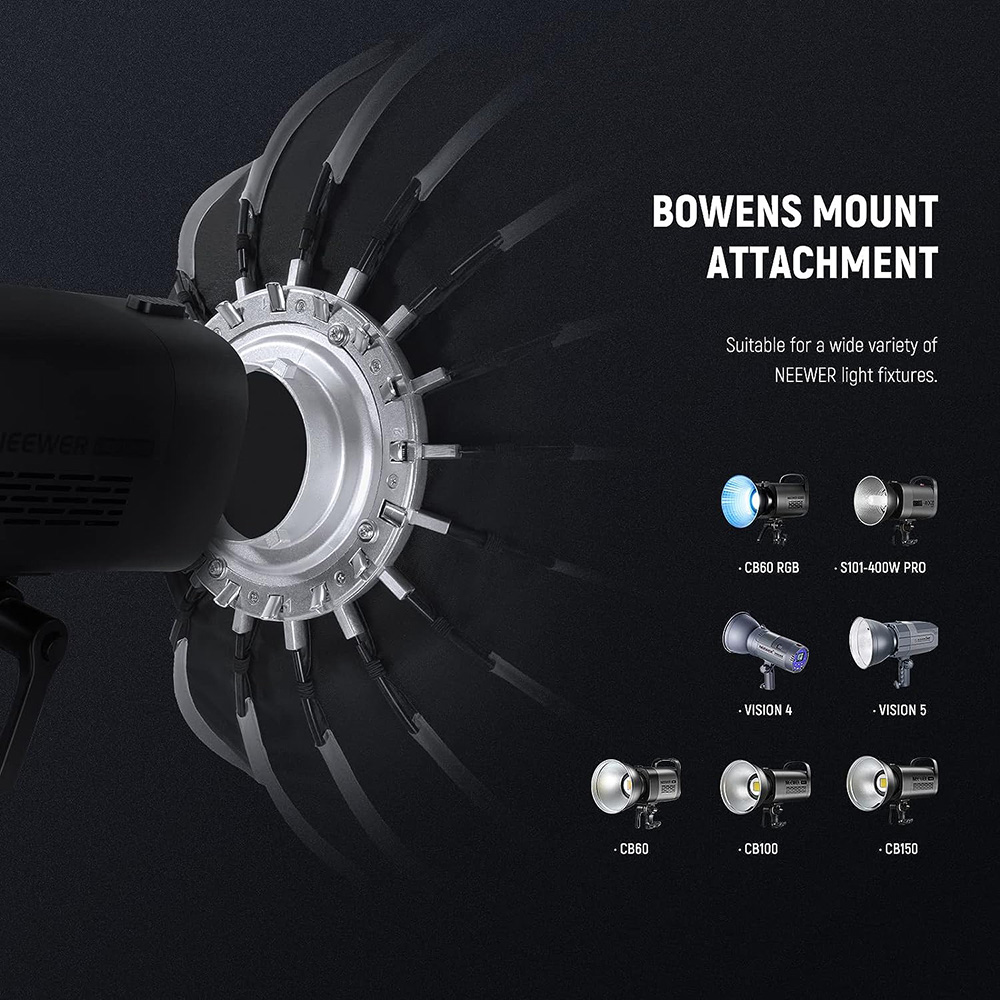 Compatible with popular lighting systems like the Aputure 120d Light Dome, Godox sl60w, NEEWER RGB CB60, and other Bowens mount lights, this softbox offers a seamless integration into your existing equipment.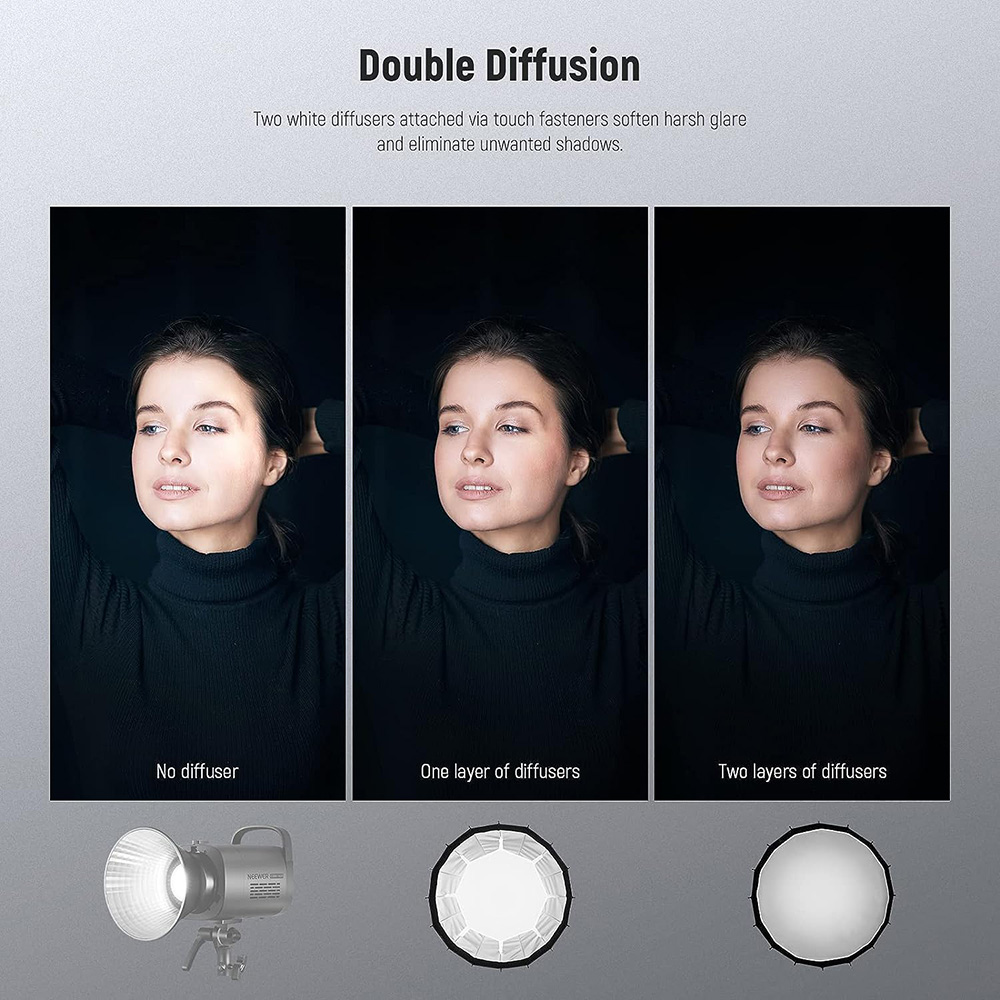 Buy NEEWER Softbox on Amazon.com
Its sturdy construction and included carry bag make it a convenient and portable solution for achieving professional and creatively lit shots in various settings.
Photo Studio Reflectors/Diffusers
A reflector in a photography studio is a flexible tool designed to manipulate and manage lighting conditions. It typically consists of a large, flat, reflective surface available in various shapes and surfaces, including silver, gold, white, and black.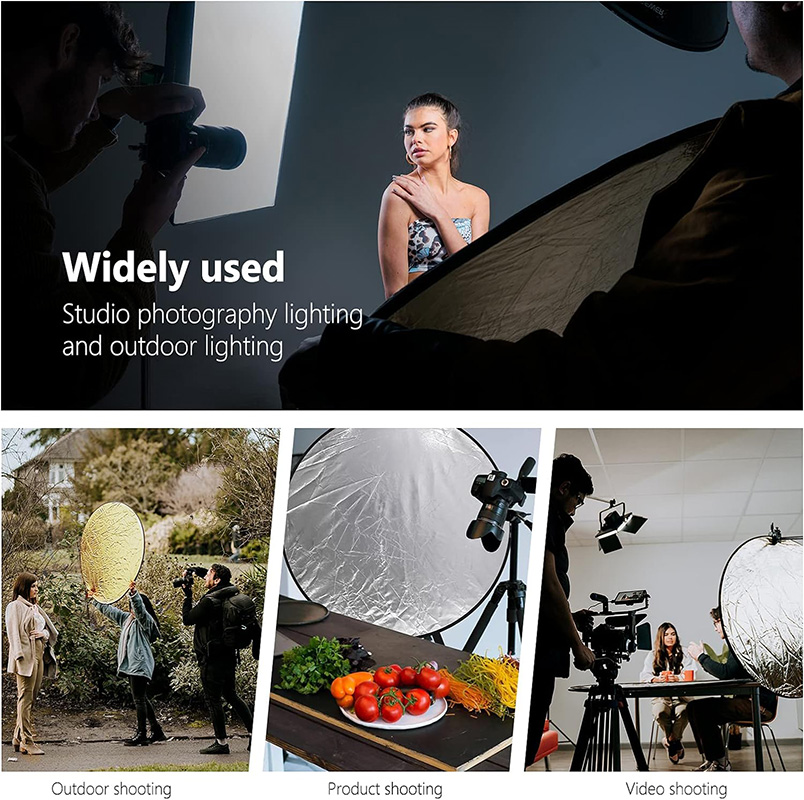 Photographers use reflectors to bounce light onto their subjects, with different surfaces producing distinct lighting effects.
Silver reflectors create contrast,
Gold adds warmth,
White offers soft, even illumination,
Black absorbs light for added contrast.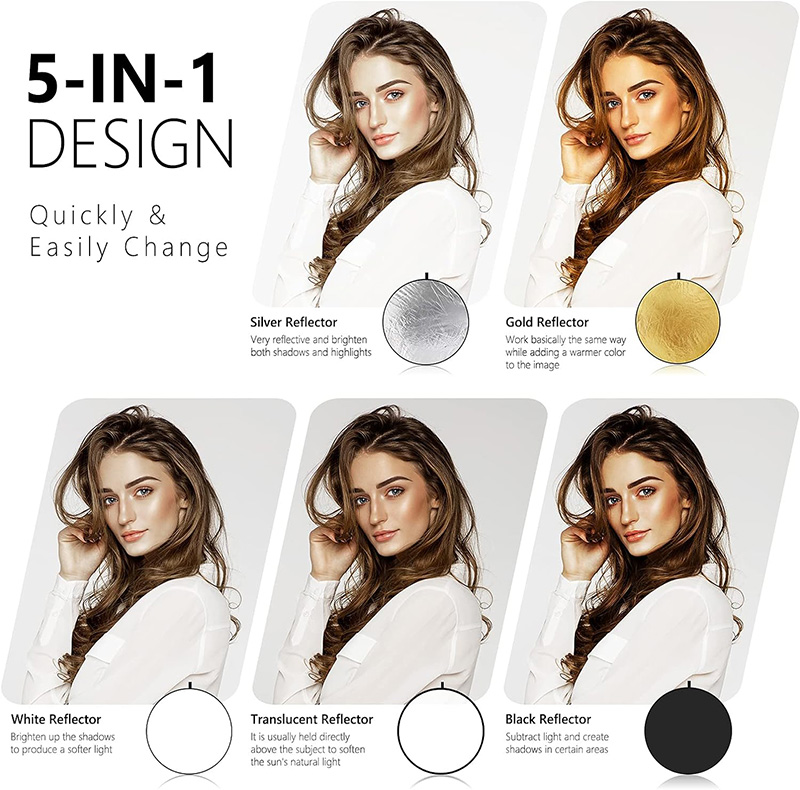 Reflectors are valuable in portrait and product photography, outdoor shoots, macro photography, and creative lighting, allowing photographers to control and enhance the quality of light in their images.
The NEEWER 43 Inch/110 Centimeter Light Reflector Diffuser is a versatile photographer tool. It offers five different surfaces in one collapsible disc!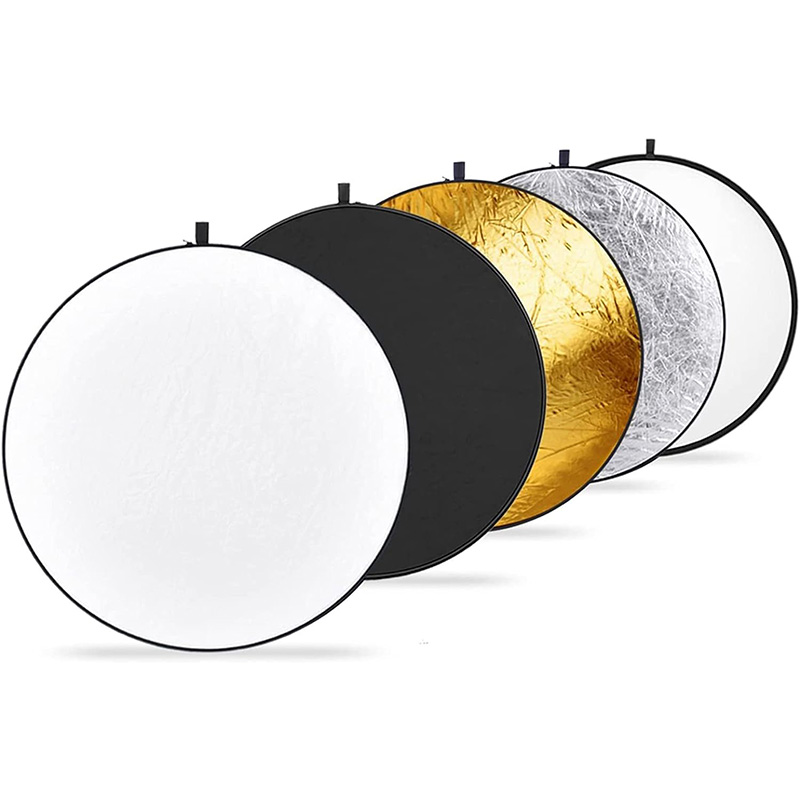 Buy NEEWER reflector on Amazon.com
This multi-disc reflector is ideal for studio photography and outdoor shoots, enhancing control over lighting conditions. It conveniently folds into a compact size and includes a carry bag for easy transport, making it an essential addition to any photographer's kit.
Photography Studio Umbrellas
Photography studio umbrellas are lighting accessories that are affordable and practical tools for controlling and diffusing light in a studio environment. They typically come in two main types: shoot-through and reflective umbrellas.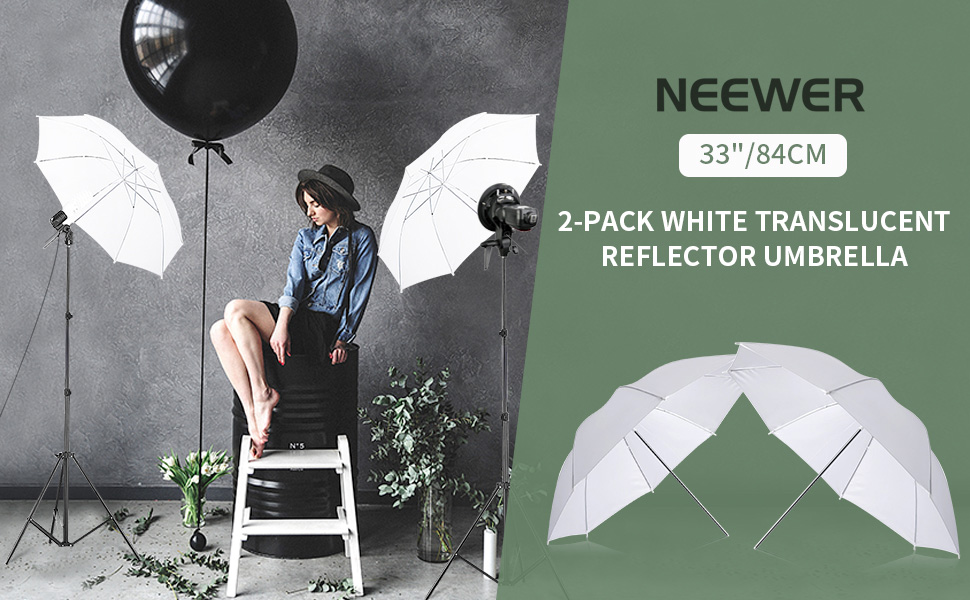 Shoot-through umbrellas allow light to pass through them, creating a soft, diffused illumination ideal for portraits and reducing harsh shadows. Reflective umbrellas bounce light onto the subject, providing a flattering, even glow.

Photographers use these umbrellas to achieve a gentle, controlled light quality, making them valuable for portrait photography, product shoots, and studio setups.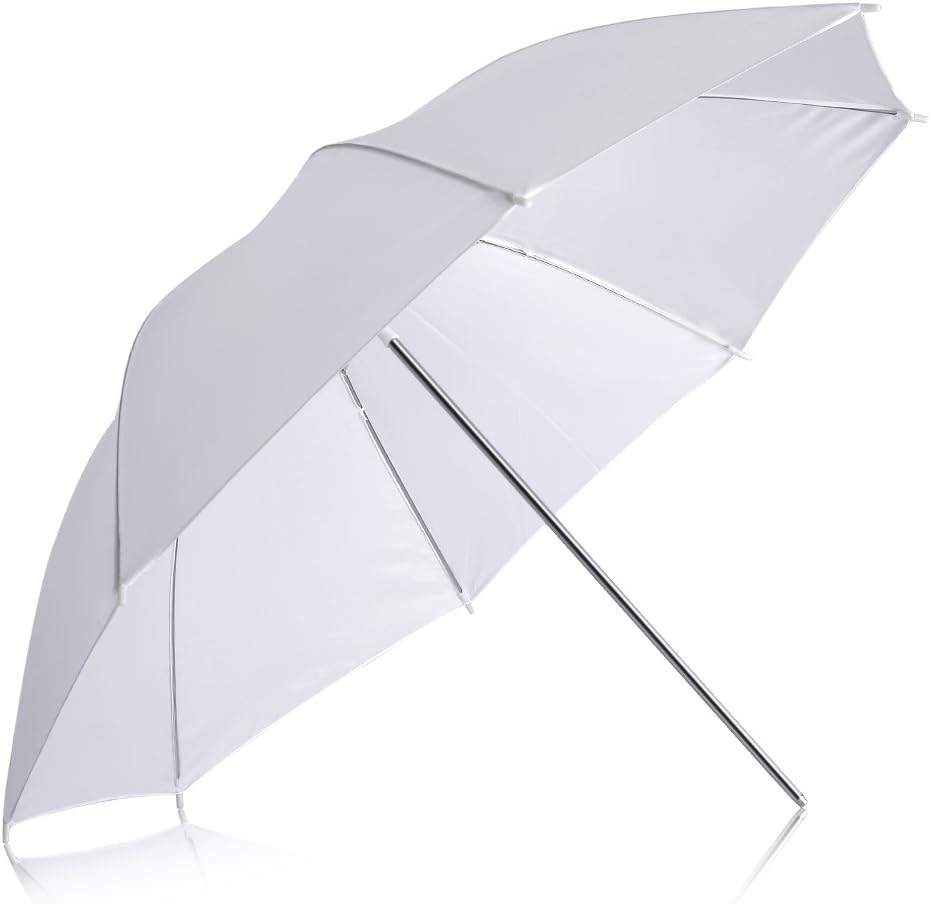 Buy NEEWER White Soft Umbrella on Amazon.com
Their ease of use and budget-friendly nature make them an excellent choice for beginners and professional photographers looking to enhance their studio lighting capabilities.
3. Adjustable Lighting Kits
An adjustable studio lighting kit in photography includes light stands, light heads or flash units, modifiers (like softboxes and umbrellas), light meters, remote triggers, background support systems, cables, power sources, and carrying cases.
These kits allow photographers to control and customize the lighting for various photography styles and studio setups.
LED Lighting Kits
The YICOE softbox lighting kit creates any light tones you need in your photo studio space. Choose between neutral, warm, or cool tones according to the project or subject you're photographing,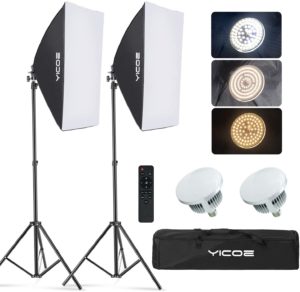 The Emart photography lighting kit is also suitable for professional use. The adjustable LED lights can direct your tones while they can be used on video footage. They have a dimmer so you can create a dramatic scene and take amazing off-camera flash photos!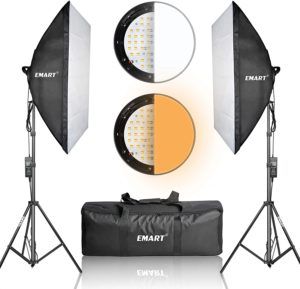 These LED adjustable lighting kits can be controlled through your mobile device. They are easy to install, simple to use, and perfect for photo studios or spaces that need a strong light source.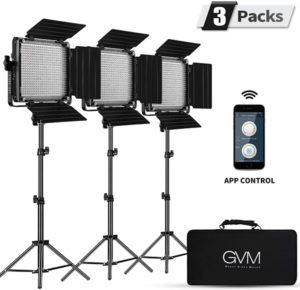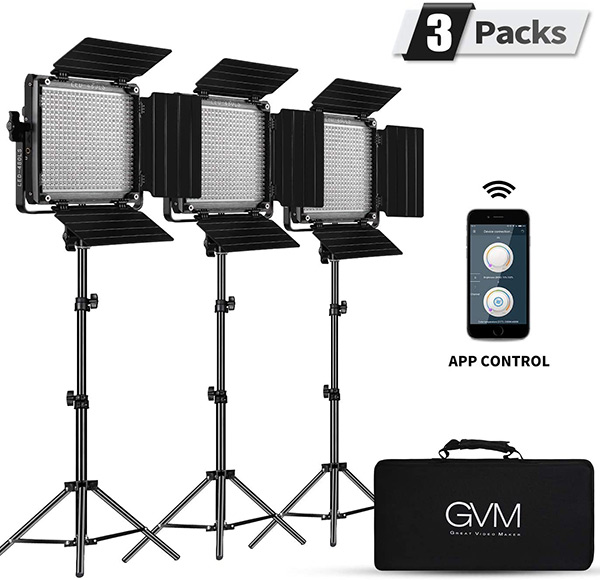 ===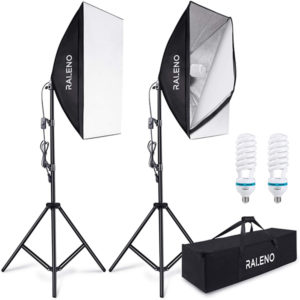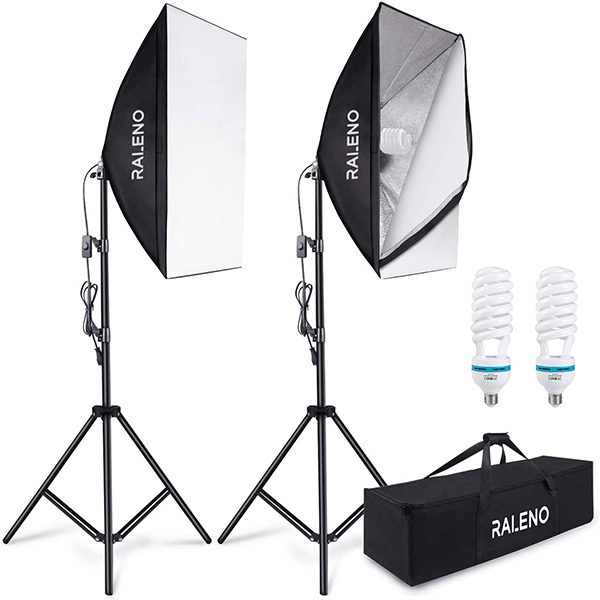 ===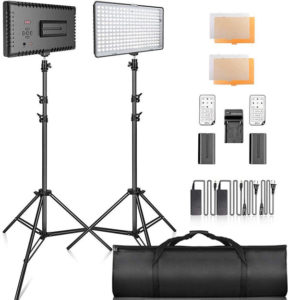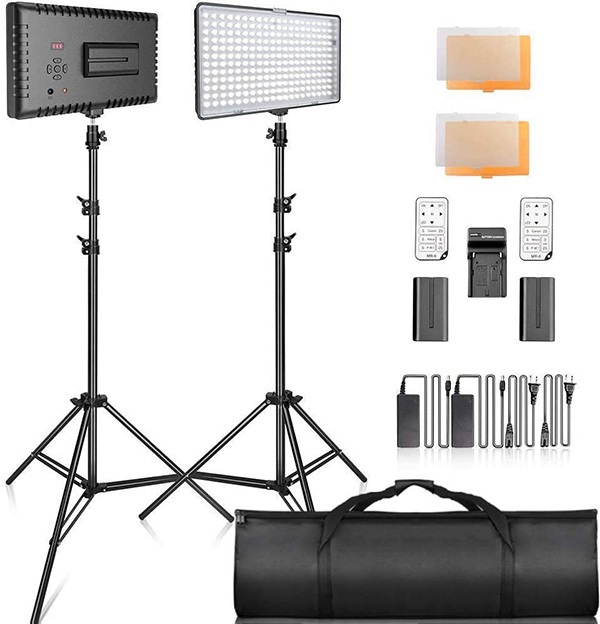 ===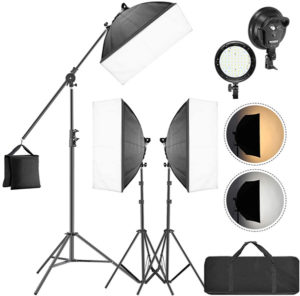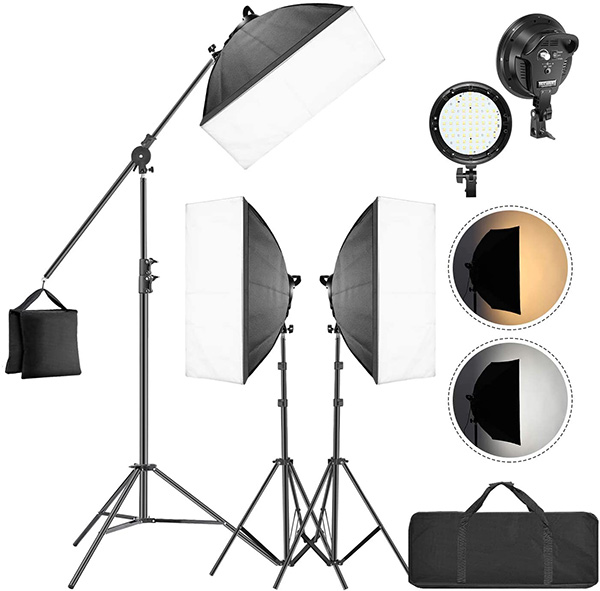 Spring Metal Clamps
Furthermore, a set of spring metal clamps is an essential addition to your setup. Among the top choices on the market is the MegaDeal Jaw Opening Clamp.
Incorporating these into your equipment, you'll be well-prepared to kickstart your entry into essential photo studio businesses.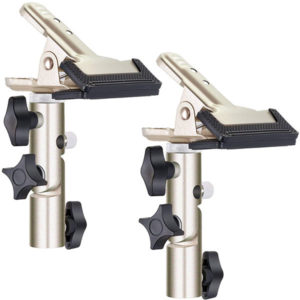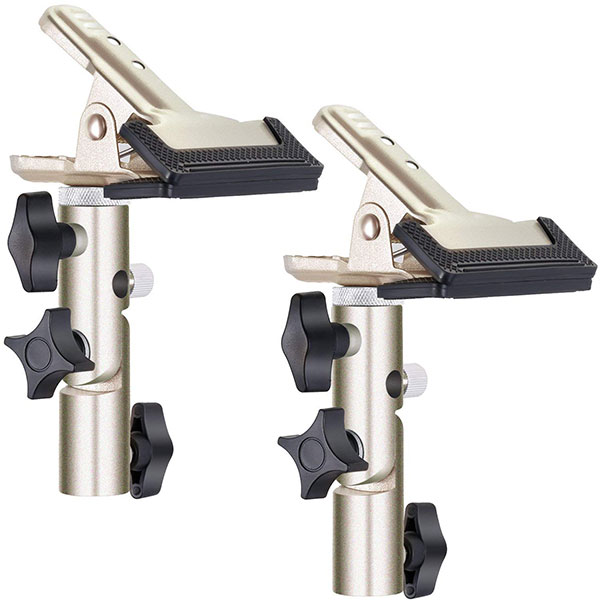 4. Choose lovely Photography Backdrops
Choosing a photography backdrop is easy and cheap. You can begin with a plain white all-around backdrop for about $20.
Pro Tip: Never pin the backdrop on your wall; you will destroy it. Always use clamps and a backdrop stand to hang it.
Backdrop Stand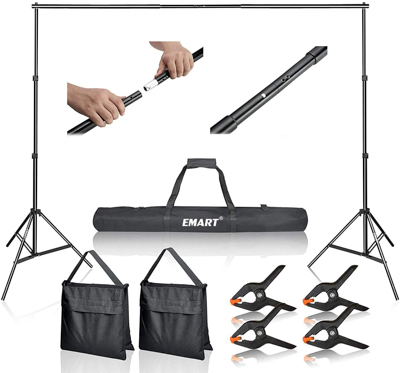 Backdrop Clamps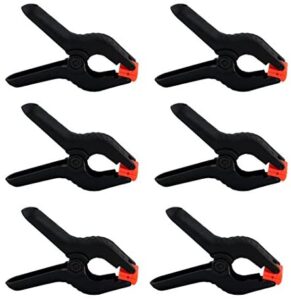 White Collapsible Backdrop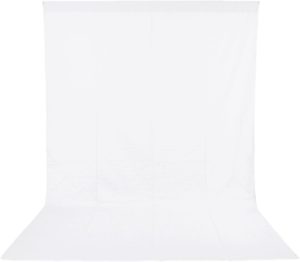 Black Collapsible Backdrop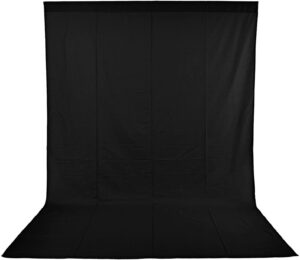 Newborn Backdrops
Newborn backdrops for photo studios are specially designed, versatile backgrounds that create charming and timeless settings for baby photography.
These backdrops come in various colors, textures, and themes to suit different creative visions and are made from soft, wrinkle-resistant materials to ensure a smooth and comfortable surface for the baby.
They add a professional touch to newborn photos, allowing photographers to capture precious moments with ease and style.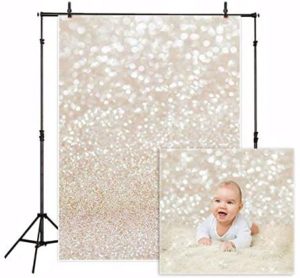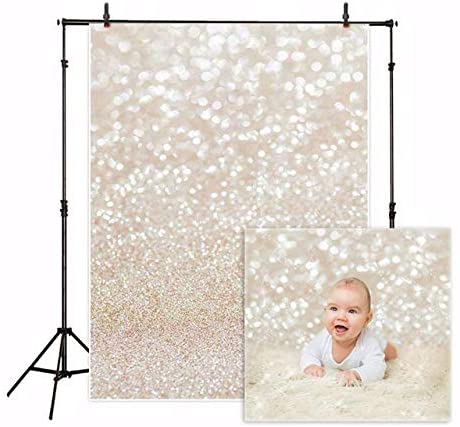 ===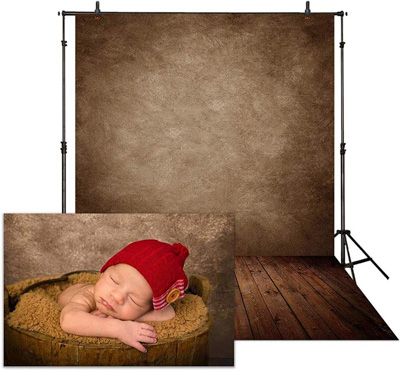 Abstract Backdrop for Kids and Families
Enhance your family photoshoots with this captivating abstract blue vinyl portrait backdrop!
It offers versatile placement options, allowing each family member to stand, sit on the floor, or use stools against the backdrop.
Opt for a larger size to accommodate more people, providing ample space for everyone in the frame.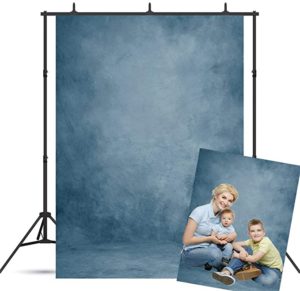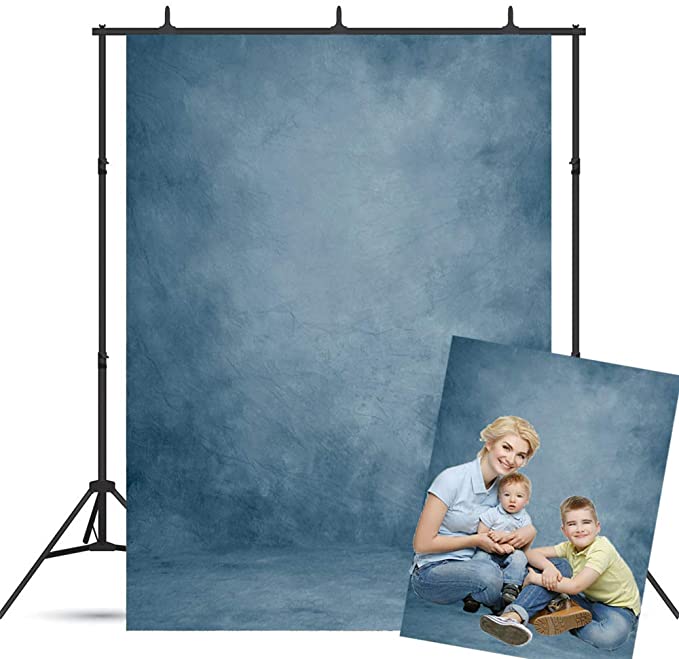 Backdrops for commercial photoshoots
Elevate your commercial photoshoots and business endeavors with the versatility of this grunge grey canvas backdrop.
When ordering, ensure precision by selecting the exact dimensions required to complement your photo studio space perfectly.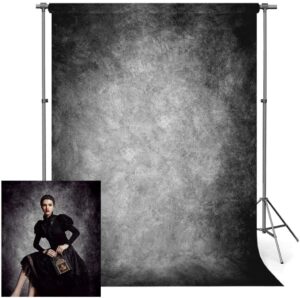 5. Photo Studio Tripods and Accessories
Tripods for internal use in studio photography
A good tripod is essential in a photography studio because it provides stability and precision for capturing sharp images, minimizing camera shake, and ensuring consistent framing and composition.
It is an indispensable tool for achieving professional and high-quality results, especially in studio photography, where meticulous control over the image is crucial.
The NEEWER 74″ Pro Video Tripod is a robust and versatile support system for photography and video applications.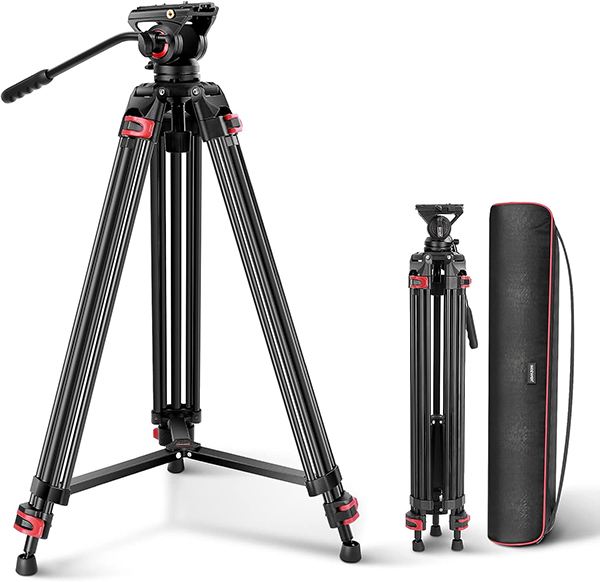 Its heavy-duty aluminum construction ensures stability and durability, while the 360° pan and 160° tilt head with a quick-release plate, compatible with Manfrotto 501, offer precise and smooth camera movement.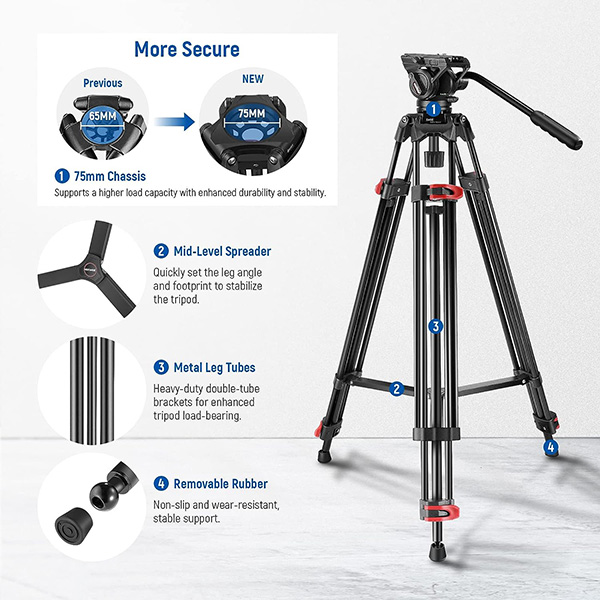 This tripod is a vital tool for photo studios because it guarantees steady support for cameras, reducing vibrations and camera shake, resulting in sharp and professional images and videos.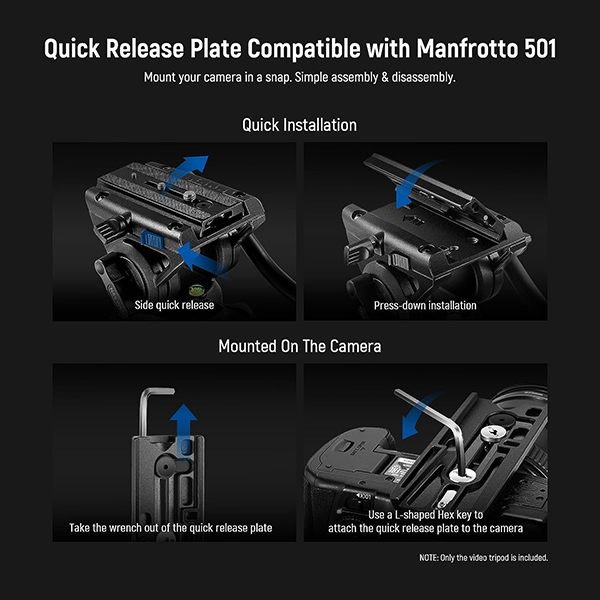 Buy NEEWER 74″ Pro Video Tripod on Amazon.com
Whether for long-exposure photography or capturing smooth, cinematic video shots, the NEEWER Pro Video Tripod is an indispensable accessory for photographers and videographers seeking exceptional quality and control.
Hard Cases for Photo Studio Equipment
A good hard case is essential for storing and transporting photo studio equipment because it offers unparalleled protection.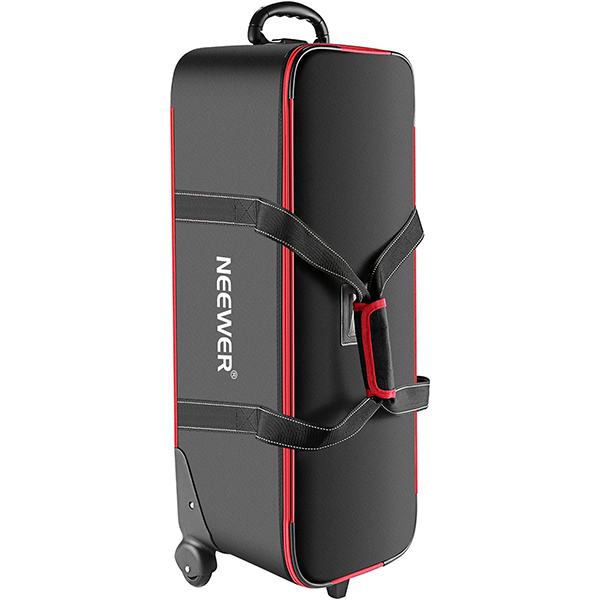 It shields delicate and often expensive gear from physical damage, moisture, and dust, ensuring that your equipment remains in optimal condition.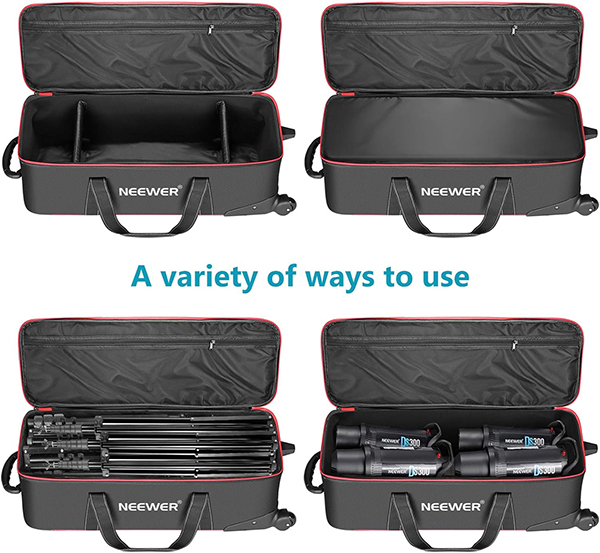 Buy Neewer Trolley Carry Bag on Amazon.com
Additionally, it helps with organization, making it easy to locate and access your equipment quickly when needed.
With a hard case, you can have peace of mind, knowing that your valuable photography tools are secure and well-preserved, whether in the studio or on location.
6. Photography Props
Photography props are objects or accessories used to enhance a photoshoot's visual appeal and storytelling aspect.
Product photography props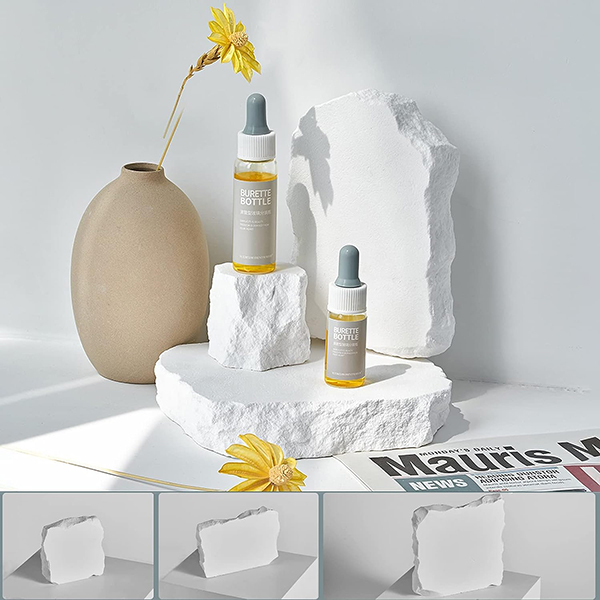 Buy 3PCS Product Props on Amazon.com
Props range from simple items like flowers, fabrics, or vintage furniture to elaborate elements such as themed costumes or food.
Newborn photography pillows
Newborn photography pillows and props are designed to enhance and support newborn photography sessions.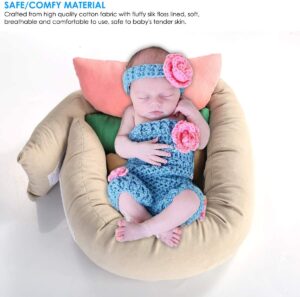 These soft and ergonomic pillows provide a comfortable and safe foundation for positioning and posing newborns, while the props add creative and adorable touches to your baby portraits.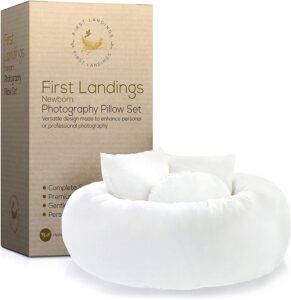 Use props to guide the viewer's attention, evoke emotions, or tell a compelling narrative, producing more engaging and visually captivating images.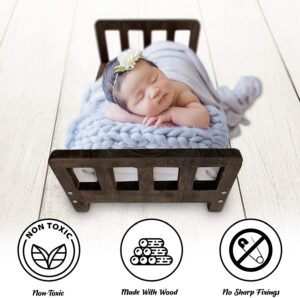 They help photographers capture those precious early moments charmingly and securely.
7. Cameras and Lenses
Achieving excellent photos in your photo studio doesn't necessarily require the most expensive camera and lenses.
It's crucial to pair quality lenses with your primary camera body and master the art of utilizing lighting within your scenes.
Basic Camera Setups for Photo Studio Q&A
Q: Do I need to buy a Full Frame camera?
A:  APS-C cameras and lenses are a more budget-friendly option compared to Full Frame cameras. You can start with an APS-C camera, and as you build your portfolio and experience, consider upgrading to a Full Frame system.
Q: Which lenses are the best for a photography studio?
A: Compact photo studios benefit from lenses with focal lengths ranging from 35mm to 85mm, but if you're working in a more spacious studio, a 70-200mm lens can be advantageous.
Moreover, exploring the used market can yield lenses at half the price, offering cost-effective alternatives for your photography needs.
Q: Which lenses are good for portraits & headshots?
A: Good-looking portraits need at least a 23mm focal length on an APS-C camera body and 35mm on a full-frame body. On the other hand, headshots need 50mm on an APS-C camera and 85mm on a full-frame camera (preferably f/2 or wider).
Q: I don't have money to get more than one lens; what should I get?
A: Work with one lens if you are starting your photography studio. Use your camera's Kit Lens or buy an all-around lens like 24-105mm, 18-105mm, 18-135mm. Use a Speedlight flash with one of those lenses to create stunning photos!
8. Design and Decor
To create a versatile and functional environment, you'll need various furniture and accessories for an indoor photo studio space. These can include:
Light Stands and Boom Arms: To support and position lighting equipment.
C-Stands: Versatile stands for holding flags, reflectors, and other accessories.
Posing Stools and Chairs: For portrait and model photography.
Tables and Surfaces: Useful for product photography setups.
Storage Solutions: Shelves, cabinets, or storage boxes for keeping equipment organized.
Product Display Tables: If shooting product photography.
Comfortable Seating: For clients and crew.
These elements create a well-equipped indoor photo studio, offering flexibility and convenience for various photography styles and projects.
Photography posing stools and chairs.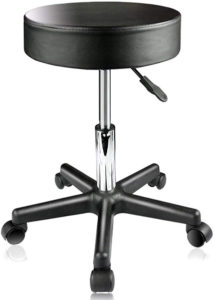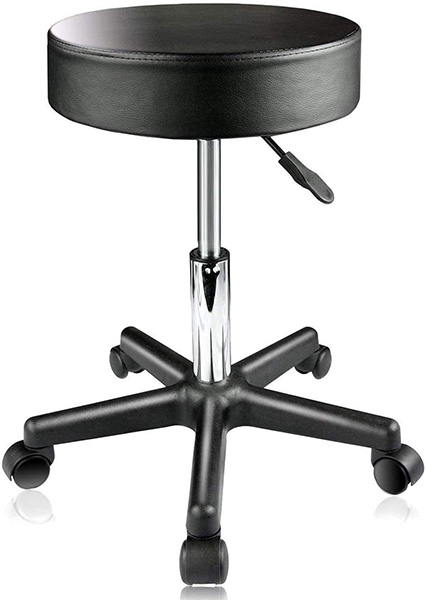 ===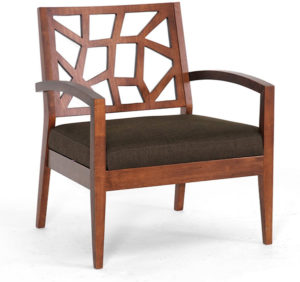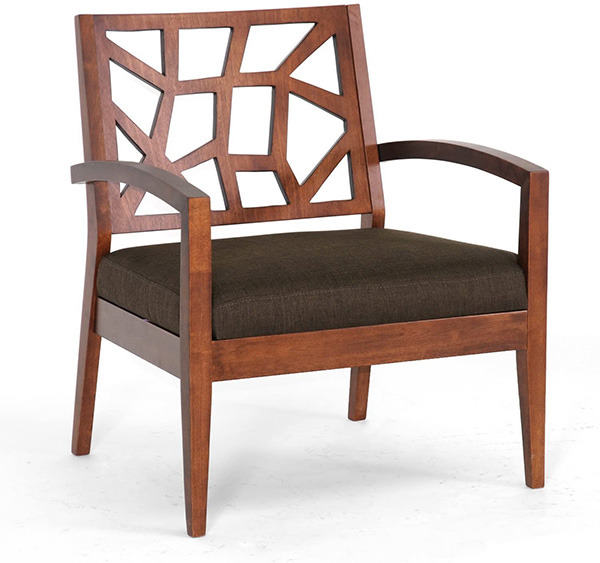 ===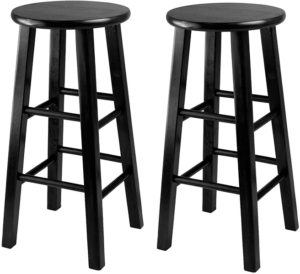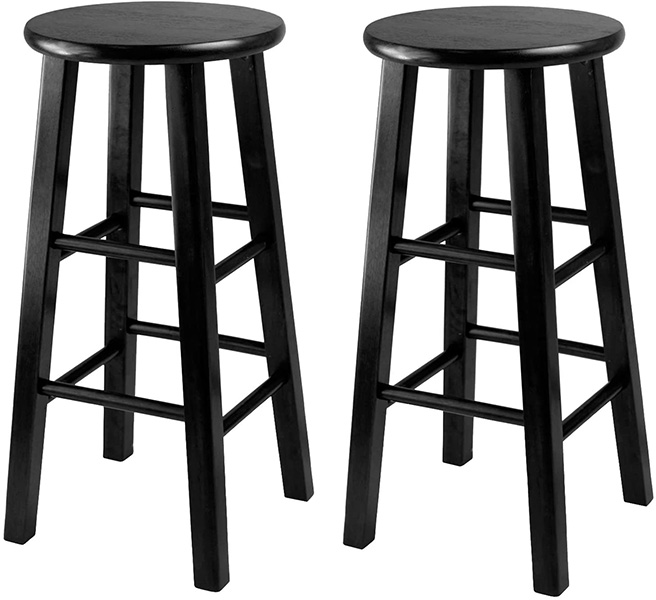 9. Computers and Peripherals
In a photo studio, the computer you need should encompass the following features and considerations:
Processor: A fast multicore processor (e.g., Intel Core i7 or AMD Ryzen) for efficient image editing.
Memory (RAM): At least 16GB RAM, preferably 32GB or more for handling large image files.
Storage: A combination of M.2 internal SSD for the OS and software, plus a larger HDD for image file storage.
Graphics Card: A dedicated GPU for graphics-intensive tasks.
Monitor: High-resolution, color-accurate monitor (IPS panel) with color management capabilities.
Operating System: Compatibility with your preferred photo editing software (e.g., Windows or macOS).
Ports: Sufficient USB and other ports for external device connectivity.
Backup Solution: Reliable backup system, including external drives, cloud storage, or NAS to backup your images.
Photo Editing Software: Install industry-standard software like Adobe Photoshop and Lightroom.
Color Management: Utilize color calibration tools for accurate color representation.
Peripherals: Consider a graphics tablet for precision editing and accessories for efficient workflow management.
10. Photo Editing Software
Adobe's new Photography suite incorporates cutting-edge AI features, revolutionizing photo editing efficiency.
These advanced AI capabilities enable users to edit photos up to 10 times faster than traditional methods, streamlining the editing process and empowering photographers to achieve their creative vision with unparalleled speed and precision.
Whether automating everyday editing tasks, enhancing image quality, or simplifying complex retouching, these AI-driven tools make photo editing more accessible and efficient than ever before.
Get the Adobe Photography Suite here
The Photography Suite includes:
Lightroom
Lightroom Classic
Photoshop on desktop and iPad
20GB of cloud storage (1TB available).
11. Create your Photography Website/Portfolio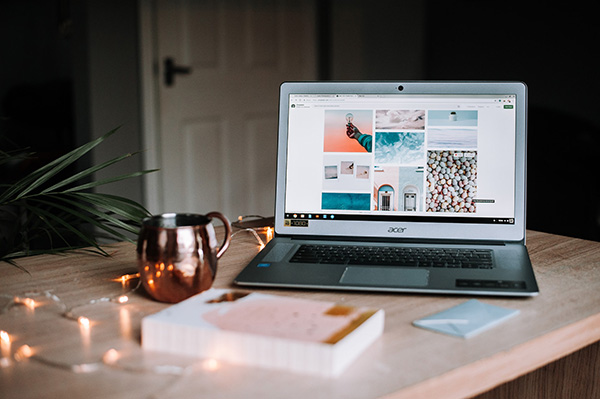 Creating a website for your photography business is essential. Here are the steps on how to do it successfully:
Buy a Domain Name.
Sign up for FREE on Squarespace, one of the most popular website platforms in the world for photographers, creators, and eCommerce.
Hire a web designer on Fiverr.com to help you create a professional design!
Register your Photography Business in Google Business.
Contact me contact(at)johnmakphotography(dot)com to help you with content and SEO to rank your website #1 page in Google.
12. Social Media Marketing
Social media marketing is essential for any business. My personal experience taught me that after building your website, you need to create a community that will support, comment, and share your website's content.
This is very good for your website and the search engines. For example, Google likes to see a brand evolving, and the more social shares a page has, the more likely it is to hit the top page of the Google search engine results page!
Nowadays, the best social media platforms are TikTok, YouTube, Pinterest, Vero, and Facebook/Instagram. Suppose you have to begin from zero and use your family, friends, and colleagues to share your business and what you do. Brand advocacy works exceptionally well, too!
Summary
You don't need all this equipment to start a photo studio. You can start with a simple backdrop, one light, a good camera with a flash, and a tripod, and you're ready to go.
Just remember, when you are about to shop for any of this equipment, always keep an eye out for quality. Do your research, ask for recommendations, read customer reviews, and check for prices.
Developing your style and getting the right equipment might take a while. I advise you to keep up the good work and keep improving your photography. Also, share your work on Social Media.
If you enjoyed this page, sharing it with your friends on Facebook, Twitter, or Pinterest would be greatly appreciated. Feel free to comment below if you have any questions or if a specific item has piqued your interest. Your feedback is valuable to us!