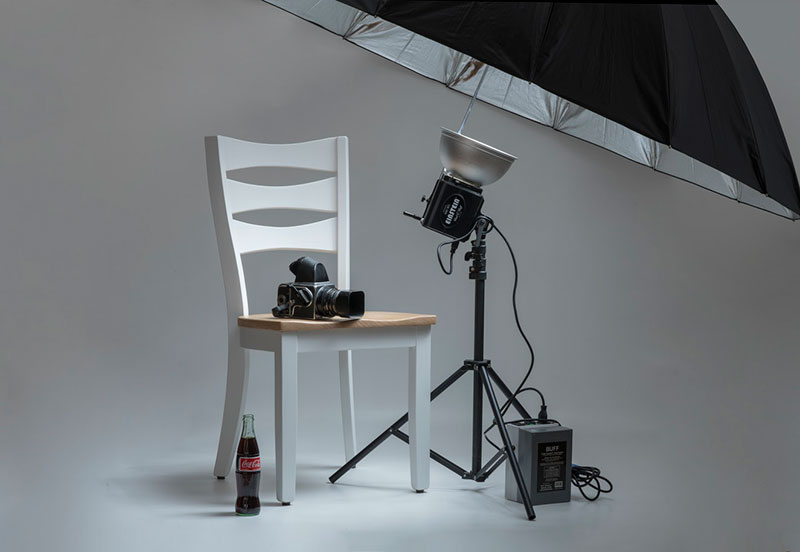 Best Photography Studio Equipment for Beginners and Professional Photographers
Reading Time:
8
minutes
Are you planning to create a new photography studio and you are not sure where to begin? Or do you already own a Photography Studio and you are looking to expand your camera gear and equipment?
Choosing the right gear for your photo studio may take a while. You need to research and find out what you need and what works best for you and your space.
Before you start looking for camera gear and equipment, you should take a look at what other professionals use in their photo studios. MisterLocation is a great website to check different kinds of spaces either you live in big cities like in Berlin, Germany, London, UK, or New York, USA.
After doing your research you will have an understanding of the space and the equipment you need. In this article, you will find tips for beginners and professional photographers on camera gear and other essential tools a photo studio needs.
Equipment List for Photography Studios
Studio space
Photography backdrops
Cameras
Lenses
Adjustable lighting equipment kits
LED lights
Strobes
Softboxes & umbrellas
Chairs, furniture
Hair, makeup area
Computer
Printers
Photo editing software
Now let's get deeper and explore all the photo studio equipment you will need in your space. There are eight main categories. Depending on your budget and your business model, select one that fits your needs.
Photography Studio Equipment for Beginners & Pros
1. Find or Create the Ideal Studio Space
If you're just beginning your new photography business, you might need to consider starting at your house, your basement or rent a professional space.
Home or Basement (free)
Rent space on a budget (from $50 per hour)
Make sure you have plenty of space if you choose to start at home. Prepare a corner or a room in your house with a clean background, a chair or stool, and good lighting.
You can also create that space next to a window if you want to have plenty of natural light coming from outdoors. It will be a great light source for headshots!
2. Photography Backdrops for Photo Studios
Choosing a photography backdrop is easy and cheap. You can begin with a plain white all-around backdrop for about $20.
Note: Never pin the backdrop on your wall, you will destroy it. Always use clamps and a stand to hang it.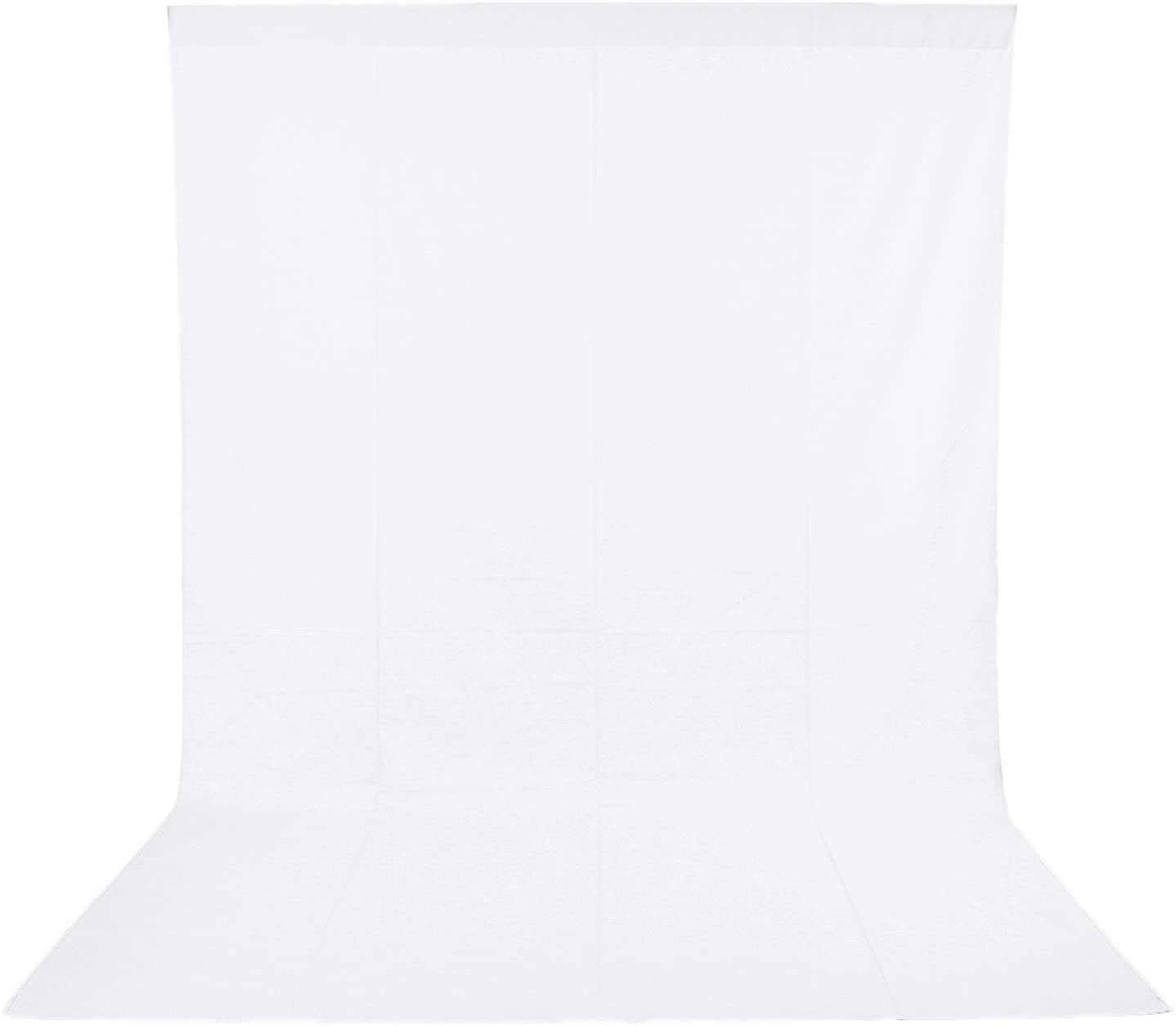 For newborn photography, you can buy an amazing bokeh photography backdrop. It will make your images look incredible either you photograph babies or animals.
Question: Do the poles show on the sides once the backdrop is up?
Answer: It depends on how much space your subject takes to fit into the frame. Usually, if you use a 50mm or 85mm lens on a full-frame camera you won't have any issues!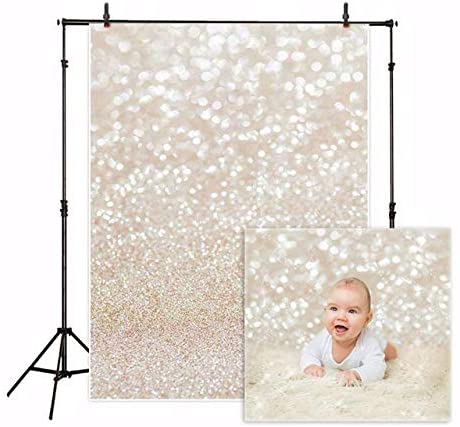 Funnytree 5X7ft Ivory Gold Bokeh Photography Backdrop
This abstract blue vinyl portrait backdrop is great for family photoshoots! You can place each person in front of the backdrop standing, sitting on the floor, or use stools. The bigger the size, the better the larger the number of people you can include.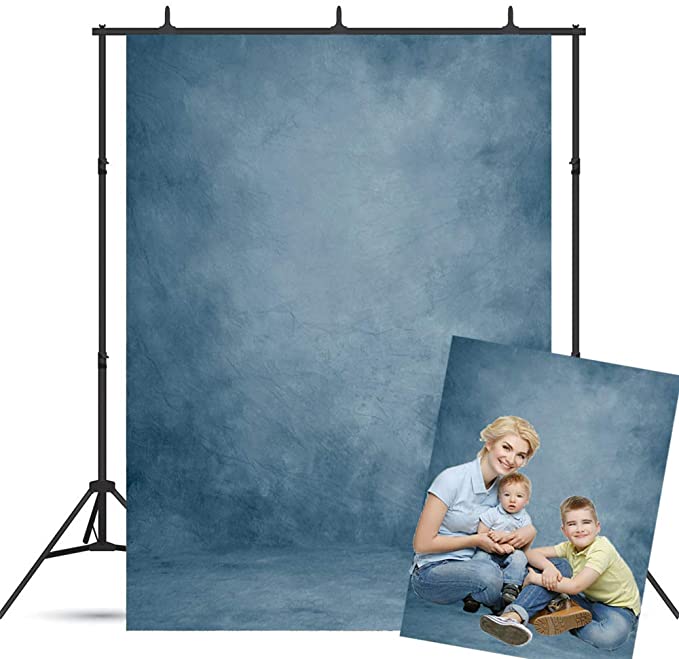 BoTong 5x7ft Abstract Blue Vinyl Portrait Backdrop
This grunge grey canvas backdrop is suitable for commercial photoshoots and businesses. Make sure to order the exact dimensions you'll need for your photo studio space.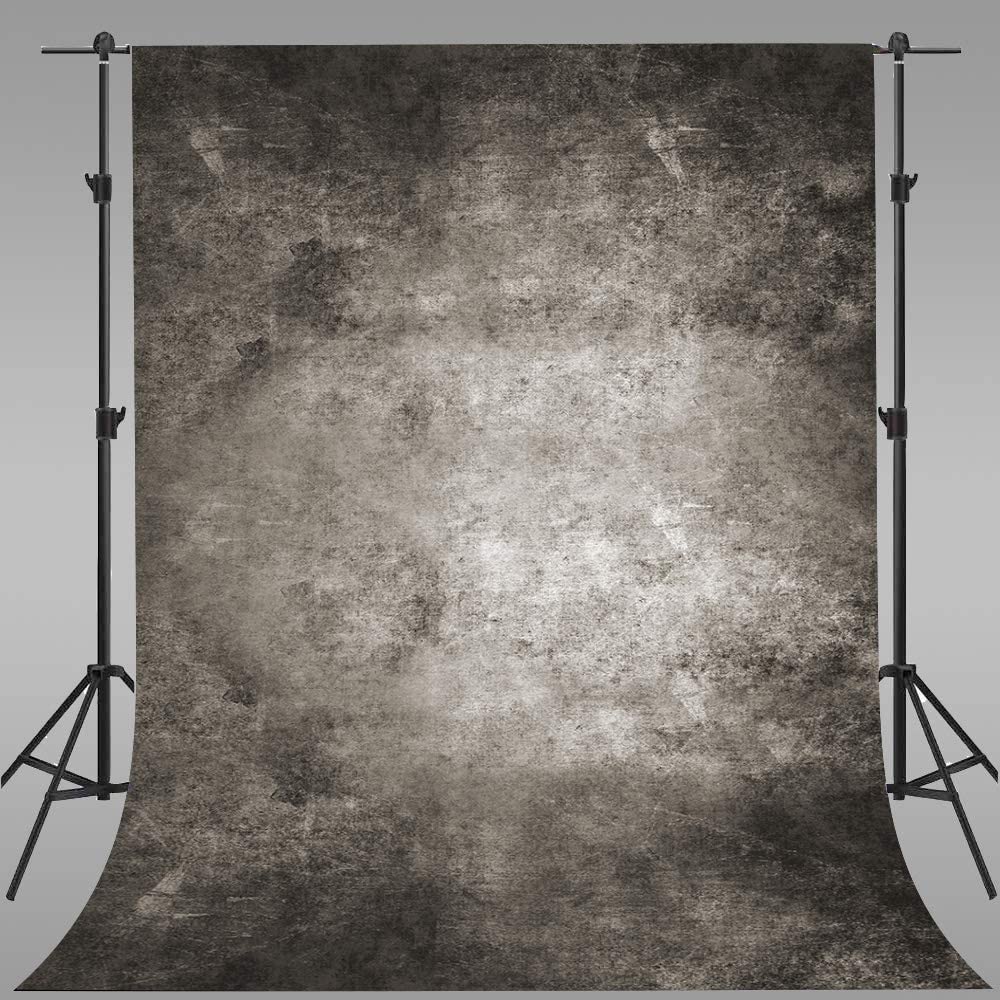 EARVO 5x7ft/1.5×2.1m Grunge Backdrop Gray Canvas
3. Adjustable Lighting Equipment Kits
The YICOE softbox lighting kit is great for creating any kind of light tones you need in your photo studio space. Choose between neutral, warm or cool tones according to the project or subject you're photographing,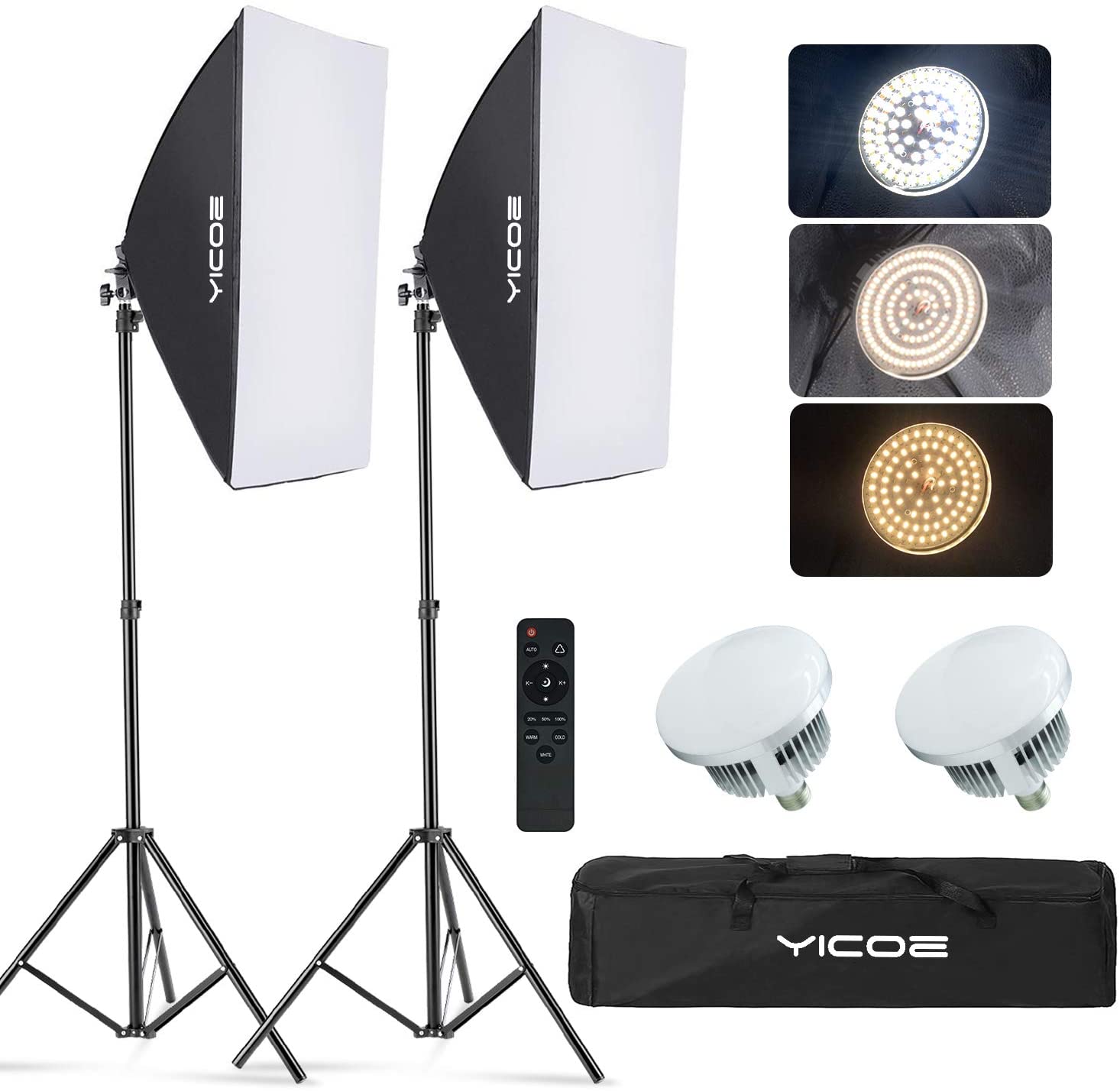 YICOE Softbox Lighting Kit Photography Photo Studio Equipment Continuous Lighting System with 5700K Energy Saving Light Bulb
The Emart photography lighting kit is also suitable for professional use. The adjustable LED lights can direct your tones while they can be used on video footage. They have a dimmer so you can create a dramatic scene and take amazing off-camera flash photos!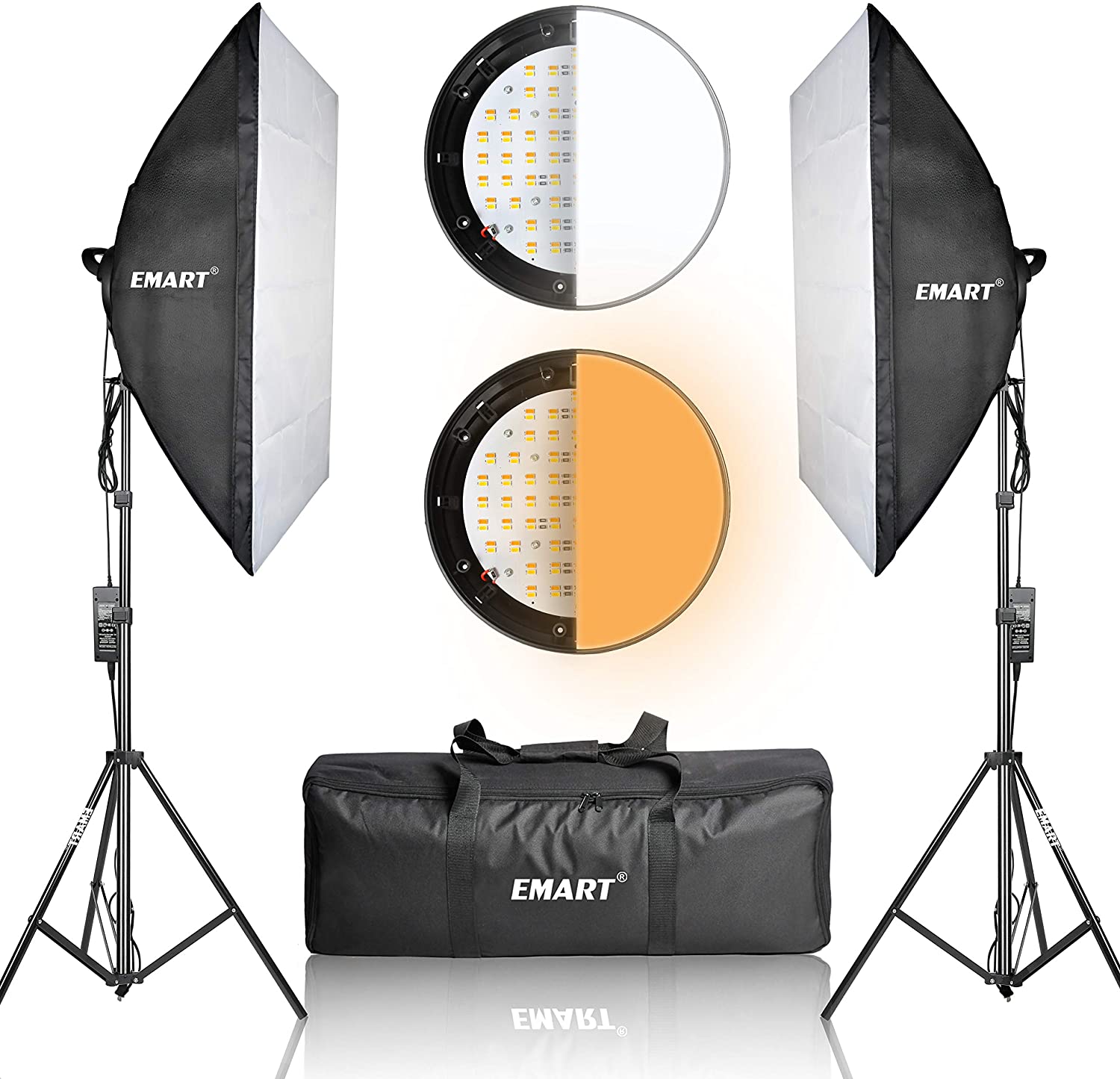 Emart Photography Softbox Lighting Kit, Photo Equipment Studio Softbox 20″ x 27″, 45W Dimmable LED with Double Color Temperature for Portrait Video and Shooting
These LED adjustable lighting kits can be controlled through your mobile device. They are easy to install, simple to use, and perfect for photo studios or spaces you need a strong light source.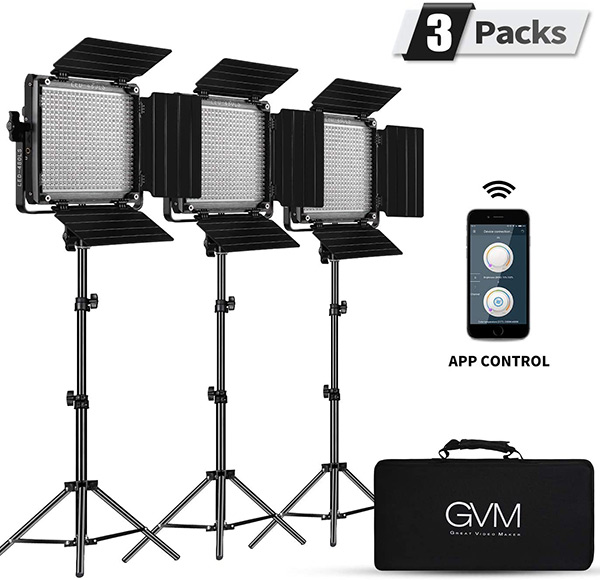 GVM 3 Pack LED Video Lighting Kits with APP Control, Bi-Color Variable 2300K~6800K with Digital Display Brightness of 10~100% for Video Photography, CRI97+ TLCI97 Led Video Light Panel +Barndoor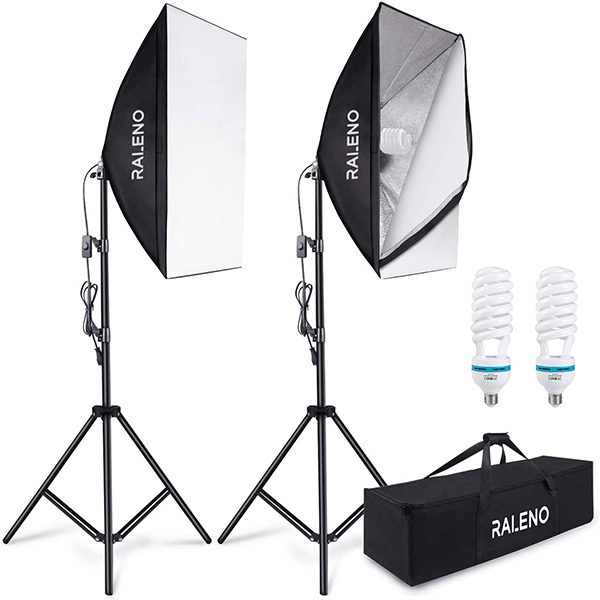 RALENO 800W Softbox Lighting Kit 2X20X28 inch Professional Photography Continuous Lighting Equipment with 2 x 85W E27 Socket 5500K Bulbs for Portraits and Product Shooting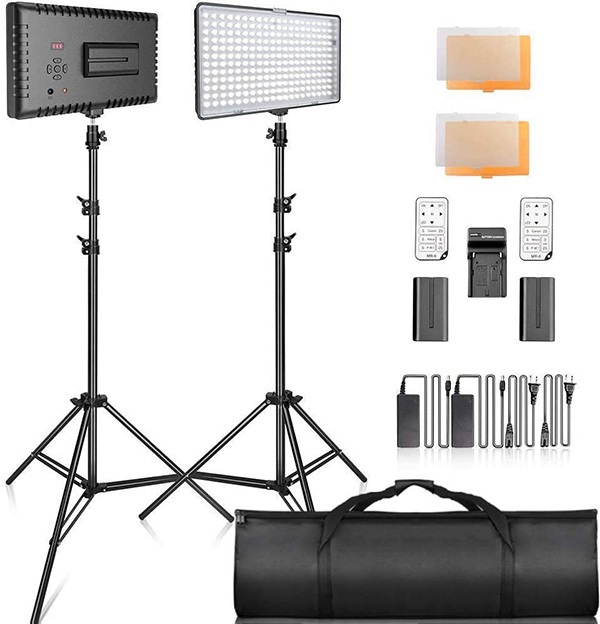 SAMTIAN 2-Pack 240PCS Dimmable LED Video Light 3200K 5600K Panel Light and 79 Inches Stand Lighting Kit with Remote Control Carry Case for YouTube Studio Photography, Video Shooting, Livestreaming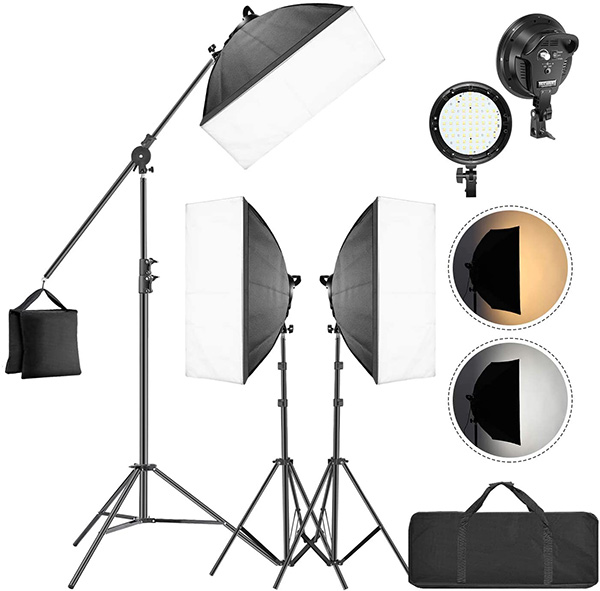 Neewer 3 Packs LED Softbox Lighting Kit: 20×27 inches Softbox, 45W Dimmable LED Light Head with 2 Color Temperature, Light Stand, Boom Arm and Sandbag for Photo Studio Portrait Video Shooting
4. LED lights, Strobes, Softboxes & Umbrellas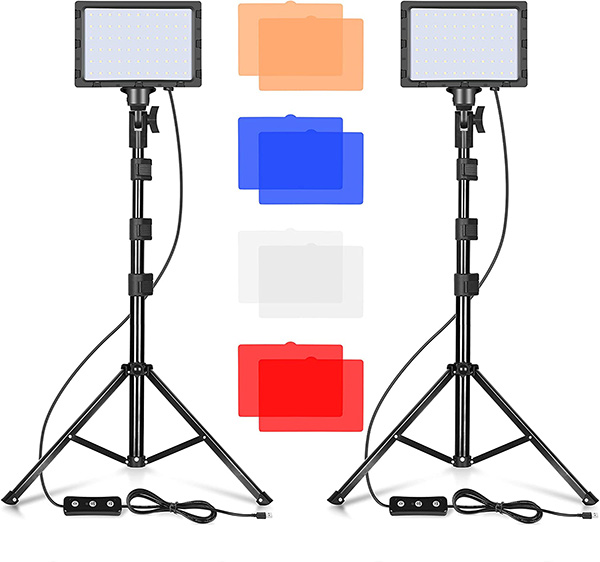 Emart LED Video Light 11 Brightness/4 Color Filters Dimmable Photography Continuous Table Top Lighting, Adjustable Tripod Stand, USB Portable Fill Light for Photo Studio Shooting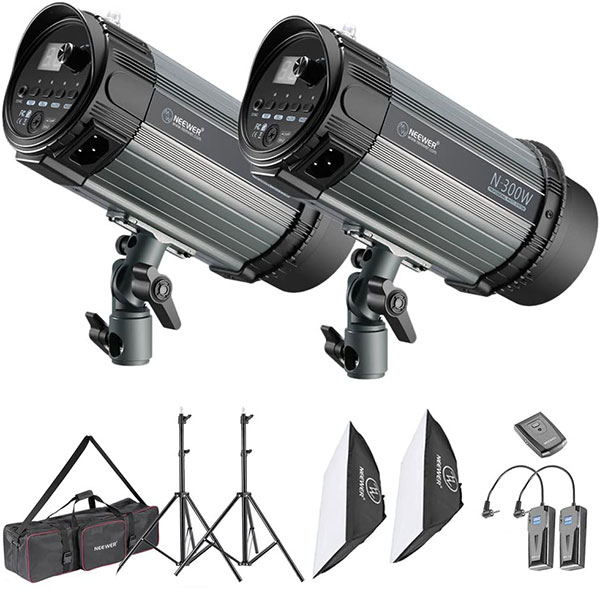 Neewer Photo Studio Strobe Flash Light and Softbox Lighting Kit:(2)300W Monolight Flash,(2)Light Stands,(2)Softbox,(1)RT-16 Wireless Trigger,(1)Bag for Video Shooting,Location and Portrait Photography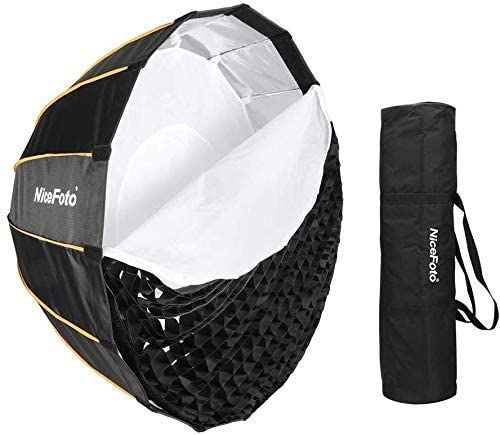 NiceFoto LED 120cm Quick Set-up Folding Deep Parabolic Umbrella Softbox Photography Studio SoftBox with Grid Carry Bag for Photo Studio Lighting Flash for Nicefoto,falconeyes,Aputure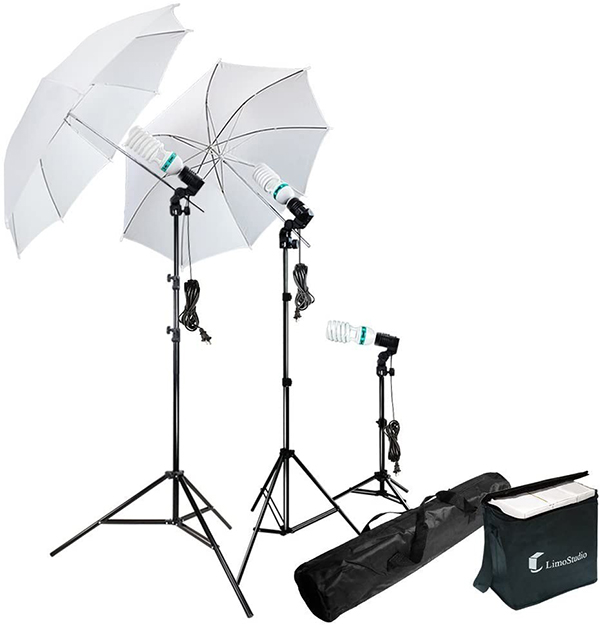 LimoStudio Photography Photo Portrait Studio 660W Day Light Umbrella Continuous Lighting Kit, LMS103
5. Chairs, Stools, and Furniture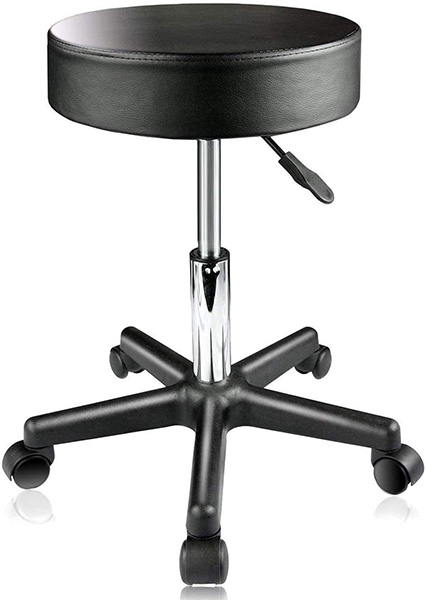 LimoStudio, AGG2236, Photography Posing Prop Stool, Massage and Salon Style Chair, 14 Inch Diameter, Height Adjustable, Caster Wheel Stool with Large Gray Cleaning Fabric Cloth, Photo Studio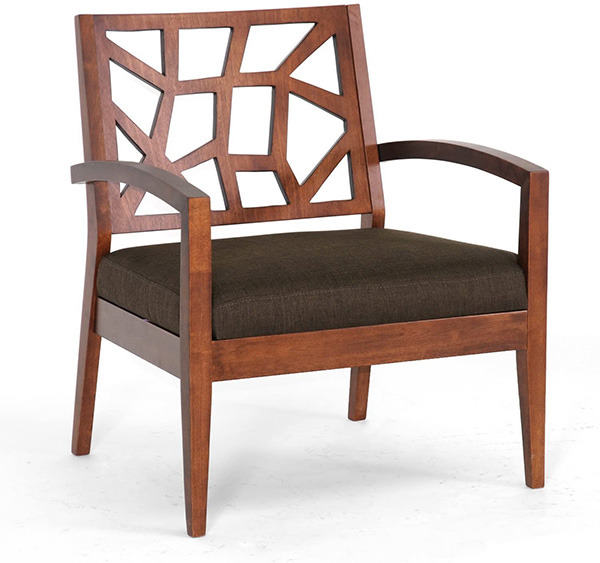 Baxton Studio Jennifer Modern Lounge Chair with Dark Brown Fabric Seat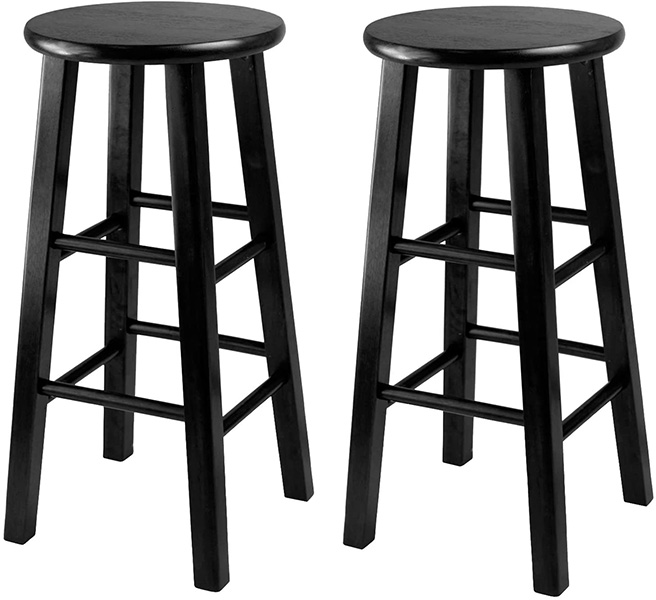 Winsome 24-Inch Square Leg Counter Stool, Black, Set of 2
6. Cameras, Lenses and HHS Flash
This category is suitable for you if you have a limited budget or you are just starting out. First, you will need to purchase a good camera to produce reasonable quality photos. It could not be too pricey. The best camera option is an APS-C camera with at least 24 Megapixels, good Autofocus, and colors.
Basic Cameras and Lenses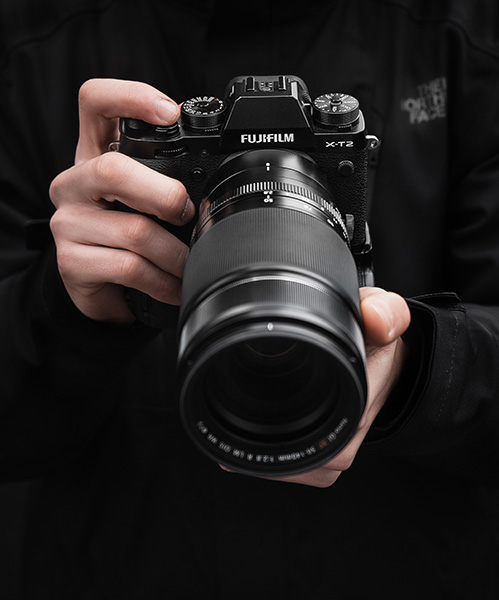 All of these cameras produce great image quality and their price range is between $900 – $1500 plus the lens. Besides choosing a camera, you will also need more lenses. You have quite a few options in zoom or primes.
Prime Lenses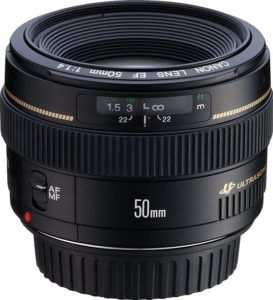 Zoom Lenses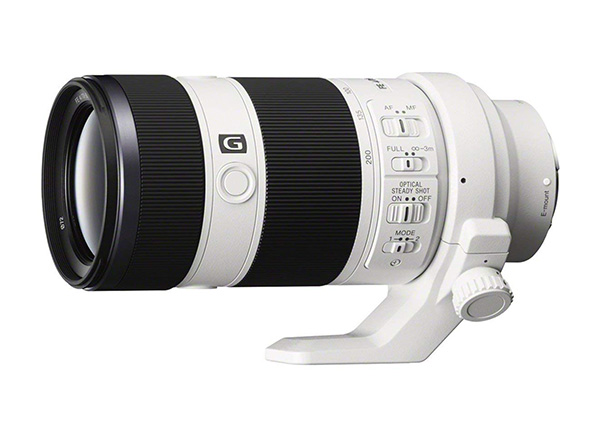 Alongside the camera, you will also need to purchase an SD Card to store your photos. The most reliable SD cards are: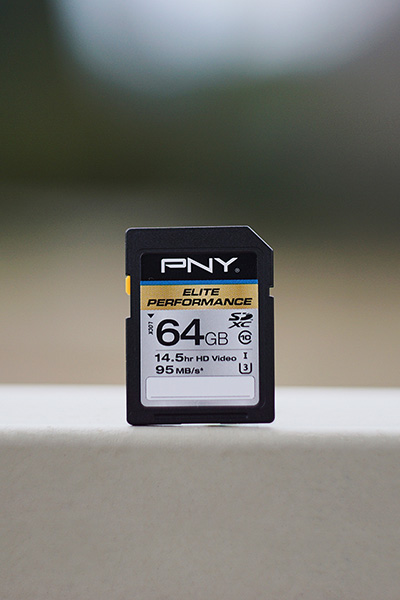 Choose one with at least 32GB of space. You will need to shoot in RAW, so make sure you have plenty of space or extra cards. You will also need a card reader to help you transfer the photos from the SD card to your computer.
Tripods is another essential photography tool! Check the Geekoto tripod. It is not that expensive for a tripod.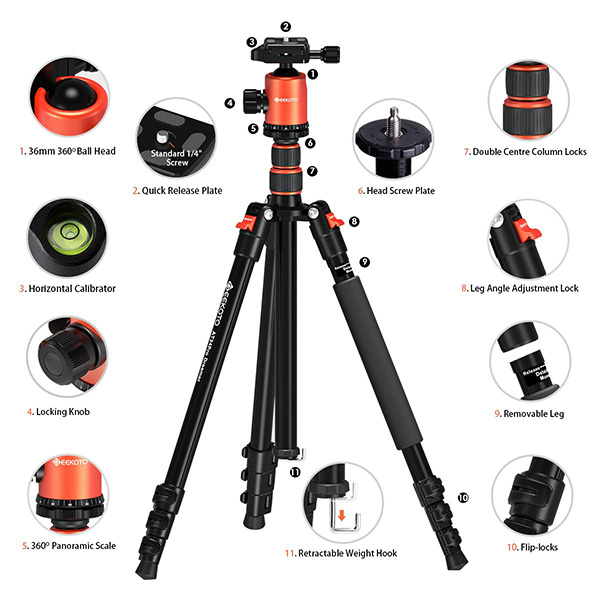 To capture clear photos you will need some form of lighting. But since we are dealing with a limited budget, you may not need to purchase lighting equipment at this stage. Just look for Photoflex reflector and use only one LED light or the natural light within the studio.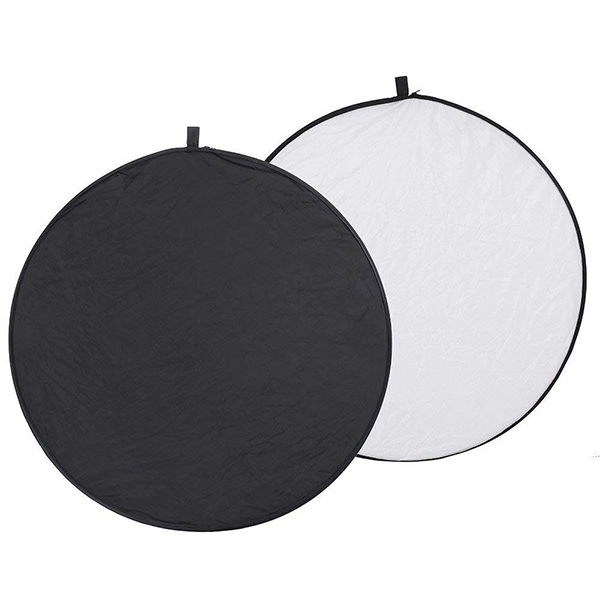 You will also need a tripod stand. Kupo light stand will do well for this task. In addition to this, you will also need spring metal clamps. The best in the market is the MegaDeal Jaw opening clamp. With these in place, you will be good to launch your basic photo studio business.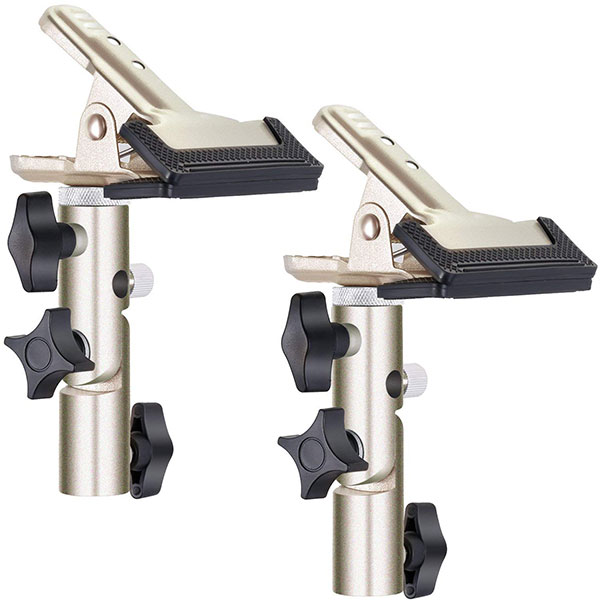 Full frame cameras
If you have a bigger budget, then you need to acquire camera gear equipment which will set you apart from your competitors. At this stage, you will need improved equipment. For a camera, I would recommend the following: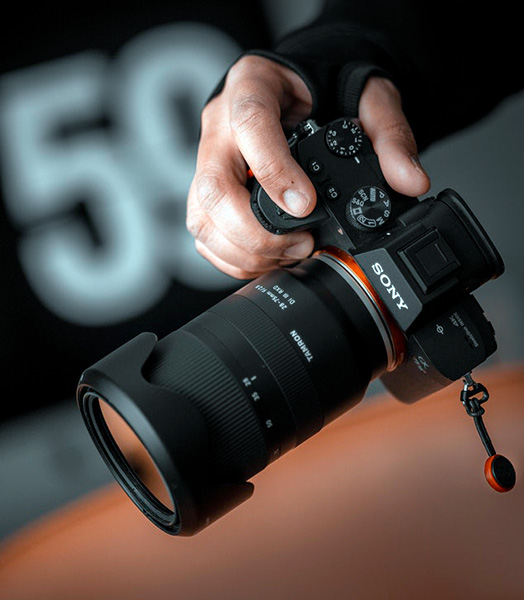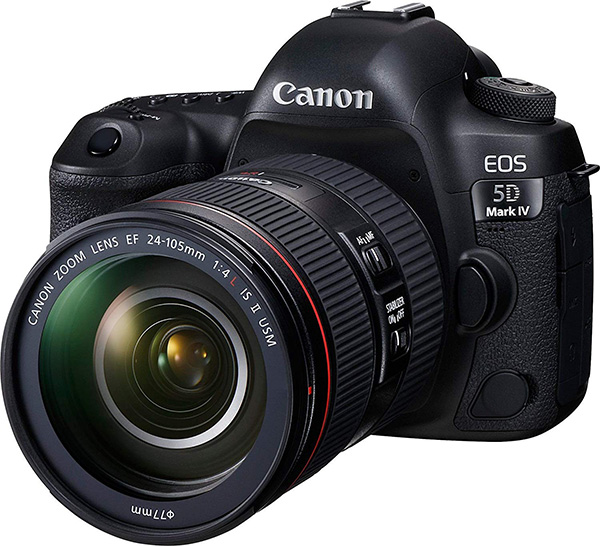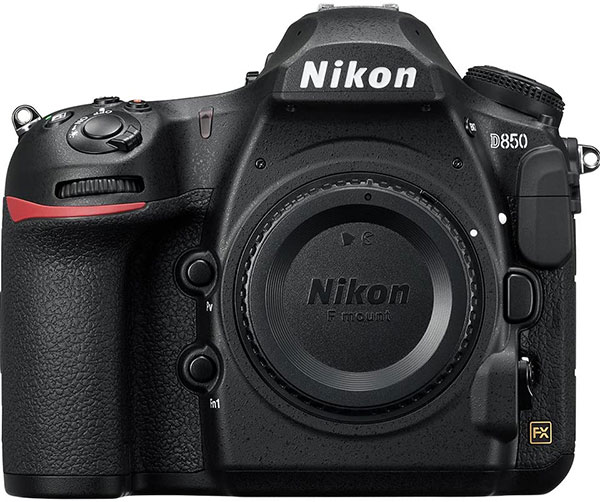 High-End Cameras
If you want to go at full throttle with your photo studio business, then you will need to invest more. The more you spend on camera gear, the better the results. Choose one of the following cameras: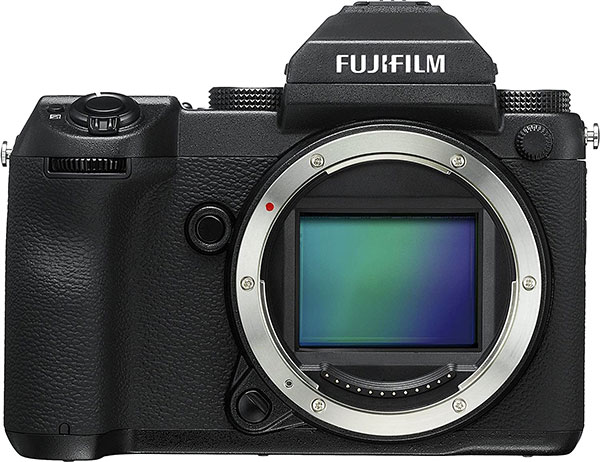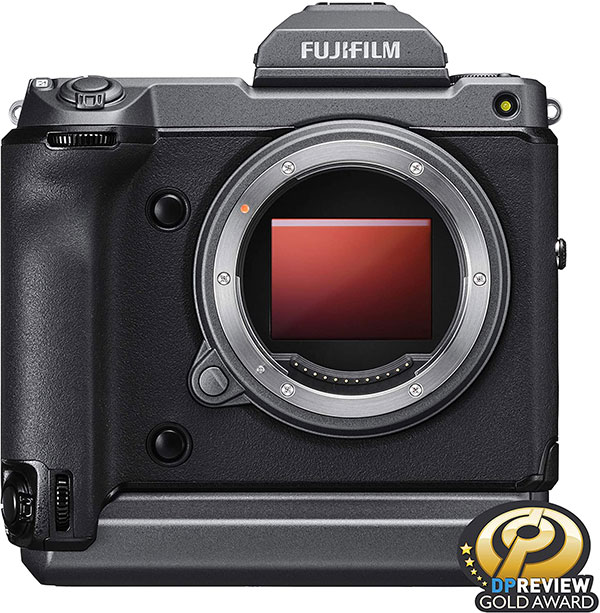 7. Hair and Makeup Area
(coming soon)
8. Computers and Photo Editing Software
(coming soon)
Conclusion
You don't need all this equipment to start a photo studio. You can start with a simple backdrop, one light, a good camera with a flash, a tripod, and you're ready to go. Just remember, when you are about to shop any of this equipment, always keep an eye for quality. Do your research, ask for recommendations, read customer reviews, and check for prices.
It might take a while to develop the style you want and get the right equipment. My advice is to keep up the good work, always improve your photography skills and share your photos on social media websites, Instagram, Facebook, and your website.
If you are interested in a specific item or have a question, please write it down in the comment section.
Leave a comment