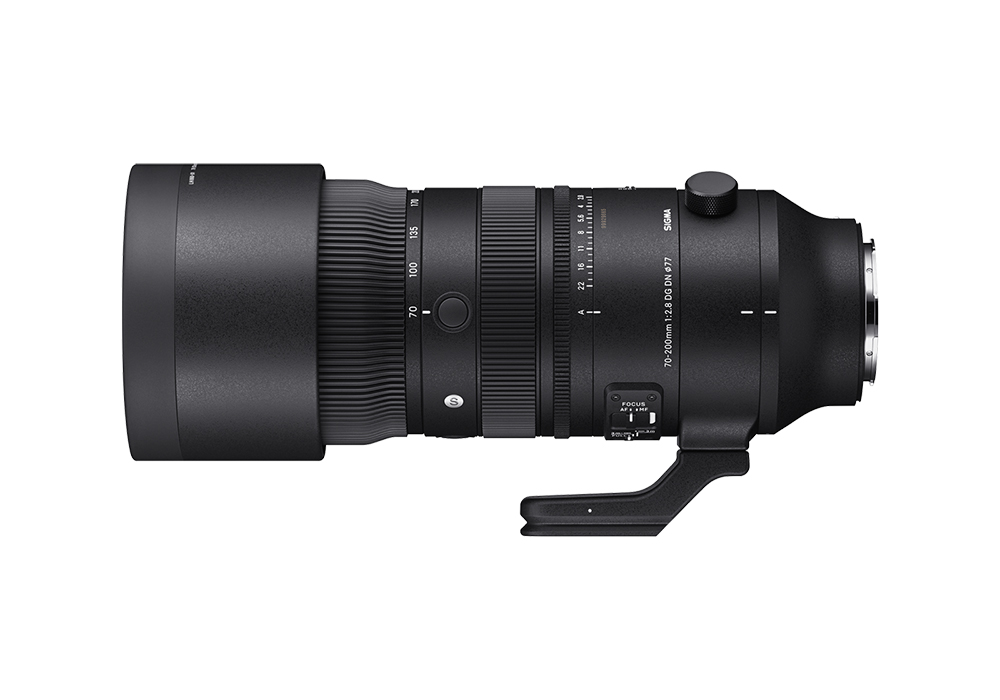 Unveiling the Future: SIGMA's Game-Changer 70-200mm F2.8 DG DN OS | Sports
The photography world is excited as SIGMA, the renowned optics manufacturer, makes a groundbreaking announcement. The new SIGMA 70-200mm F2.8 DG DN OS | Sports lens promises to set new standards for photographers and their equipment.
Why is this announcement so significant?
For the first time, SIGMA has crafted a 70-200mm f2.8 lens entirely from the ground up for the Sony E and Panasonic L mount systems.
The new model will succeed the previous SIGMA 70-200mm F2.8 DG OS HSM | Sports.
Hence, it is expected to feature a host of new enhancements, including improved sharpness, superior handling, and exceptional autofocus capabilities.
Who is this lens for?
The SIGMA 70-200mm F2.8 DG DN OS | Sports is a lens designed to meet the needs of various photographers. Portrait, family, and wedding photographers will find it especially appealing, thanks to its stunning f2.8 aperture!
Below, you'll find a range of scenarios where this lens excels:
Portrait Photography: The wide aperture (F/2.8) allows for excellent subject isolation with a beautiful background blur (bokeh). This makes it a favorite among portrait photographers for creating stunning, professional-looking portraits.
Event Photography: The versatile focal range of 70-200mm is well-suited for covering a variety of scenes at events. The wide aperture ensures you can shoot in challenging lighting conditions indoors or at evening events.
Wedding Photography: Wedding photographers often rely on the 70-200mm lens to capture candid moments and details during ceremonies and receptions. The lens offers the flexibility to frame intimate close-ups and wider shots during various wedding events.
Sports Photography: The lens is commonly used in sports photography, where fast-moving subjects require quick and accurate autofocus. The F2.8 aperture enables high shutter speeds to freeze action, and the zoom range allows photographers to capture both distant and close-up shots on the field.
Dance and Ballet Photography: The lens is well-suited for capturing dynamic and expressive moments in dance and ballet performances. The fast autofocus and wide aperture allow photographers to freeze motion and achieve a pleasing background blur.
How much will it cost?
When it comes to photography gear, cost is always a factor. While the Sony FE 70-200mm F2.8 GM II is priced at around $3000, the SIGMA 70-200mm F2.8 DG DN OS | Sports is expected to hit the market at a much more budget-friendly price point, likely ranging from $1699 to $1999.
This competitive pricing opens up new possibilities for photographers who seek high-quality results without breaking the bank.
When will it be released?
Photographers worldwide have been eagerly anticipating the development of this lens for years.
Following the official announcement, a flurry of comments flooded social media platforms, with many expressing their delight that Sigma has finally introduced the long-awaited 70-200mm F2.8 version, completing what can only be described as the "holy trinity" for photographers.
These are the three Sigma lenses that cover a broad range of focal lengths:
Sigma 14-24mm F2.8 DG DN | Art
SIGMA 24-70mm F2.8 DG DN | Art
SIGMA 70-200mm F2.8 DG DN OS | Sports
According to the company's official statement, the release is scheduled for December 2023.
This strategically aligns with the holiday season, making it an ideal gift for photographers eager to enhance their skills and gear during this festive time.
Why do Sigma lenses produce exceptional imagery?
Sigma's reputation for affordability without compromising image quality has never been more substantial. Their latest lenses are genuine competitors to native Sony, Canon, and Nikon lenses.
Offering exceptional sharpness, vibrant colors, high contrast, and captivating bokeh, Sigma lenses have earned their place among top-tier brands. Moreover, they're known for their speed, keeping pace with native lenses.
Sigma's commitment to innovation and delivering superb performance has led to a surge in lens sales, making it an excellent choice for amateur and professional photographers.
Summary
In conclusion, SIGMA's announcement of the 70-200mm F2.8 DG DN OS | Sports is a game-changing moment in photography.
This lens is set to redefine standards regarding quality, affordability, and performance, offering photographers a new and exciting way to capture their vision.
With its anticipated release just around the corner, photographers worldwide eagerly await the opportunity to experience the future of imaging technology.