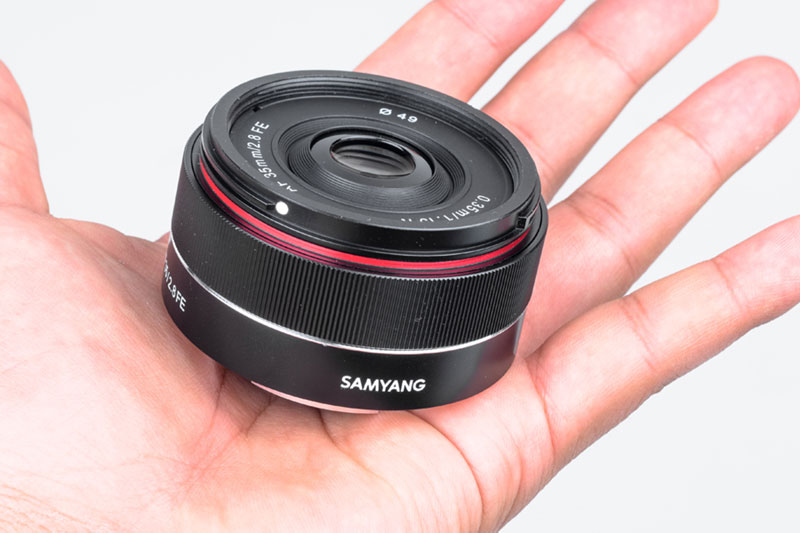 Samyang AF 35mm f2.8 FE for Sony E-Mount – Overview / Sample Images
This is a quick overview of the Samyang AF 35mm f2.8 FE lens for Sony Full Frame and APS-C mirrorless cameras.
Quick Overview
Pros: This lens is an excellent lightweight lens for street and travel photography. The benefits of this lens are the price (around $209-$249 on Amazon), it is very sharp from center to corner, the Autofocus works very well, the bokeh is excellent, and it's small and compact.
Cons: The downside is the construction. It feels plastic holding it, but that's okay for a $200 lens. Also, it introduces a tiny sound while focusing, which might be a little distracting to those who want to record video and use the built-in microphone. A good solution would be to use an external mic like the Rode Wireless Go.
Compared to the Sigma 30mm f1.4 DC DN, it's almost as sharp in the middle and surprisingly sharper in the corners. Even if Sigma is very sharp in the middle, it fails in the corners (you have to step down to f8 for better results, while the Samyang is sharp on the whole image at f2.8, f4, f5.6 to f11).
Overall, it's a fantastic lens for its price and highly recommended!
1. Technical Details
Samyang AF 35mm f2.8 FE for Sony E mount Specs:
Full Frame & APS-C
Focal Length: 35mm (52.5mm in 35 format equivalent)
Maximum Aperture: f/2.8
Lens Configuration: 7 Elements in 9 Groups
Filter Size: ⌀62mm
Weight: 3.04 oz / 86 g
Low coma
Low distortion, flare & ghost
Buy the Samyang 35mm f2.8 on Amazon!
2. Sharpness
The Samyang AF 35mm f2.8 FE is amazingly sharp. At f/2.8 and the center of the image is very sharp with average contrast and warm colors. It is also sharp in the corners and remains sharp until you step down the aperture to f/11.
3. Focal Length
The 35mm focal length (52.5mm in 35 format equivalent), is the best focal length for portraits, street, and travel photography. You can do many things at that focal length, which is also how the human eye sees the world.
4. Autofocus
The Autofocus of this lens works very well with the old Sony a6000 series or the new a6400 and Sony a7RIV with the new AF tracking system. It's not the best for action and sports photography, but overall it delivers accurate results 90% of the time.
5. Low Light
The f/2.8 aperture allows you to capture enough light in low light conditions without raising the ISO. Your images will look good from corner to corner even at f/2.8!
6. Bokeh
The Samyang 35mm f2.8 produces a very pleasing bokeh. Usually wider apertures like f/1.8 – f/1.4 or f/1.2 produce softer bokeh and background separation.
7. Color
The colors coming straight out of the camera are very good.
8. Size
The size of this lens makes it unique! It's very small, lightweight, and perfect for street and travel photography.
9. Samyang Review and Sample Images
10. Summary
Overall, this lens is great. If you're on a budget but really want to try a 35mm prime, I recommend it. It's a joy to use as a walk-around street lens with its ultra-tiny size, and I think it is good enough for most people's environmental portrait needs. It performs well, it is sharp and you won't regret buying it!