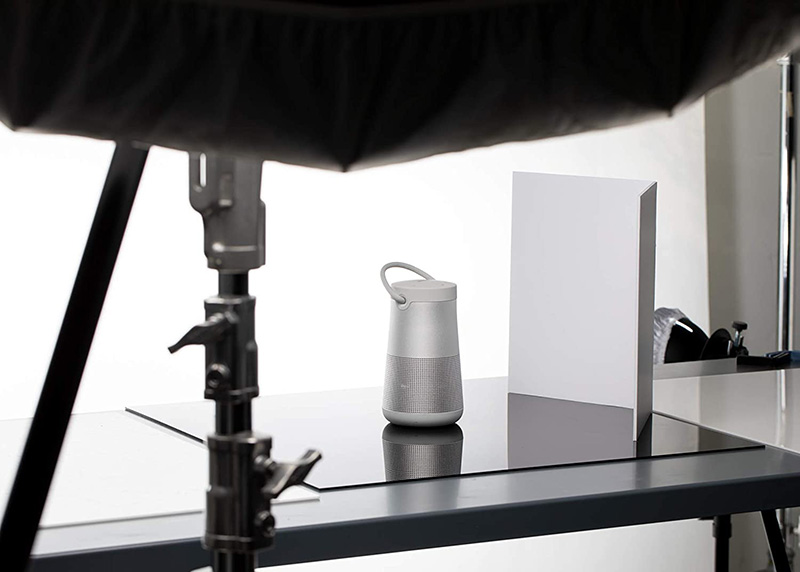 What Lighting is Best for Product Photography? – Free Guide
Reading Time:
6
minutes
–
What lights should I buy for product photography? This free guide will help you understand what lighting is needed and how to use it to create the best product images!
Placing all the photo studio equipment together (lights, tripods, camera, products, backdrops, etc.) takes time and practice.
Before you put your hand deep in your pocket, make sure you understand what you need for your product photography studio space. You don't want to spend money on lights that won't work for you.
Where to Start?
The best lights for product photography are a combination of one or two high-quality Continuous lights (works best as you can see how light interacts with your scene while you're styling your products for stills and video). Those Continuous lights can be either high-power LED lights, low-pressure mercury-vapor gas-discharge fluorescent lamps, or tungsten light bulbs.
For those who have a low budget and want to start using only one Continuous light, you may need to get a white foam board to bounce the light back to your scene.
There are so many options and different price points. The best lighting equipment for product photography is divided into the following categories:
Continuous Lighting
Continuous vs Strobe Lighting
Best Continuous Lights
Which Lighting Softbox to choose?
How useful are Ring Lights
Reflectors / foam boards
Product Photography Lighting Boxes
How many lights or reflectors?
Bright vs dark scene
Continuous Lighting
Continuous lighting is a light that stays on until you turn it off. On the other hand, strobe lighting is synced with your camera and will turn on only when you press the shutter button of your camera to take a photo.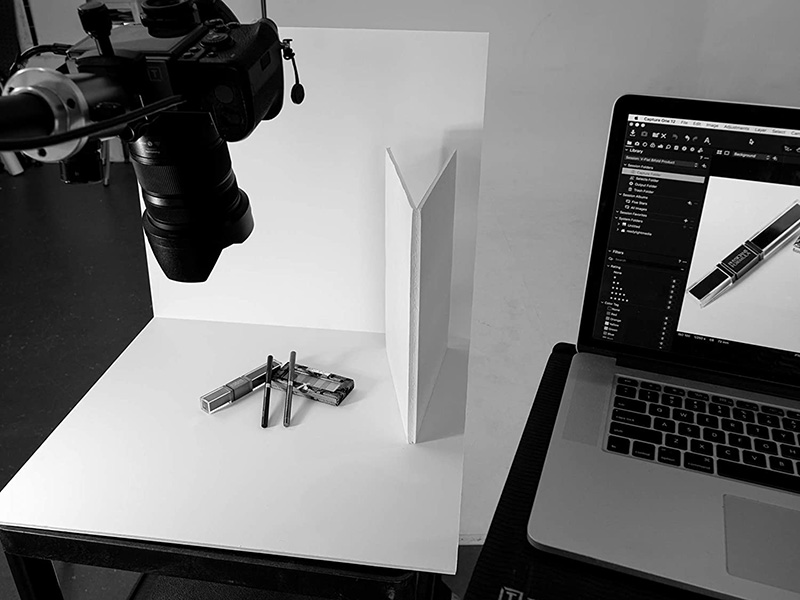 Using continuous lights you can control where the light goes by moving it around your product and you are able to see how the light is interacting in your scene.
Continuous vs Strobe Lighting
The advantage of continuous lighting over strobe lighting is that you can use it for photos, video, and style your products accordingly. When the light falls into your scene, you can manage the shadows, and control how much light you want to bounce back to your products.
With strobe lighting, you only get to use it when you take photos and you have no control over what is happening in your scene before or after you take a shot.
3 Best Continuous Lights
1. The Godox SL60W is a powerful continuous 60W LEDlight you can find in the market at a very reasonable price. Also, it is so easy to operate and adjust the brightness via wireless remote control. It is suitable for stills and videos.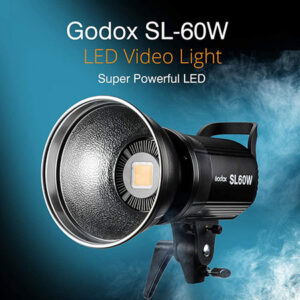 2. The Godox FV150 is another great light for product photography. It can work as a strobe and continuous light at the same time! The FV150 is a little bit more expensive than the SL60W but it's worth every penny. It has special effects, it is 100% customizable and it provides great daylight colors.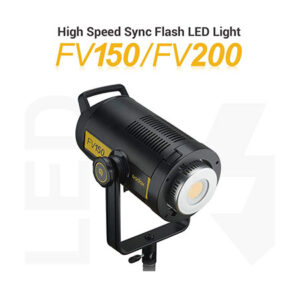 3. The Godox VL200 is a professional continuous light with 200W and high brightness. With its perfect compact design, color temperature 5600k±200K, 16 channels, and adjustable brightness is considered a great choice for professional product photography.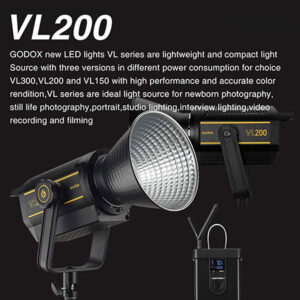 Which Lighting Softbox to Choose?
Always choose a large softbox. The bigger size of the softbox, the wider the light will spread and leave fewer shadows. Although, you can play with the shadows (add/reduce) by not adding a softbox on your light or use one light with a softbox and the other plain.
The Godox Octagon Softbox 47″ is a nice choice of softbox for product photography. The light diffusion surface is enough to spread the light. It is made with high-density nylon material and it's easy to fold.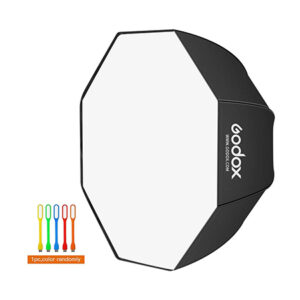 How Useful are Ring Lights
While softboxes are placed on the side (considering the placement of your product is in the middle), using a ring light might be a little harder to take photos. It is a little inconvenient to place the camera the way you want.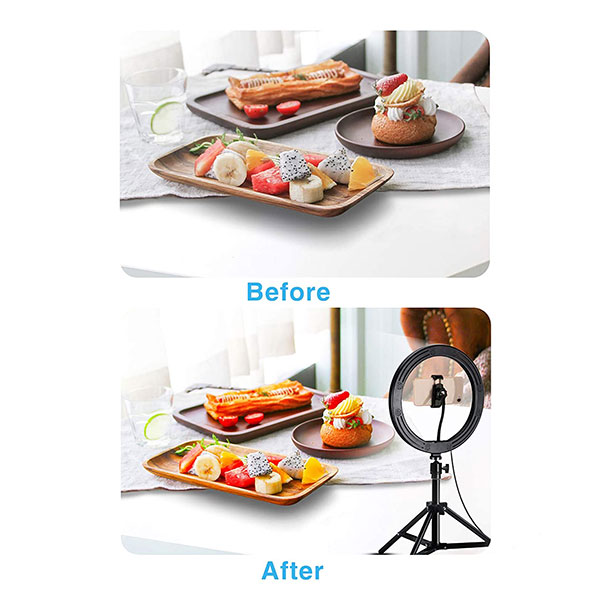 However, Ring Lights are suitable for small product shots, interviews, and YouTube videos. For large products, using a softbox is a better solution.
One of the most popular Ring Lights is the Godox LR120 12 inch. This ring light is a multipurpose light for product shots, live video recording, makeup, selfie photos, online teaching, dark scenery vlogging, etc.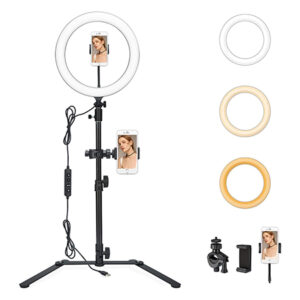 Reflectors / Foam Boards
A great reflector can give you beautiful soft light if you know which one to get and how to use it! You don't actually need to spend a lot of money for a reflector but it is essential if you use one light source and you want to balance your shadows and highlights.
The Neewer 5-in-1 portable round photography lighting reflector is a great choice. This collapsible multi-purpose reflector is a very helpful lighting accessory solution. It includes 5 different reflectors (silver, gold, white, black, and translucent fabric) and it is very easy to pack and take with you if you photographing products in a client's space.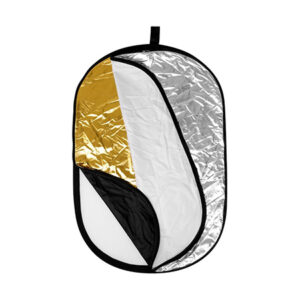 In addition, you can combine this with a single light photography stand for reflectors. This way it will be easier for you to place the reflector closer to your product. This Neewer 6 feet/190 Centimeters Photo Studio Photography Light Stand is great!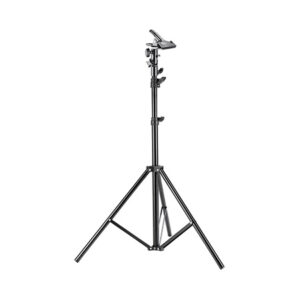 Shadows add depth. To reduce shadows or direct them, you either have to use a foam board to reflect light back onto your scene or use another light to fill in the shadows. Foam reflectors are another great solution like the V-FLAT WORLD Tabletop Reflector (Black/White).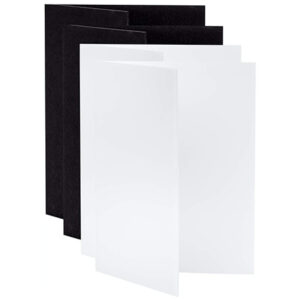 Furthermore, the foam reflectors can be used in different scenarios. You can literally do anything to direct the light as you can see in the image below. This is an example using two white foam reflectors, one strobe light, a black backdrop, and two led lights on each side.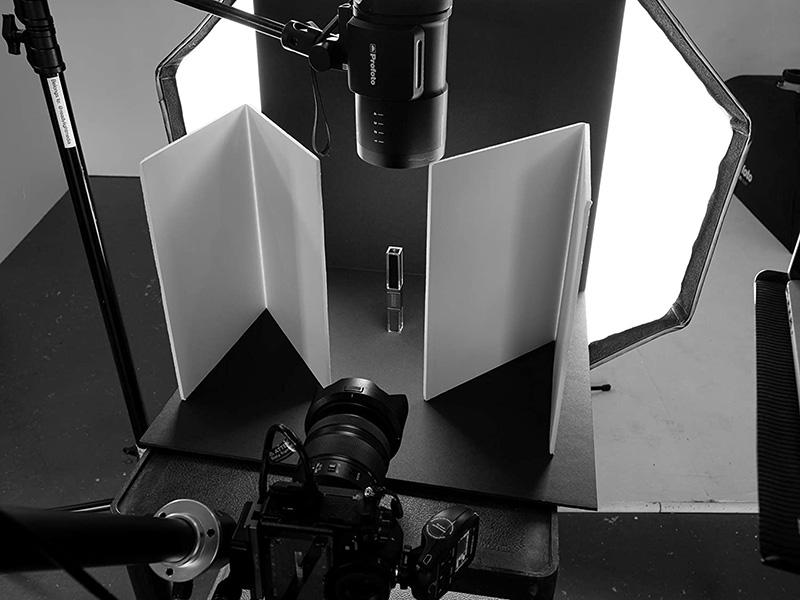 Here's another example in the image below. Notice the differences between using the white or black foam reflector. It's totally up to you to create the style you want. Personally, I prefer the whiteboard to show more detail and introduce softer light to my product.
Product Photography Lighting Boxes
Are light boxes a great light solution for product photography? I mean, it comes down to your personal preferences. Lighting boxes come in different sizes and you literally don't need to buy a bunch of strobe or continuous lights. However, your space is limited.
With this Neewer Photo Studio Light Box, you can shoot great product shots. The LED adjustable lighting helps to control the brightness. Also, the reflectors and background spread the light equally giving a pleasant look.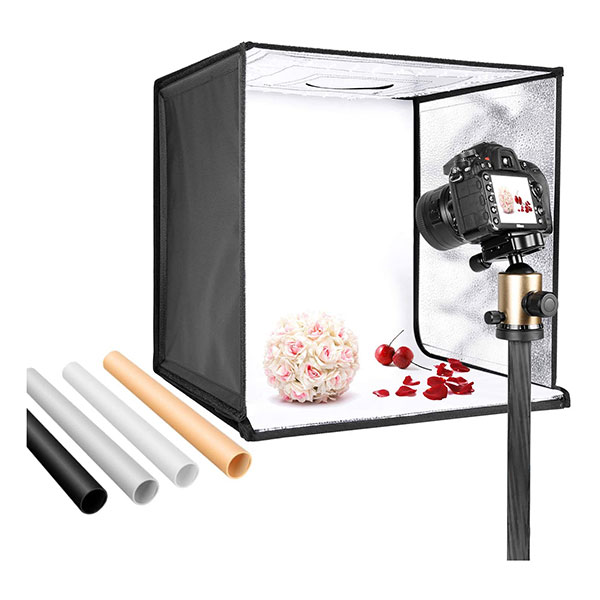 How many lights or reflectors?
If you are a beginner, you can create a nice photo studio space with just one continuous light and a reflector to start taking product shots.
When you are able to direct light the way you want with just one light and a reflector, you might want to try a second or even a third light.
In both cases, your goal is to adjust the brightness, control the shadows, and introduce softer lights on your products. Remember, the larger the diffuser (Softbox or reflector), the softer the light.
Bright vs Dark Scene
What kind of look do you want to portray in your product photography? You can choose between a white and bright look or a dark and moody style.
Choose between a white and bright or dark style shooting wellness, food, beauty, home products, etc. You can create this style with just one light, a white/black foam board, and a bright-color backdrop!
Summary
Did you like this free guide on product photography lighting? What else would you like to learn? We want to improve our user experience by providing the best content, tips, and solutions on product and studio photography.
We'd love to hear your thoughts!
Please leave a comment and let us know what is the biggest challenge you're facing when it comes to product photography?
Recommended Online Product Photography Courses
Product Photography – Master Level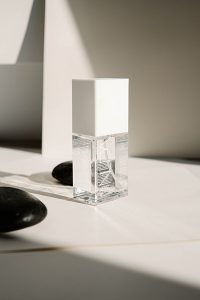 This course includes:
3.5 hours on-demand video
21 downloadable resources
Full lifetime access
Access on mobile and TV
Certificate of completion
Leave a comment