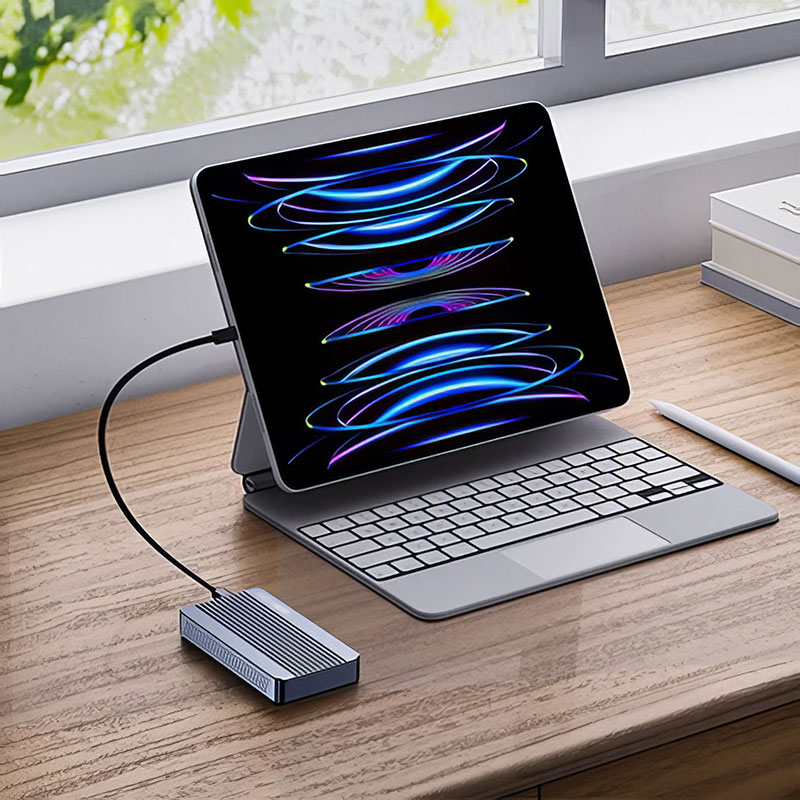 Acasis 40 Gbps M.2 NVMe External SSD Enclosure Review
With eager anticipation, we are thrilled to present our review of the ACASIS 40Gbps M.2 NVMe SSD Enclosure, a reflection of our firsthand encounter with this remarkable product!
The Acasis 40Gbps M2 external SSD TBU405 and TBU405PROM1 stand out as one of the most high-speed options available in the current market. It boasts compatibility with a wide range of M.2 NVMe 2280 SSDs, supporting Thunderbolt 3/4, USB 4.0/3.2/3.1/3.0/2.0, and achieving impressive speeds of up to 40Gb/s.
Select between the two versions.
This product is presented in two distinct versions, one with a built-in cooling fan and another without.
TBU405 no fan
TBU405PROM1 with fan
The choice between the two hinges on the nature of your tasks and how you intend to utilize the storage solution. Speeds are similar but drives stay 20 degrees cooler at peak load.
We highly recommend opting for the version with the cooling fan for users engaged in demanding tasks like photo or video editing projects, which involve substantial editing workloads. This enhancement becomes particularly invaluable for professionals seeking optimal performance and reliability.
Compatibility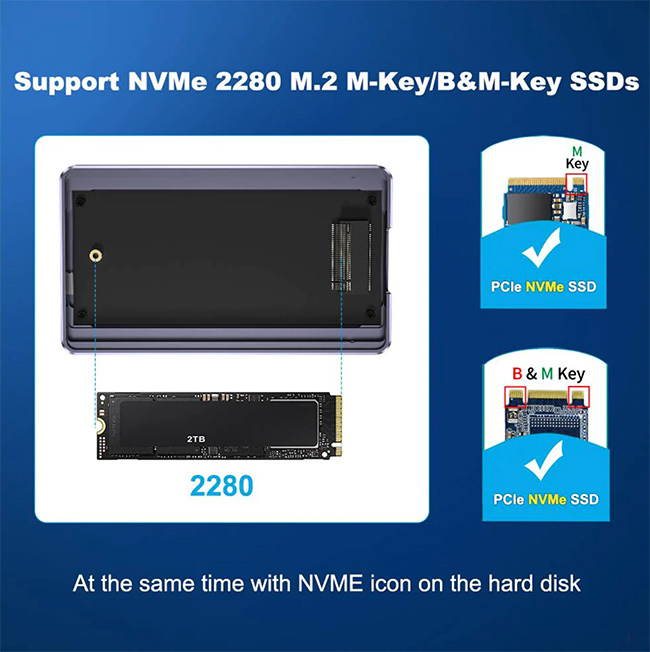 The Acasis 40Gbps M.2 External SSD enclosure offers exceptional compatibility with M.2 SSDs in the 2280 form factor.
This means that a wide array of NVMe 2280 SSDs can seamlessly slot into the enclosure, allowing users to choose their preferred storage solution based on their specific needs and requirements.
Furthermore, the Acasis enclosure takes compatibility further by supporting multiple connectivity standards. With Thunderbolt 3 and 4 compatibility and support for USB 4.0, 3.2, 3.0, and 2.0, the enclosure caters to various devices and systems.
This wide-ranging compatibility empowers users to connect the enclosure to SSD brands like PNY, Samsung, Western Digital, Crucial, etc.
Here's a list of recommended M.2 SSDs you can buy for the Acasis external SSD enclosure:
PNY CS3140 M.2 Gen4 SSD – Up to 7,500/MB/s
Samsung 990 Pro M.2 Gen4 SSD – Up to 7,450MB/s
Western Digital Black 880 M.2 Gen4 SSD – Up to 7,000MB/s
Read our list of the best and fastest M.2 NVMe SSDs in the market.
Whether utilizing the latest Thunderbolt technology or opting for USB connectivity, the Acasis enclosure delivers a versatile and dependable storage solution for various user preferences and technological environments.
Installation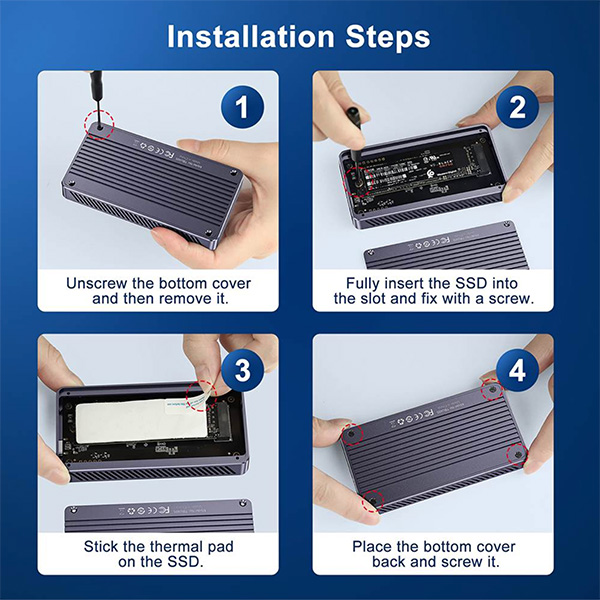 The Acasis 40 Gbps M.2 external SSD enclosure simplifies integrating an M.2 SSD. After verifying compatibility, gently insert the M.2 SSD into the designated slot, secure it using the enclosure's design, and close the case. Connect the appropriate cable, power on, and the Acasis enclosure ensures your M.2 SSD is recognized, expanding your storage easily and efficiently.
Speed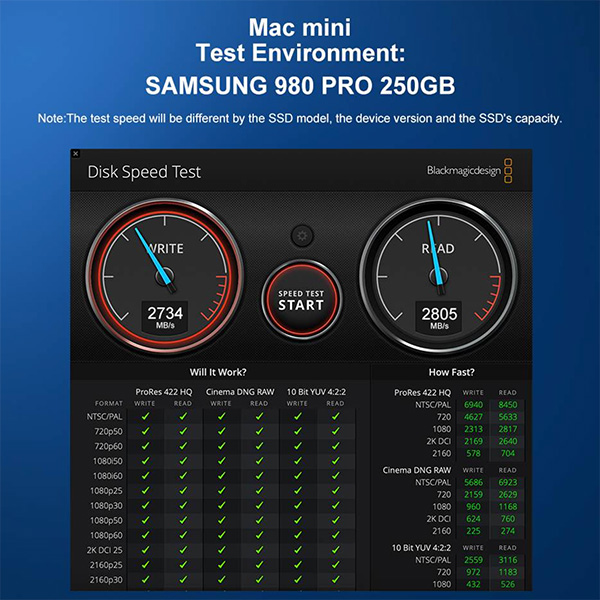 There are some speed differences between internal and external M.2 SSDs.
When utilizing an internal M.2 SSD, the drive is directly connected to the motherboard via PCIe (Peripheral Component Interconnect Express) lanes. This setup typically offers the fastest data transfer speeds, as it takes advantage of the high bandwidth capabilities of PCIe interfaces.
As a result, internal M.2 SSDs can achieve rapid read and write speeds, maximizing the performance potential of the storage device.
On the other hand, external M.2 SSDs rely on the connectivity protocol of the connected interface. For instance, using USB 3.0 or USB 3.2 interfaces, the data transfer speeds are typically lower than PCIe connections. USB 3.0 offers up to 5 Gbps speeds, and USB 4 provides up to 40 Gbps respectively.
These rates are generally slower than those achievable through PCIe lanes. However, the introduction of Thunderbolt 3 and Thunderbolt 4 interfaces has bridged the gap to a certain extent. Thunderbolt 3 offers speeds of up to 40 Gbps.
Shipping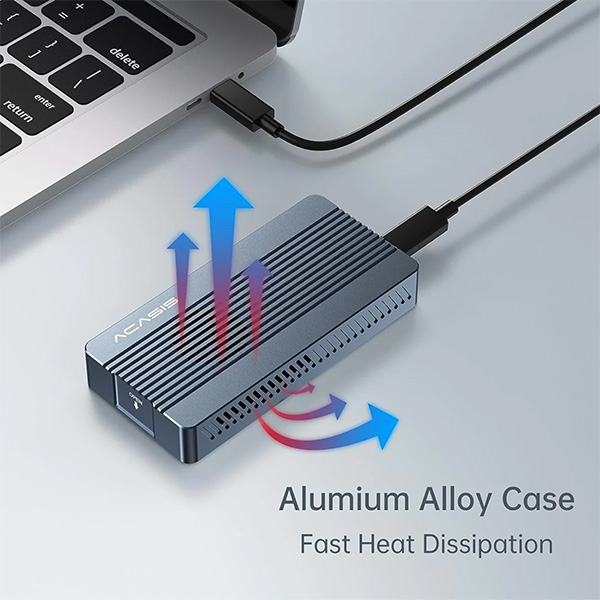 Elevating your experience, there is Free Shipping for orders exceeding $79; acquiring any Acasis product is convenient and cost-effective.
Shipping durations may vary, with deliveries typically ranging up to 10 business days based on your geographical location. We invite you to explore the comprehensive details available here for additional information.
Warranty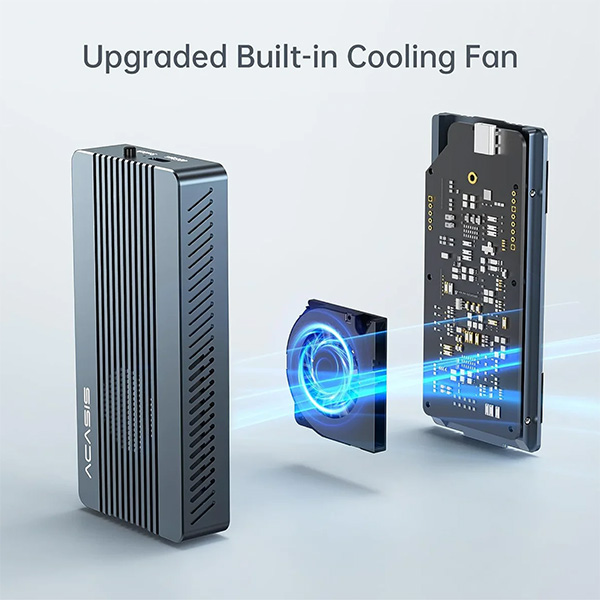 With a focus on your utmost satisfaction, Acasis has designed its policies to align with your needs. Benefit from the flexibility of a 15-Day Returns, ensuring that the Acasis external M.2 SSD enclosure you choose perfectly complements your requirements.
Additionally, your investment is secured by an extensive 1-Year Warranty, reflecting the company's confidence in the durability and performance of their product.
Acasis 40 Gbps M.2 External SSD Coupon Code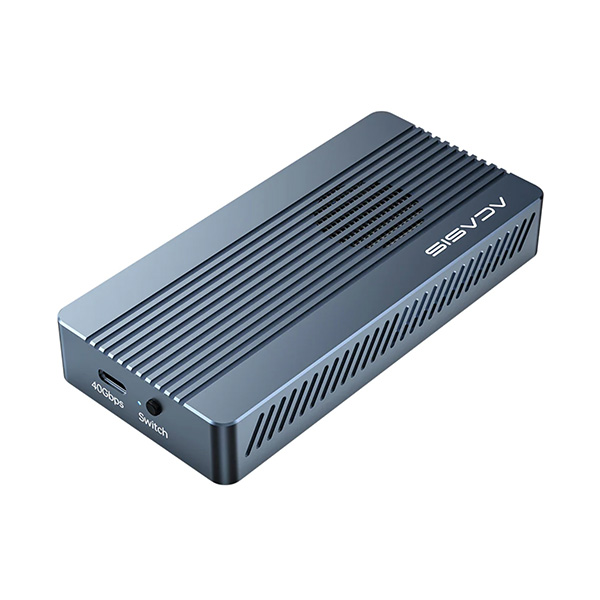 This product is available for purchase directly from the manufacturer. Click the links below and enjoy two Acasis coupon codes!
1. Acasis 40 Gbps M.2 external SSD enclosure without fan
15% OFF TBU405【code: TBU405-15 】
2. Acasis 40 Gbps M.2 external SSD enclosure with fan
10% OFF TBU405PROM1【code: TBU405PRO-10 】
Summary
Discover a new level of storage versatility with the Acasis 40 Gbps external M.2 SSD enclosure. Designed for ease and efficiency, this enclosure empowers you to seamlessly integrate M.2 SSDs, confidently expanding your storage capacity.
If you found this review valuable, consider sharing it or providing feedback. We're eager to hear your insights on the product and your perspective!
Have you utilized external M.2 SSD cases before? Feel free to share your preferred choice and the reasons behind your selection. Your thoughts contribute to a vibrant discussion.