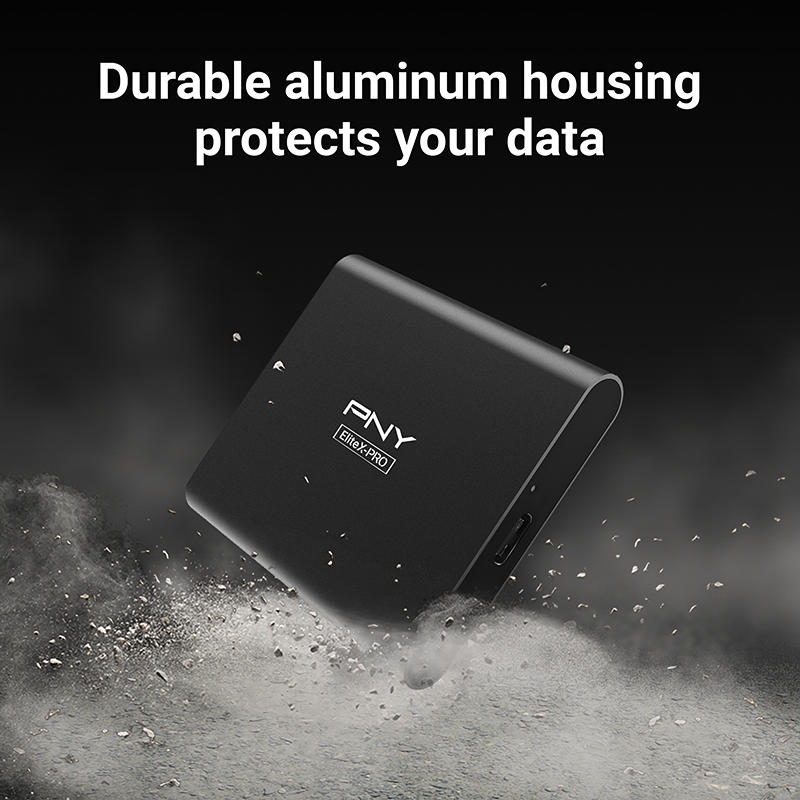 How to take Advantage of these 3 PNY Storage Tools made for Content Creators
As a professional photographer and content creator, I need tools and accessories that help me speed up my workflow process and be more productive.
New technologies, more megapixels in the latest cameras, and recording 8K video make it a necessity for more storage.
PNY, one of the leading companies in memory and graphics technology, produces some of the fastest storage solutions for photographers and videographers.
EliteX-PRO90 Class 10 U3 V90 UHS-II SD Flash Memory Card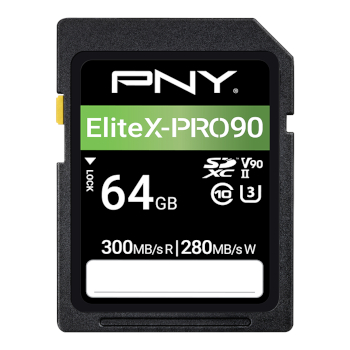 The EliteX-Pro90 SD memory card is suitable for cameras that support UHS-II SD Cards like the Sony a7IV, the Nikon Z6ii, the Canon R6, and others.
Here's what you get with the PNY EliteX-PRO90 SD Card:
Up to 256GB storage for HD photos / 8K video
High-rate recording speed (280MB/s)
High-rate transfer speed (300MB/s)
Compatible with all UHS-II cameras
Lifetime Limited Warranty
The UHS-II SD Cards are made for speed, yet many know which speed?! There is a READ and WRITE speed on all these SD Cards. The one you should care about the most is the WRITE speed.
So, why WRITE Speed? Simply because the WRITE speed is the one that determines how fast your RAW file (or JPG) will be stored in your SD Card after you hit the shutter in your camera.
I said RAW because this file is significantly larger than the compressed JPG, meaning it has stored all data for high-quality editing.
Now imagine shooting in burst mode! You will need a high-speed SD Card and a camera with a high-speed buffer in order to store all those images on your memory card!
The PNY EliteX-PRO90 is more than capable to store your camera photos and videos at the highest speeds. Try it yourself and let us know what you think!
2. EliteX-PRO USB 3.2 Gen 2×2 Type-C Portable SSD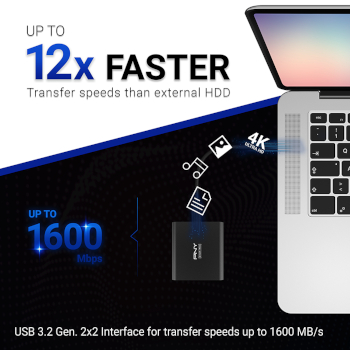 Experience one of the fastest ways to transfer, backup, or edit your photos and videos with the new EliteX-PRO second-generation Portable SSD.
Features and Specs:
12x Times faster transfer speeds than an external HDD
Up to 1600MB/s Read Speed
Up to 900MB/s Write Speed
USB-C Gen 2×2
Up to 4TB of storage
Read also: Best SSD drives for photo and video editing!
As I mentioned previously, the WRITE speed is the one you need to consider when you are buying storage space. The 900MB/s the EliteX-Pro external SSD is enough to edit your photos directly from the portable SSD without the need to copy them into your laptop or desktop computer.
To make a comparison, the fastest 2.5" SATA III SSD can transfer/write data up to 600MB/s. The PNY EliteX-Pro can transfer data at 1600MB/s and write at 900MB/s. This means that this external SSD drive is faster than any SATA III SSD drive!
PNY has also made a second version of the first generation Elite Pro, with up to 1TB of storage and 1100MB/s READ/WRITE speed transfer.
Check both of them on Amazon.com (US Store)
3. DUO LINK iOS USB 3.0 OTG Flash Drive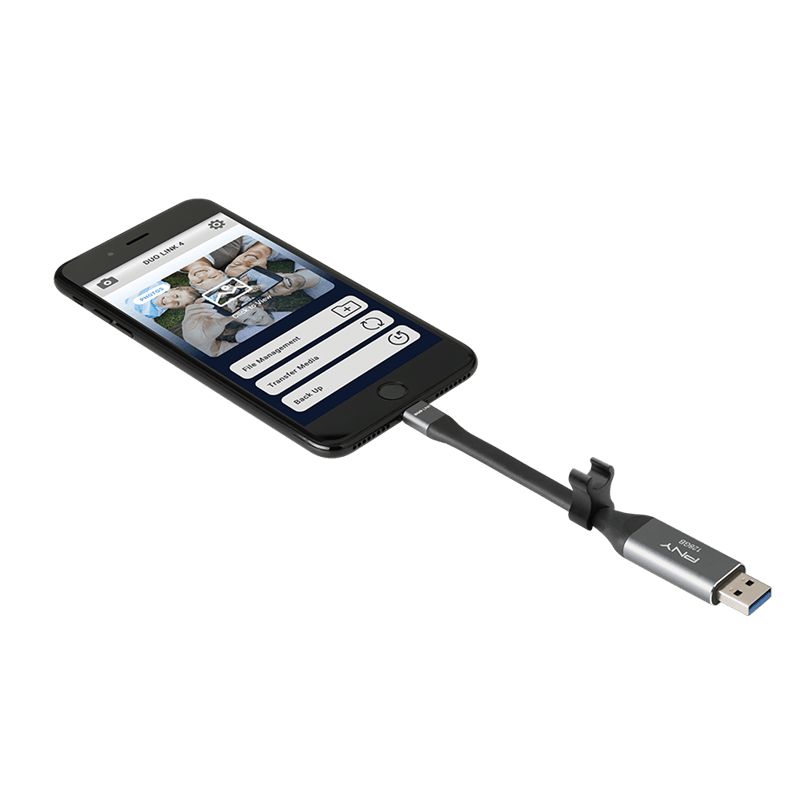 As we use our phones daily to create content, we have the need to distribute this content to multiple devices or share with other creators.
DUO LINK for iOS by PNY does exactly this! It helps you organize, transfer and backup your files via the lightning port on your iPhone.
The OTG Flash drive device uses a PNY DUO LINK 4 app that opens automatically when you connect it with your iPhone. You can also charge your iphone if you plug the other end (USB 3.0) to your computer!
Q&A
What should I look for when buying a memory card?
A few things to consider when buying a memory card:
Capacity
Speed
Reliability/Warranty
However, you should check the manual or the specs of your camera to understand which type of memory card you should use.
Some cameras still use SD Cards, others use CFExpress or QXD, and some others use a combination of SD and QXD or CFExpress memory cards.
What's the difference between SDHC and SDXC SD cards?
SDHC stands for Secure Digital High Capacity with maximum storage of 32GB. The SDXC stands for Secure Digital Extended Capacity with storage up to 2TB.
Are CFExpress Cards faster than SDXC SD cards?
Yes, CFExpress type A or B cards can reach speeds up to 2000MB/s while SDXC memory cards reach speeds up to 300MB/s. Of course, we need to mention that CFExpress Cards are more expensive than SDXC Cards.
Is 1TB enough space to store photos and videos?
To answer this question you have to ask how much content you are creating each month. I usually use two 1TB PNY Elite Pro external SSDs. One to transfer all files from my daily session that I will delete after I select the photos I need to keep and edit (and copy/store on my second SSD drive).
Does PNY ship its products globally?
Yes! You can check where to buy PNY products here.
–
Have you tried to backup or edit your photos on a fast external SSD storage drive? Tell us in the comments below 🙂