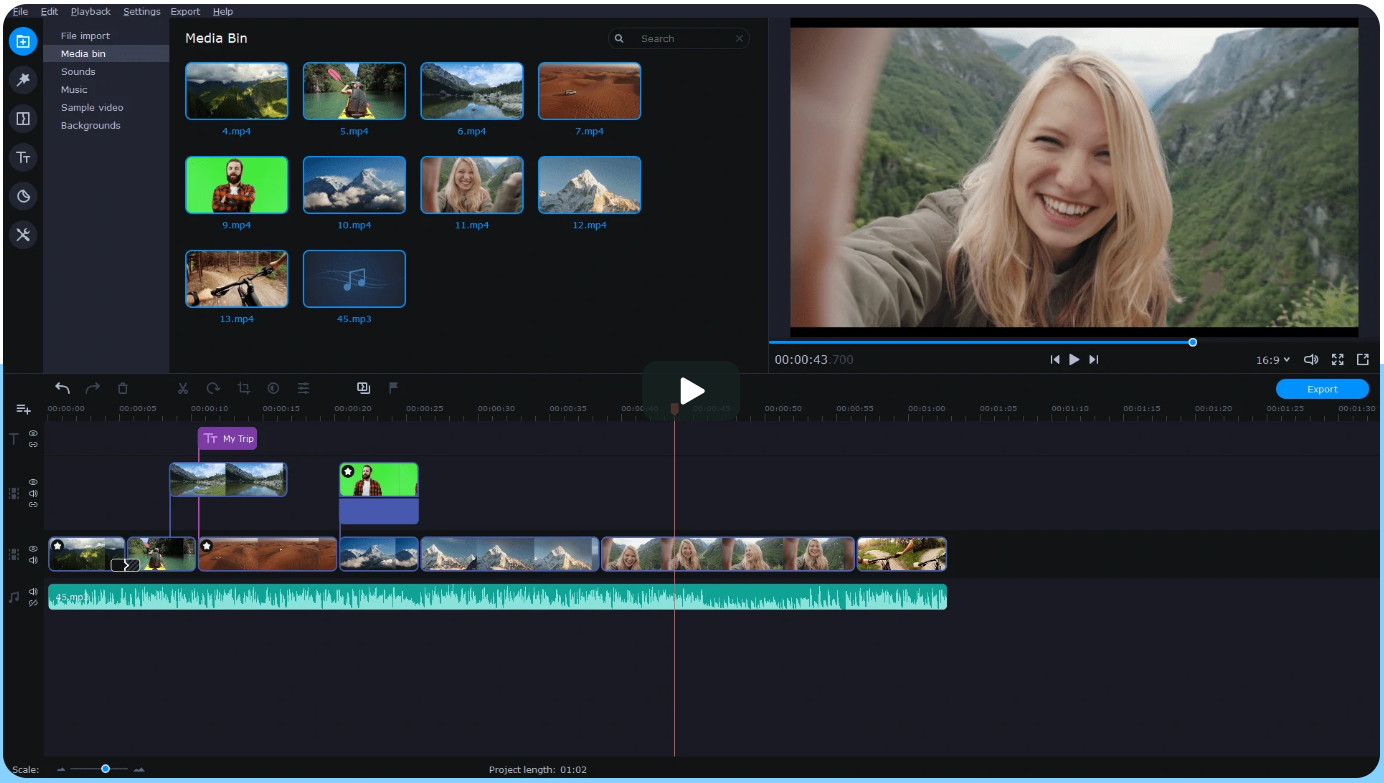 Movavi Video Editor Plus Review – A Great Tool for Storytelling
Reading Time:
3
minutes
Movavi is a software company that provides video editing solutions for all different kinds of needs.
Recently I went on a day trip in northern Germany and captured footage with my action camera. Then a friend of mine told me I could use Movavi Video Editor Plus to create a short clip.
You can download the program from the official website.
In this review of Movavi Video Editor Plus, I'm sharing my personal experience and interaction with this great video editing tool.
I have installed Movavi Video Editor Plus on my ThinkPad with the latest Ryzen 7 Pro and 16GB of RAM.
First impressions
Right out the gate, Movavi impresses. The user interface is clean and intuitive. You'll get to grips with how to use it very quickly.
Hovering over anything brings up an informative tooltip that quickly explains how to use the function, and even a complete novice can be editing videos within a matter of hours.
Video editing preparation
I found it very straightforward to import my videos and photos into Movavi – it's very easy to select the files en masse and import them into the app.
You can import files from your computer, capture footage directly from a webcam, or record audio directly onto the app with a microphone.
Your videos are shown as thumbnails on the top left, a preview player at the top right, and a timeline at the bottom. Couldn't be easier!
It also imports your videos pretty fast; all of my clips were 4K at 60fps, and it took a few seconds to add them all and start editing them.
The editing process
If there's one thing that Movavi excels at, is making you feel like a professional video editor – even if you have limited experience!
The whole process was extremely intuitive and, unlike apps that are designed for novices, the wealth of options is staggering. Despite this variety and customizability, I never felt overwhelmed or out of my depth.
Some of the highlights of Movavi's editing suite:
– The transition tools are great. I found it very easy to add and connect my clips with smooth, seamless transitions.
– Sounds, backgrounds, and other SFX are very easily added in a way that doesn't look cheap or cheesy. It's even possible to use Storyblocks to add licensed music to your videos, which really helps them to stand out!
– Although I personally prefer not to make use of filters, Movavi offers a really impressive array of them if that's your thing. It's possible to get super creative with these and make your video really unique and memorable.
– You can easily insert special graphics such as stickers, emojis, objects, drawings, and shapes into your video.
– It's remarkably little effort to use your basic editing tools such as cropping, panning, and zooming.
– If you want to dub your own audio into a clip, you can easily do so with a microphone.
– There are a lot of options to tinker with a clip within the timeline. You can change the volume and speed, add a fade-in/fade-out effect, and even reverse it!
– Applied effects mean you can easily see which effects are active on which clip.
Export options
Once you've finished editing your video clips, you're naturally going to want to export them. Whether to YouTube, Google Drive, or Vimeo, Movavi makes things very easy on you.
You can export your files in a variety of formats – MP4/MP3, MOV, AVI, and GIF are all supported, plus many more.
It's also possible to optimize output for the device to which you're exporting, and you can export directly to YouTube, etc. from within the app, making everything effortless and easy!
For an 8 min clip the rendering time was about 10 min long. Not bad at all!
Pricing
Movavi Video Editor Plus is very reasonably priced for how versatile and powerful the editing suite is; one year will set you back USD $54.95.
If you like the way Movavi works (and I cannot imagine you wouldn't!) a lifetime subscription costs a mere $74.95. An absolute bargain for what you get!
Is there a trial available?
If you're anything like me, you like to take things for a test drive before you fork over your hard-earned cash.
Luckily, Movavi offers a trial period of 7 days. Be warned that though the trial version has full functionality, your videos will have a 'trial' watermark and if saving a project as an audio file, only half of the length will be saved.
Summary
Movavi Video Editor Plus is a fantastic package, both for editing novices and for more experienced editors or professionals.
It's reasonably priced given the sheer breadth of all the editing options. The full scope of the app is beyond the remit of this review, but there are many more features we haven't touched upon here.
In my opinion, it's really worth fully exploring it yourself!