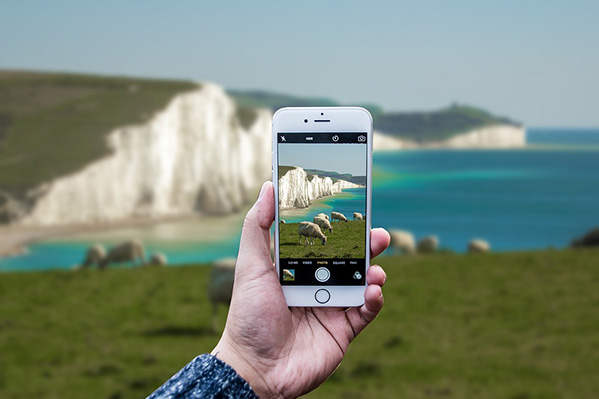 10 Reasons Why Mobile Photography Online Courses Will Change the Way You Capture the World
One of the top reasons someone needs a smartphone besides making phone calls and sending messages is because of its amazing capabilities of capturing high quality images and recording ultra high definition video!
Lately, we all have become micro-photographers, taking pictures wherever we go with just our smartphone devices.
Mobile photography has risen the past 6-8 years when companies realized that this is what the users need the most in order to communicate, take breathtaking photos and selfies while traveling the world, and record video like a pro.
Some of the top viewed YouTube videos have been recorded with just an iPhone, and edited with mobile software and similar editing apps.
So, if you're one of those people who really enjoy taking photos with their smartphones, you might want to know how to do it better through online courses for mobile photography!
Check out the 10 reasons why mobile photography online courses can really change the way you capture and see the world around you!
1. learn from the world's best photographers
You heard me! When I saw Dan Rubin (one of the very first users and testers of the Instagram platform) was teaching an online class, I immediately wanted to sign up and listen to what he had to say.
Learning how Instagram works and generally how to use your mobile device to share your passion with the world and do it right, is pretty amazing! To be able to get all that information from someone who has such a huge experience, was a true blessing to me!
2. Understanding good and bad photography
The reason why your photos suck and you can't get more than 10 likes on Instagram is not because you're holding an 8 year old smartphone in your hands, but because you miss simple and critical information on how to take a good photo and share it properly.
Lately I've heard the term "picture-taker" and really thought about it. Am I a good photographer or just someone who snaps a couple of images with his phone or camera? I still can't say I am a great photographer, but I definitely don't want to be a picture taker!!!
That's why I am constantly looking for ways on how to improve my skills and become better every single day. How do I do that? I attend online classes, hear what professionals have to say, read books, learn from other photographers and of course take photos and learn from my mistakes.
3. Increase your excitement and passion
"Develop a passion for learning. If you do, you will never cease to grow."


– Anthony J. D'Angelo

When you join an online class, a world of opportunities an ideas come together. You get to know your teacher and network with all his students (it can be a couple of hundreds if the teacher is popular).
That increases your chances to learn faster, communicate and discuss new ideas and concepts with other students, understand how others think differently and create that momentum and excitement for what you want to accomplish.
4. Classes on Demand
The great thing about online courses is that you can increase your skills whenever and wherever you want! That's so convenient because all classes are divided into small chapters. Some of them can only be 3-8 minutes top.
That gives you the advantage of be selective and know when you will see the next chapter. This increases your time to implement and take action on what you've learned in the previous chapters. How cool right?
5. Watch your Favorite Class On-The-Go
Most online courses platforms have their own mobile apps. You can download the app on your smartphone, sign in and continue the class you started at home on your desktop.
When I take the train to go to the city, I usually read a book or watch an online class and I feel so fulfilled because I didn't waste my time for 40min but learned something useful.
6. Unlimited Access to over 22.000 Classes
Don't get lost! There are thousands of online courses you can attend and new ones are added every single day. Pick the ones you like or ask for a recommendation. I will regularly post on my blog the most popular and useful online courses for photography.
7. Connect with Peers and Start Amazing Collaborations
"Alone we can do so little; together we can do so much."

– Helen Keller
Have you heard about "the Domino Effect"? This happens when you start something and when you are disciplined and following through, you create a chain of reactions. If you are serious about becoming a great photographer, online courses will help you to start new friendships and collaborations you've never thought they would happen!
8. Increase your Skills Daily
"Time is free, but it's priceless. You can't own it, but you can use it. You can't keep it but you can spend it. Once you've lost it you can never get it back."

– Harvey Mackay
I recently finished reading the book "The Slight Edge" by Jeff Olson. This book gives so many ideas and insights on how to live a successful life by turning simple disciplines into massive success. This requires time management. How we use our time daily is really important.
What if I told you that you can increase your skills on a daily basis and become a better photographer? If you could focus on learning a new skill a few minutes a day, that would become hours of priceless information in three to six months. What could you possibly do after gaining all that knowledge?
9. Low Cost Education
Even if you're living a life of a loner, or you're blessed to have a family, you must know that subscriptions cost and you have plenty on your plate on a monthly basis.
Online courses though are cheap for the value they provide, they come in a form of monthly or annual subscription and that makes it easier for someone who really wants to expand his knowledge in photography or other fields without spending too much.
10. Free Trial – You've Got Nothing to Lose
You've literally have nothing to lose. Online courses are cheap and most of them offer free trials you can cancel anytime without being charged!
Even if you're still thinking about it, wouldn't you want to attend a class for free and see how it works for you? You can join John Mak Photography on Skillshare and get 2 free months of Premium Membership.
================
Recommended Mobile Photography Classes
FREE COURSE: Mobile Photography Basics for Instagram Success with Tyson Wheatley is a great 30-minute class. Here's what you will learn from it:
What it means to be a good member of the Instagram community
Understand how to shoot with your phone in manual mode
How to get dramatic lighting when shooting portraits
Phone limitations and gadget you can use to overcome them
Applications you can use to capture and edit your photos
Sharing strategies on Instagram
Storytelling
Instagram editing and using filters
want to watch another course for free?
Join us on Skillshare and Get 2 free months of premium membership!
Recommended Mobile Photography Apps
Snapseed (iphone – android)
Complete professional editing software from Google with many capabilities.
Photoshop express (iphone – android)
Adobe is always creating and providing the best tools for graphic design and photography. Download the app and you'll understand why!
Darkroom (iPhone)
This is one of the best photo editor apps in the market. Try it and let me know what you think! (really easy to use at minor cost)
Procamera (iPhone – ipad – apple watch)
Master low light, take brilliant HDR photos and export .RAW files!
Recommended Mobile Photography Gadgets
Tripods
Capture long exposures and record time-lapse videos.
Selfie Sticks
Include more people in your photo by capturing more space from different angles.
Clip-On Smartphone Camera Lenses
Add-on lenses for iPhone and Android can be used for macro photography, landscape (wider angle) and as a telephoto.
Remote Triggering
Head phones can be used for remote triggering and street photography.
Summary
Mobile online courses are amazing. They provide information from the world's best photographers and Instagrammers you can't find anywhere else. Did you ever sign up in one of those online classes? How was it? Share your personal experience and thoughts with us in the comment section below!