This is How You Benefit When You Follow Photographers With the Same Camera and Lenses on Instagram
I have spent countless hours on how to find real photographers on Instagram. It really takes time and a huge amount of effort. I've never paid to get new followers. I never thought I would increase my brand credibility and recognition if I would leave its fate to people who don't care as much as I do.
The results are amazing. You get to follow people who are truly amazing, share your personal experiences, become friends, learn from them with the possibility of a long friendship or even collaboration. So, if you want this kind of reward for you or your brand, you have to put in the work.
Know What to Say and How to Engage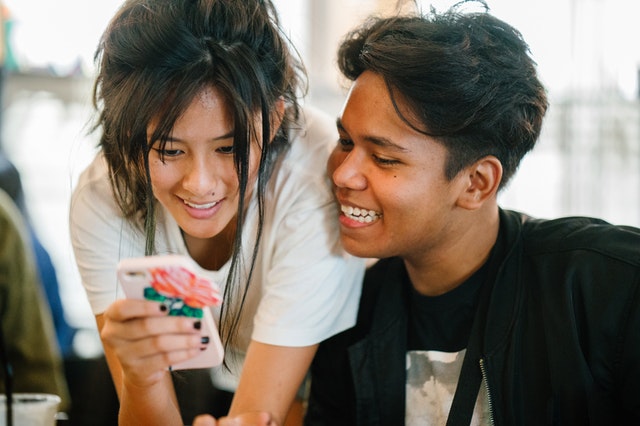 The best followers are those who engage and leave better comments than you do! Are you willing to do the extra mile to become one of them?
The best way to find good photographers on Instagram (I like to call them photography-buddies in the long run), is to learn where to look and how to engage. Spending the hours doesn't mean you find a number of photographers and that's it. You have to know what to say and engage in their posts and comments.
Tip: You can follow photographers who have between 100 and 15000 followers. It is more difficult to follow accounts with 100K+ followers but you never know if you're lucky enough or you have excellent communication skills!
You are new and you never want to be intimidating or overdo it by saying too much. Be simple. When you find a new photographer, leave a comment and write your honest opinion about a photo you like. Make sure you give credit to the author and then leave it up to them. If they respond, be polite and answer back. Usually emojis help to get noticed but do not overdo it.
If they won't respond immediately don't be disappointed. They are busy people with priorities and responsibilities. Keep an eye on their posts and visit their account from time to time. If they post often, make sure to like and contribute again with a constructive comment. When you see they respond fast and their replies are useful and engaging, go ahead and like a number of their posts (up to 10-15 posts) and follow them.
You might not get to experience the same thing. They might like some of your posts but not follow back. In this case, don't unfollow them immediately. Leave it to time. Make sure they see you still follow them and let a few days or weeks to go by. During these weeks check if they produce quality content or if they're engaging in comments. Go ahead and like their new posts but comment to some of them.
If they still don't follow you after a period of 4-8 weeks you can unfollow them but this is subjective. If you really enjoy their content and you feel you're learning a lot from them, then keep following them and use what you've learned for your benefit.
Some people when they get too many likes from a new follower, they post a screenshot from all the likes and say THANK YOU. This is nice but the person who sees it doesn't know what the account you're thanking is about. In this case, it's better to share a very nice post/photo from their feed and say "thank you" or "check this account, they have awesome feed",etc. This way others can see who followed you and it will benefit both of your followers and the one who has just followed you.
Tip: Don't expect a follow from Photography accounts that have already thousands or millions of followers and they follow just a few hundreds. These are your leaders, your inspiration and your teachers. Choose which type of photography content you like and keep following them so you can learn what they do. Don't hesitate to comment and engage in conversations. From the comment section you will find hundreds of authentic photographers in your niche!
The Benefits are Endless
Here are 10 benefits when you find real photographers and users to follow who owns the same camera gear as you: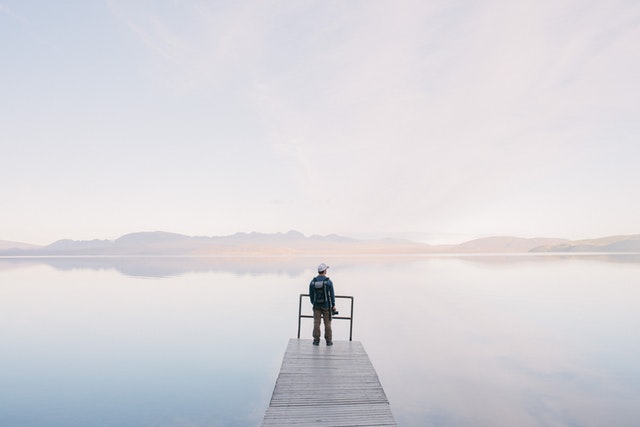 You find out different types of photography (Portraits, fashion, wedding, landscapes, street photography, etc.)
You learn from their personal experience (either they are beginners, enthusiasts or professionals)
You see different types of composition (using the rule of thirds, leading lines, etc.)
You understand how they use natural light or flash (every part of the day)
You become more creative (shooting from different angles or including other elements when composing your image makes you more creative)
You learn their post process routine (editing the colors, shadows, highlights, exposure, etc.)
You get to know your camera and settings better (HDR bracketing, Zebra, Focus Peaking, etc.)
You check new mobile apps and filters they use (Darkroom, Snapseed, LR and PS mobile, etc.)
You find out which lenses are good for your type of photography (you never know what a lens can do before you see the results)
You find new accessories you didn't know they are available for your camera
Remember, only a few Instagram photography accounts will have good photos. Be smart and spot the good ones. Also, not all users take professional photos but you will be amazed by the image quality from some enthusiasts or even beginners!
How to Find These Photographers
Instagram is a great place to find these photographers. Here's how to spot them:
Search for #hashtags Containing Characters of your Camera Model.
If you own a Canon 6D or Nikon D7500, search for hashtags that contain these characters. Below there are a few examples to understand how to type:
Canon 6D – #canon6d, #canon6dmarkii, canoneos6d
Nikon D7200 – #nikond7200, #nikond7200photography
Fujifilm xt20, xt2/xt3 – #fujifilmxt20, #fujifilmxt2, #fujifilmxt3
Sony a6000, a7iii – #sonya6000, #sonyalpha6000, #a6000, #sonya7iii, #sonya7markiii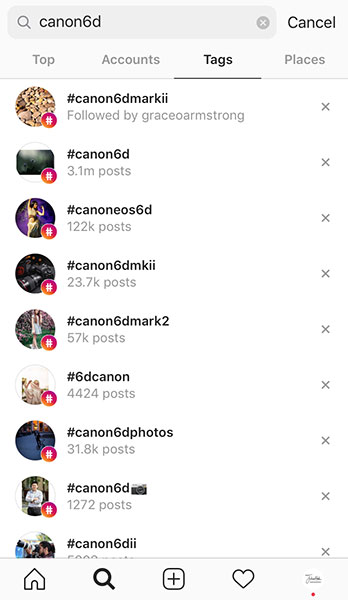 Search for #hashtags that Contain Characters of your Lens Model.
If you use a prime or zoom lens beside your kit lens, you will be able to find photographers who use the same exact lenses.
For example, if you use a Sony 35mm for APS-C cameras, your hashtag will be #sel35f18 (SEL = lens model, 35 = 35mm focal length and f18 = f/1.8 aperture). For Canon, you will type #ef2470, #ef24015 or #ef24105f4I (EF = lens model, 24105 = 24-105mm focal length and f4I = f/4.0 aperture Version 1).
You can also use the brand name in front of each hashtag. For example type the hashtag #nikon35mm18, #nikon35mm18g or #nikon35mm. Sometimes you might not be able to find the correct type of lens. In this case, you can choose a more generic hashtag such as #nikon35mm and browse photos until you find someone who uses the same lens or camera as you.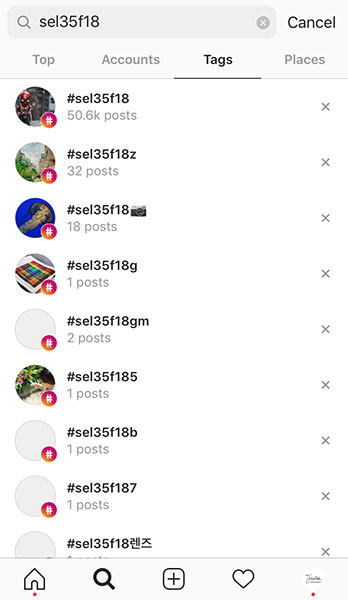 Follow your Camera's official Brand Accounts.
These accounts contain thousands of photographers who use similar cameras and gear. The more of these accounts you follow, the better the chances you'll find what you're looking for.
When you see a new post coming from these accounts, open the comment section and find what they talk about. If someone asks a question and you know the answer, you can share it with a reply. If you don't know the answer, maybe it's time for you to do some research and see if you can find it on Google.
Many times, these kinds of conversations lead to better understanding and knowledge. Remember not to engage in comments about what camera is better, or fight over what's right or wrong. Choose your battles.
Camera brand account examples:
Canon Australia
Canon Canada
Canon USA
Fujifilm X Australia
Fujifilm Global
Fujifilm UK
Sony Alpha
Sony Alpha Indonesia
Sony Alpha Female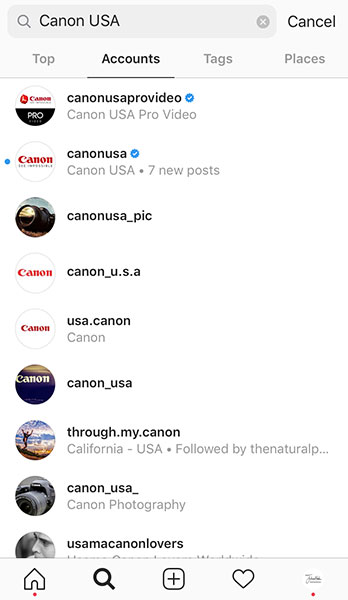 Real vs Fake Followers and Accounts – How to Spot Them
Usually, real photographers don't use fake accounts. Most are verified and have a verification sign next to their account name. If they don't have a verification sign, you can identify if their account is real by checking the following:
Profile photo – is it realistic? Fake accounts add attractive and good looking portraits with poor image quality.
Bio – is what they write normal? Some fake accounts include only a quote or leave their bio blank.
Followers – do they have few followers and hundreds who are following? If they follow 3000 and have 170 followers it means the account is fake.
First post – when was the time they shared their first post? If it's within a week or a few months it's not realistic.
Comments – they don't respond to comments or add any comments providing value.
Weird posts – their feed is a mess. Fake accounts post whatever photo find online and create multiple posts in one day.
The Number of posts – these accounts have max 15-20 posts.
Another option you have to verify if an account is real or fake is HypeAuditor. This AI software can identify any Instagram account and give you a full report of the audience, influencers, mass followers and suspicious accounts. Get your free report here.
Summary
It takes time to build a community. To me, numbers don't matter. Connecting and engaging with true and real people is the key. I love sunsets and landscapes and most of my followers have the same content. When I post a photo of a great sunset, they engage immediately with wonderful and constructive comments.
I also follow Sony and Fuji users. If you check the numbers you will see that Sony hashtags are all over the place. You can find all their latest mirrorless cameras in numerous hashtags that are very popular. I haven't seen anything similar from other camera brands. You can find all the cameras and native / third party lenses.
I hope you enjoyed this article. It is something I wanted to share with you and help you understand how you can build a quality community. It takes time, effort, long hours but the results will amaze you! Leave a comment to let me know what you think, what is your strategy and what you would add to get better results!