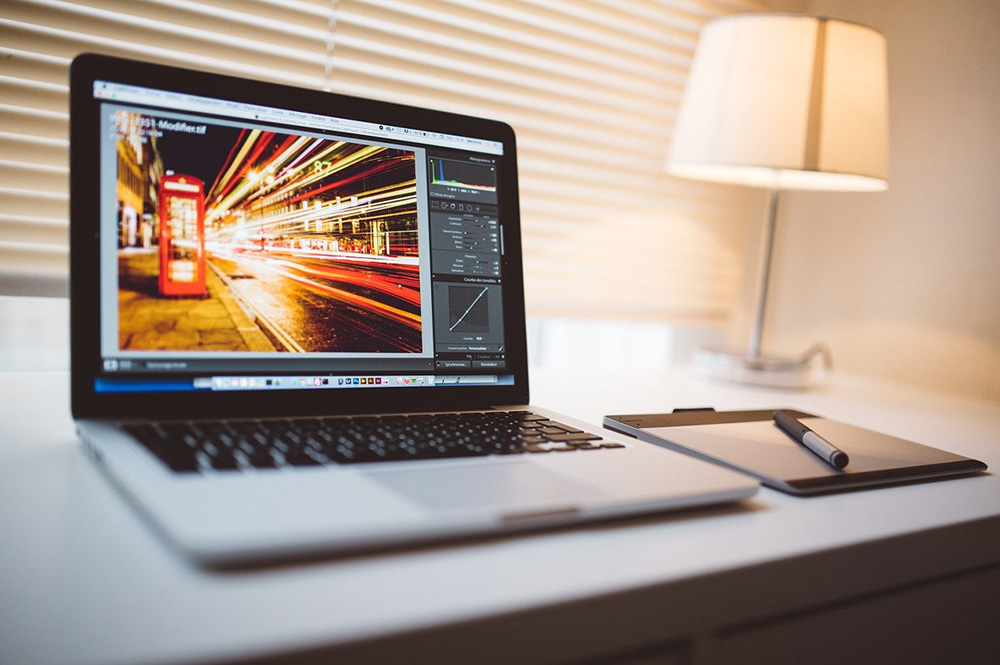 Best Laptop for Lightroom and Photoshop
It might not be too late to add the new Macbook Air or Macbook Pro to Santa's list for this Christmas (except if you are very very naughty)! Trust me, it would be the best gift for a photographer or video creator like you!
I won't get into too many details but get straight to the point. Yes, the new Macbook Air and Macbook Pro with the new Silicon M1 chip made by Apple, is THE BEST laptop for Lightroom and Photoshop! Period.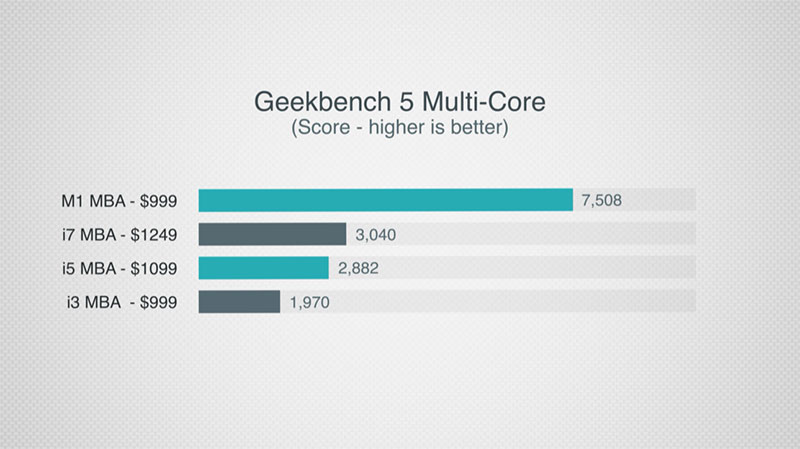 *MBA=Macbook Air
If you are a professional photographer or videographer, you will experience a totally different world using photo editing (Lightroom, Photoshop, Capture One, etc.) or video editing software (AdobePremiere Pro, Final Cut Pro, Filmora, etc.) on the new Macbooks with the M1 chip!
Why is Macbook Air the best for Photo Editing?
Well, in a few words, imagine how fast your iPhone is when loading and running apps. Sometimes the iPhone is faster and snappier than any computer (even desktop computers). That's because it has a different architecture than traditional Intel or AMD Mac/PCs.
The chips inside the iPhone kept improving through the years. They were getting faster and faster consuming less power (which is very important in the year 2021). In the past 5 years, Intel managed to increase its performance by 28% while Apple increases its performance by 300%!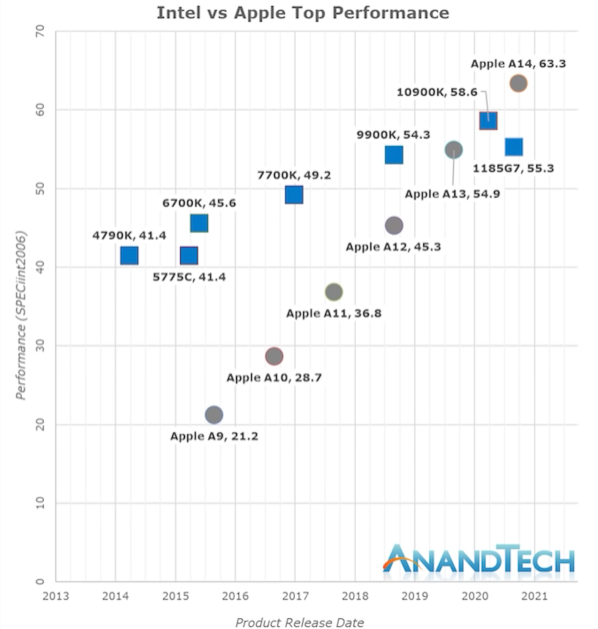 One of the best Intel Chips, the Core i9 10900K is a desktop chip that uses 125 Watts of power you need to plug into a wall to use it. Meanwhile, Apple's A14 chip in the iPhone 12 uses 5 Watts, it uses just a phone battery and performs better than Intel's flagship chip. Amazing?
Apple did it. They combined all the technology they had so far from their iPhones and iPads and created a powerful chip for their Mac computers, the M1 Silicon. Now, they will ditch all Intel CPUs and produce all their Macs with their own unique and most powerful chip in the market.
Performance
Read this! The new Macbook Air base model with 8GB RAM and 256GB storage drive is way faster than a 2019 Macbook Pro 16″ with full specs and a dedicated video card! In Geekbench score (software that measures your hardware's power) ranks higher than EVERY INTEL Mac computer ever made! Boom!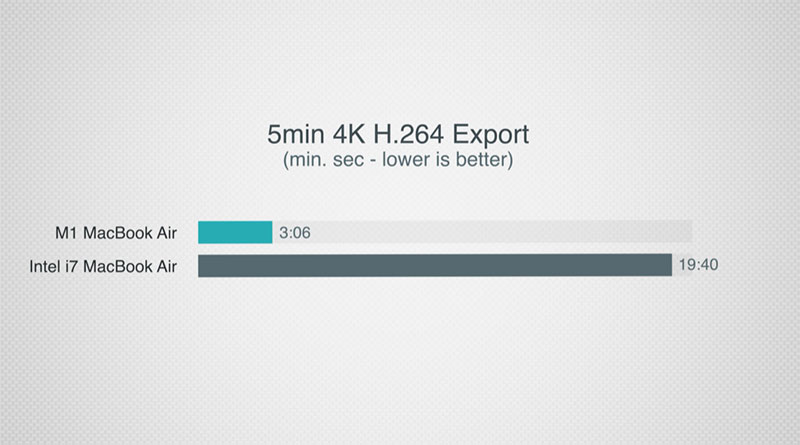 You can export images in Lightroom and video in Final Cut faster than any other PC or Mac! The numbers are rediculous and you can do everything without overheating or experiencing any lag while editing or creating your project. This technology changes everything we used to know.
Power Efficiency
Needing a more powerful computer isn't relevant to everyone. However, having more efficiency and less power comsumption is and it's something everyone can notice. The new Macbook Air and Macbook Pro 2020 can run on a single charge for days.
In normal usage the Air can last up to 18 hours and the Pro up to 20 hours. It has 3.5x faster CPU performance, 5x faster graphics and can run iPhone and iPad apps on the latest MacOS Big Sure with major improvements in speed and compatibility.
Issues and Concerns
Every new technology needs to be tested. Time will show its full potential. Software companies will have to design apps based on this new technology or tweak their software to match the performance of the new Silicon M1 chip to run smoothly with no bugs and errors.
If you are a photographer and you need to upgrade your computer, the new Macbook Air is the best option you have. On the latest testings all Adobe Creative Cloud Apps run really fast. (Lightroom, Photoshop, Adobe Premiere Pro, etc.)
Real World Testing
Some of the best YouTubers and content creators who run heavy tasks to create competitive videos, have been blown away by the new M1 performance. I have watched quite a few videos and all have positive things to say.
Is it Worth Buying?
The day to day experience on the new Macs are so much better than any Intel Mac you've used before. Everything is faster, more reliable, and definitely more cool and quite.
Check the base models on Amazon.com.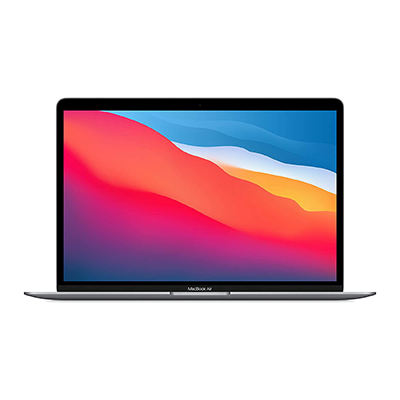 ===========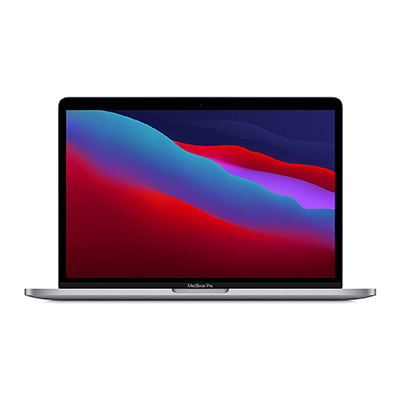 Get Lightroom & Photoshop
Adobe Creative Cloud is offering a great deal. The Photography Plan includes:
Lightroom
Lightroom Classic CC
Photoshop on Desktop & iPad
1TB Cloud Storage